When Matt Christman was a kid in the 1970s, he picked up paper route newspapers on the porch of Fairhaven's old Fire Station No. 2.
In 2002, he bought the building.
And in the ensuing two years, he completely re-imagined, renovated, and reinvigorated the 3,500-square-foot building – built in 1927 by noted Bellingham architect F. Stanley Piper, who also designed the Bellingham Herald Building among many others – into the lovely, intimate Firehouse Performing Arts Center.
The Firehouse PAC is now many things: performance space, classroom, community meeting space, theater, art gallery, coffee shop and café, home to a physical and massage therapist, and a neighborhood park.
But its original purpose was a fire station; a job it held ably from 1927 until 2001.
The History of Fire Station No. 2
Located at 1314 Harris Avenue, a stone's throw from the heart of the Fairhaven District, Fire Station No. 2 was designed to accommodate the latest fire-fighting technology of the day: a vehicle with an internal-combustion engine.
No more horses meant Fire Station No. 2 could be built in a vastly different architectural style than earlier fire stations: "bungalow-style," smaller and more residential, to blend in with the neighborhood.
This was a departure from the two-story "storefront" station design, such as Fire Station No. 1, located on Prospect Street downtown at what is now the Whatcom Museum's Syre Education Center. Construction of Fire Station No. 2 cost $15,000.
The tower of the original building was open from the basement all the way to the top. Hoses were hung there to dry after each use and a metal basement door left open to allow warm air from the boiler up into the tower chamber to facilitate drying.
The structure held dormitories for a six-man crew as well as an apparatus room, which housed a 1913 Seagrave combination engine/pumper; according to city records, an antiquated steamer was kept in reserve for extreme emergencies. The gas-powered engine/pumper replaced a three-horse hitch chemical wagon, which had been purchased by the city in 1904.
The stucco exterior Spanish Mission revival style was popular in residential architecture during the 1920s, and Piper put it to good use in the design of Fire Station No. 2. His original plans called for a tile roof, but budget constraints resulted in composition shingles.
The two bay openings through which the trucks left the fire station held doors that swung open and were only slightly larger than average garage doors. In the 1950s they were combined into one door within a larger span to accommodate larger trucks.
Otherwise, not much changed in Old Station No. 2 over the years – until Matt Christman took on the charming historical structure and gave it quite the facelift.
A Dramatic Renovation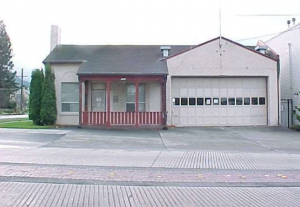 "I was dancing with a modern dance collective here in town, Dance Gallery, and the group needed a new space," Matt Christman remembers of the time, in 2002, right before he became the building's new owner. "I tend to be kind of a dreamer and I thought it would be really cool to find an old building and turn it into an art center."
He envisioned groups of artists without dedicated rehearsal or performance spots coming together to share the rental space – and ultimately cross-pollinate with each other.
When Christman learned that the city was selling Fire Station No. 2, he grabbed his wife-to-be, Alona, and the couple went and peeked through the windows.
Ideas began to bubble up immediately.
Christman talked to his father, who agreed to underwrite the cost of buying it and converting it into a performing arts center – so long as Christman could garner enough interest from arts groups who would agree to rent the space.
Eleven different groups put forth proposals to the city, and Christman's was ultimately chosen.
"It was in rough shape," Christman says of the building when he got his hands on it. "It took quite a bit to get it to kind of straighten its tie."
Helping with the metaphorical tie-straightening were Mike Smith, of Zervas Group Architects, and McConnell Construction.
Because the building was a local historical landmark, Christman and his team had to go through a detailed review to make sure their plans wouldn't be detrimental to any historical elements remaining in the structure.
"The creativity level went way up so we could preserve the elements that were of particular note," says Christman, "yet still accommodate the new use and what it would require as far as the renovation of the space."
Gene McConnell of McConnell Construction – "just a phenomenal woodworker," Christman raves – was commissioned to re-build the original truss bay doors.
"When we bought it, it had a big roll-up door for the trucks to get in and out," Christman explains, "but originally it had these two beautiful wooden doors that opened for the trucks."
McConnell recreated them. "They're triple-paned glass and essentially the same design as the original doors," Christman says. "Gene did a beautiful job; they're just stunning."
Behind those new doors, where the trucks once lived, became a stunning performance space, designed by Christman and Zervas Group. The entry was transformed into a comfortable coffeehouse and café, complete with original wood-burning fireplace.
The hose-drying tower that had always been open from its very top all the way down to the basement was framed in on the first floor and became functional space, with a shower and storage for supplies.
"The top is still open so you can actually see where they used to haul the hoses up into the top of the tower," he says.
Through a stroke of luck – and knowing the right person and the right time – Christman was able to make an important change to the building's roof.
"I was running a Scout troop at the time and one of the dads was an architect who happened to be re-doing the roof of Miller Hall up at Western," Christman says. "We salvaged the tile and finally put on the tile roof that the building was originally designed to have."
Christman also wanted to improve the outdoor space directly behind the fire station.
A parking lot took up over half the area, but Christman worked out a mutually beneficial deal with the city that saw a waiver for on-site parking requirements, allowing the creation of a little pocket park.
"We tore up the asphalt and reseeded it," says Christman, "and one of the firemen from Fire Station No. 2 made a couple of beautiful benches for back there."
Another former Fire Station No. 2 firefighter, Roger Iverson, planted an American Sycamore tree in the back yard in the early 1980s that has grown into a lovely landscape centerpiece. It's now a pleasant spot enjoyed by neighborhood folks or anyone walking by.
The Future of Fire Station No. 2
Christman has thoroughly enjoyed the transformation he helped set in motion and has been pleased to see his dream become a successful reality. But a decade on, he's now seeking a buyer for the Firehouse PAC.
"I'm excited about the possibility of handing the torch off to another group," he says. "I can finally get the family paid back and hopefully see it continue on as a performing arts center."
Having lived in the neighborhood his whole life, Christman has his own long history with the building. From his childhood paperboy days on its porch – "I remember being afraid the firemen would come bursting out on a call," he says with a smile – to a decade of running it as a successful performing arts center embraced by its community.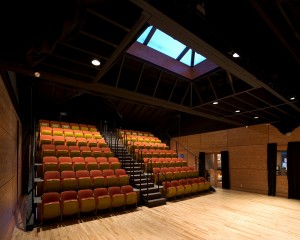 "It's neat," he says. "It was originally meant to serve the community as a fire station, and now it's still serving the community – just in its new duds, so to speak."
Firehouse Performing Arts Center
1314 Harris Avenue
Bellingham, WA 98225
360.734.2776
Photos courtesy of the City of Bellingham, Whatcom Museum of History and Art, Matt Christman, and Zervas Group.