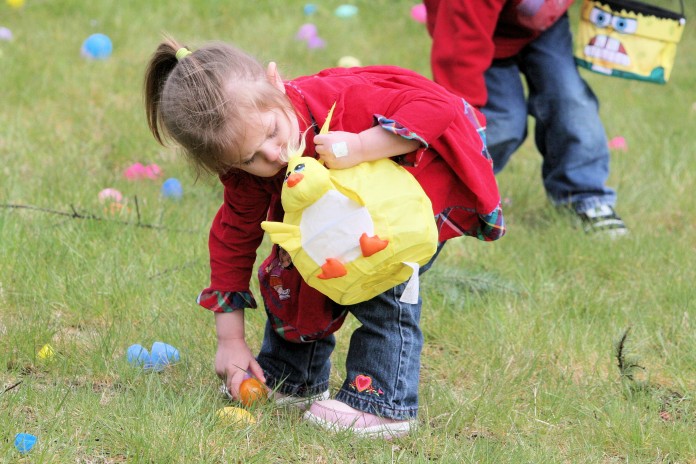 Easter egg hunts abound in Whatcom County during this special time of year. Grab a basket and whisk your little ones off to any of these area events for some wholesome family fun – with perhaps a dash of good-natured competition thrown in.
April 13
Egg-cellent Egg Hunt & Hop – 4pm to 6pm at Perch & Play, 1707 North State Street in Bellingham. Perch & Play, along with nearly two dozen fantastic local sponsors, throws a fun-filled Easter celebration, which includes egg hunting, dancing, raffles, sweet treats, and a visit from the Big Bunny himself. A portion of the proceeds goes to Brigid Collins. Cost: $15 per person.
April 15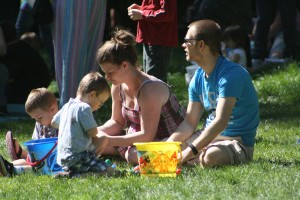 Easter Scavenger Hunt – 11am to 5pm at Fairhaven Toy Garden, 1147 11th Street in Fairhaven. Hit Fairhaven Toy Garden and grab a clue sheet, then make your way to the right stores to get egg stamps. Completed sheets mean a prize for the little ones as well as entrance in a raffle for a basket of products from participating businesses – many of which will hand out treats and prizes along the way.
April 18
Easter Photo with the BWI Bunnies – 3pm to 5pm at Bob Wallin Insurance, 1844 Iron Street in Bellingham. They had so much fun last year that they're doing it again. Children are invited to stop by Bob Wallin Insurance for treats and a chance to pose for photos with the "BWI Bunnies" – a family of adorable stuffed bunnies.
April 19
Lettered Streets Easter Egg Hunt – 10am at Fouts Park, Ellsworth Street and H Street in Bellingham. Sponsored by the Lettered Streets Covenant Church, the Lettered Streets Easter Egg Hunt is an annual tradition that includes a free Easter egg hunt for kids 10 and under, plus crafts, snacks, and door prizes from Neighborhood Businesses for Parents
3rd Annual Kids Easter Fair – 10am to 12pm at St. Luke's Community Health Education Center, 3333 Squalicum Parkway in Bellingham. Looking for an indoor hunt? Here's one option. Sponsored by the PeaceHealth and Friends Relay for Life Team as a fundraiser for the American Cancer Society, the Kids Easter Fair also offers pictures with the Easter Bunny, games, prizes, a coloring contest, treats and more. Suggested donation of $5 per child
Bellewood Acres Easter Bunny & Egg Hunt – 10am to 4pm at BelleWood Acres out on the Guide in Bellingham. On top of meeting the Easter bunny and hunting for eggs (ages 1-10), children can ride the apple bin train express, get a goody bag of games and candy, enjoy Dina's super sugar cookies, and have their faces painted. Free for adults, $8 for kids.
15th Annual Mt. Baker Golden Egg Hunt – Various starting times for different events at the Mt. Baker Ski Area, beginning at 9am. With events for both adults and children, the 15th annual Golden Egg Hunt is fun for all. Four thousand eggs containing $10,000 in prizes are hidden on the slopes, just waiting to be found. Grand Prize for the adult hunt is a 2014-2015 Mt. Baker Season Pass. Four separate kids events, broken down by age groups, offer thousands of plastic eggs containing jelly beans, coins and other prizes – plus a special t-shirt for each participant.
Bellingham Health Care Annual Easter Egg Hunt – 11am at Avamere Bellingham Health Care and Rehabilitation Services, 1200 Birchwood Avenue in Bellingham. Three different areas to search, depending on age, with prize eggs and face painting, as well. The Easter Bunny will visit and pose for photographs. Proceeds from a hot dog stand go to the Alzheimer's Society. 
Elks Lodge Easter Egg Hunt – 2pm to 4pm at Bellingham Elks Lodge #194, 710 Samish Way in Bellingham. This free community Easter Egg Hunt is for children ages 0-11 years old. Rain or shine, they can search for colored hard-boiled eggs, as well as prize-filled plastic eggs. The Easter Bunny and a photographer will be available for photos.
Louisa Place Easter Egg Hunt – 10am to 11:30am at Louisa Place Assisted Living, 2240 Main Street in Ferndale. Easter Egg Hunt for kids 1 to 10 years old – look for golden eggs to earn special prizes – as well as cupcake decorating, coloring pages, and a chance to spend time with Louisa Place residents. An adult must accompany all children.
The Great Community Easter Egg Hunt – 10am at the Ferndale Boys & Girls Club, 2015 Cherry Street in Ferndale. Hosted by the Ferndale Boys & Girls Club and Industrial Credit Union, the free annual event takes place at Pioneer Field, next to the Boys & Girls Club. Children 1 to 12 years old are invited to search for over 5,000 eggs.
Community Easter Egg Drop – 3pm to 5pm at City Bible Church North Sound, 1986 Main Street in Lynden. Fun for all ages with face painting, balloons, great giveaways, super slide, bouncy house, music, food – and a helicopter dropping 20,000 Easter eggs! Broken down into four age groups. Please pre-register for this free event.
Jump Around Fun Zone – 10am to 7pm at Jump Around Fun Zone, 4600 Meridian Street in Bellingham. Each child gets a checklist at the front desk when they arrive, and as they enjoy the usual Jump Around fun, they search for all items. Turn in your completed card for a prize.
Egg Hunt in the Pool – 4:30pm to 6:30pm at Arne Hanna Aquatic Center, 1114 Potter Street in Bellingham. Suit up the kids and let them search for hidden eggs underwater! Children six years and under require an adult to accompany them in the pool. Regular admission cost covers this fun event, complete with water games and much more.
Kid's Easter Fair – 10am to 12pm at St. Luke's Community Health Education Center, 3333 Squalicum Parkway in Bellingham. The third annual Kid's Easter Fair features an indoor Easter egg hunt, pictures with the Easter Bunny, games, prizes, treats, a coloring contest, and more.
North County Christ the King Community Church Easter Extravaganza – 10am and 12pm at North County Christ the King Community Church, 1835 Liberty Street in Lynden. Come see a performance and hunt for over 7,000 candy-stuffed Easter eggs.
April 20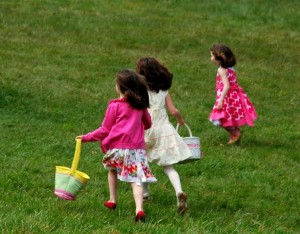 Boundary Bay Easter Brunch & Egg Hunt – 10am to 12pm at Boundary Bay Brewery, 1107 Railroad Avenue in Bellingham. Enjoy brunch and an Easter egg hunt in Boundary Bay's beer garden. Available to brunch participants only, call 360.647.5593 to make a reservation. Cost: $21 per person, $12 kids 6-12 years old, $17 seniors, and free for kids 5 years and under.
Do you have an Easter Egg Hunt to add to our list?  Drop us a note at submit@whatcomtalk.com with the details on your event.