It's rumored that Bellingham has more drive-through espresso stands per capita than any other U.S. city. I don't doubt it. This is the Pacific Northwest, after all, which is synonymous with coffee to many of those who have never been here.
Spend even a little time driving around Bellingham with an eye out for options to buy coffee from your car and you see that they're everywhere.
But what about those of us who love a good old-fashioned coffee shop? For lots of folks it's a mobile office. For many it's a place to sit and flip through the pages of a book (or a reader screen) while taking breaks to chat with other patrons.
Sometimes a drive-through isn't what we need; we want to connect with other folks also looking for caffeine and a little company.
Luckily Bellingham has coffee shops in spades, too. Try any of these options for your next java jolt.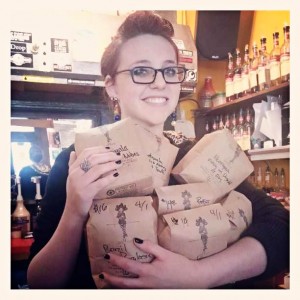 The Black Drop has been a vibrant downtown institution for a dozen years. Mix a little punk with a lot of friendly, and then top it off with owners and employees who really know their stuff when it comes to all things coffee. An employee cooperative since 2009, the Black Drop's original owners went on to create Maniac Coffee Roasting, whose beans the Black Drop proudly serves.
300 West Champion
Bellingham, WA 98225
360.738.3767
Hours:
Monday through Friday: 7am to 7pm
Saturday: 8am to 5pm
Sunday: 9am to 3pm
The Lettered Streets Coffeehouse resides in a charming 1890 building that has been home to a myriad of businesses over its long history. When a coffee shop that was created there in 2002 closed its doors five years later, two of its baristas – Anna Dean and Kjirstin Haugland – took over, and have more than ably carried on the coffee goodness.
1001 Dupont Street
Bellingham, WA 98225
360.933.4689
Hours:
Monday through Friday: 6:45am to 6pm
Saturday & Sunday: 8am to 5pm
Like so many of Bellingham's delightful coffee spots, Caffe Adagio is a family-owned, independent coffeehouse. More often than not when I ask folks where they'd like to get together downtown for work-related meetings, they suggest Caffe Adagio, which is large but generally quiet, with a fireplace to warm you on colder days and tons of tables for working upon or gabbing over.
1435 Railroad Avenue
Bellingham, WA 98225
360.671.1198
Hours:
Monday through Saturday: 7am to 6pm
Avellino is in the heart of downtown Bellingham, just steps away from the Bagelry. This friendly place just somehow feels like Bellingham inside its cozy walls. Less spread-out-and-study and more sit-and-work-on-your laptop or simply-sink-into-an-overstuffed-chair, Avellino also stocks undeniably awesome baked goods, including many gluten-free options.
1329 Railroad Avenue
Bellingham, WA 98225
360.715.1005
Hours:
Monday through Friday: 6am to 7pm
Saturday & Sunday: 7am to 7pm
Back before Fairhaven had many condos, I was lucky enough to live in a place just around the corner from Tony's Coffee. It had long been a famous landmark in Fairhaven's 1888 Terminal Building, and friends who worked there in the mid-90s shared fantastic stories of the storied place. To me, it was simply a spacious, inviting space where I could order delicious Tony's Coffee – roasted in Bellingham since 1971 – and bask in a sunny spot in its huge front windows while I happily read.
1101 Harris Avenue
Bellingham, WA 98225
360.738.4710
Hours:
Every day: 7am to 6pm
Since opening its first coffee shop in Lynden in 2002, The Woods has grown into a popular local chain with nine locations in Bellingham, three in Lynden, one in Blaine, and one in Ferndale. All Woods shops have a welcoming feel with Pacific Northwest-tinged décor of warm wood and stonework. The location in Boulevard Park is perfect for wowing out-of-town visitors with a hot cup of Joe coupled with unparalleled Bellingham Bay views.
Bender Plaza
8874 Bender Road in Lynden
360.354.0900
Hours:
Monday through Friday: 5:30am to 8pm
Saturday: 6am to 8pm
Sunday: 6am to 7pm
Marketplace at Safeway
8071 Guide Meridian in Lynden
360.354.9925
Hours:
Monday through Friday: 6am to 8pm
Saturday & Sunday: 6:30am to 8pm
Fairway Center
1758 Front Street in Lynden
360.354.2100
Hours:
Monday through Friday: 5:30am to 9pm
Saturday: 6am to 9pm
Sunday: 6am to 8pm
King Street
1901 King Street in Bellingham
360.738.3260
Hours:
Monday through Friday: 5am to 7pm
Saturday & Sunday: 6am to 7pm
Bakerview Square
428 West Bakerview Road in Bellingham
360.738.7742
Hours:
Monday through Friday: 5:30am to 9pm
Saturday: 6am to 9pm
Sunday: 6am to 8pm
Boulevard Park
470 Bay View Road in Bellingham
360.738.4771
Hours:
Every day at 6:30am to 8pm
Railroad & Chestnut
1135 Railroad Avenue in Bellingham
360.306.8291
Hours:
Monday through Friday: 6am to 9:30pm
Saturday: 6:30am to 10pm
Sunday: 6:30am to 8pm
Ferndale Station
1867 Main Street in Ferndale
360.778.3128
Hours:
Monday through Friday: 5:30am to 9pm
Saturday & Sunday: 6am to 9pm
Birch Bay Square
8130 Birch Bay Square Street in Blaine
360.393.4761
Hours:
Monday through Friday: 5:30am to 8pm
Saturday & Sunday: 6am to 8pm
Flatiron
10 Prospect Street in Bellingham
360.392.8116
Hours:
Every day: 6:30am to 9pm
Meridian
102 West Stuart Road in Bellingham
360.733.9570
Hours:
Monday through Friday: 5:30am to 8pm
Saturday & Sunday: 6am to 8pm
Sehome Haggen
210 36th Street in Bellingham
306.922.0943
Hours:
Every day: 6am to 7pm
Lakeway
813 Lakeway Drive in Bellingham
360.325.7837
Hours:
Monday through Friday: 5:30am to 9pm
Saturday & Sunday: 6am to 9pm
Barkley Village
3008 Cinema Place in Bellingham
360.933.1695
Hours:
Monday through Thursday: 5:30am to 10pm
Friday: 5:30am to 11pm
Saturday: 6am to 11pm
Sunday: 6am to 10pm