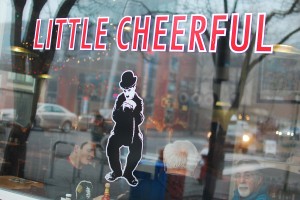 Searching for fantastic breakfast options around Bellingham? Look no further. Any of these popular spots will start your day off on the right foot.
Downtown Staples
Little Cheerful Cafe
133 E. Holly Street, Bellingham, WA 98225
360.738.8824
The Little Cheerful Cafe breakfast menu offers up nearly every egg-based combo you can imagine, from the simple over-easy sidled up to thick bacon strips to eggs Benedict, omelets and scrambles with colorful monikers like the Kinky Linky scramble (hotlink sausage, mushrooms, onion, red pepper, and jack cheese) and the Yuppie Scram (cheddar, corn, avocado Hermilia's pico de gallo and sour cream). Don't miss Little Cheerful's hashbrowns, those thinly grated criss-crosses of crunchy goodness; at the very least, order them on the side with whatever egg or pancake delight you're having – but they're also done up with a cavalcade of topping options that make them a meal on their own.
Old Town Cafe
316 W. Holly Street, Bellingham, WA 98225
360.671.4431
Located along the same stretch of downtown Bellingham as the Little Cheerful, Old Town Café has long been a hot spot for the morning crowd. Grab a seat at the big community table or wait for a booth or table of your own. Old Town uses as many natural, local, and organic products as possible and makes all its pastries on-site with whole-wheat flour and unrefined sweeteners. You'll find plenty of vegetarian options on the Old Town menu next to gluten-free hot cakes. And the usual suspects? All the regulars are here, but done up a notch: omelets, scrambles, French toast, oatmeal, and more. Old Town's home fries are tumbled in special spices before they hit the grill, or take a slight left turn and choose black beans with corn tortillas on the side.
New(er) Kid In Town
HomeSkillet
521 Kentucky Street, Bellingham, WA 98225
360.676.6218
A tiny place with a big reputation, Sunnyland's HomeSkillet boasts some pretty impressive numbers on its web page: 100-200 meals served each day, 600 pounds of hand-cut potatoes served each week, a miniscule 100-square-foot kitchen, and just one cook (Kirby White, who owns the eatery with wife Tina) doing all the culinary creating. Only one of the eight tables is large enough to seat six, so smaller groups are strongly encouraged. Cozy up to your neighbors and nosh on eggs done every different way, chicken fried steak, homemade biscuits and gravy, pulled pork tater tot hash, and more. Or dig into HomeSkillet's, well, "homeskillet," a personal skillet heaped with home fries, scrambled eggs, and your choice of meat, veggies, or Mexican fixings. Just look at that menu and tell me you don't want to head over right now and see if we can squeeze into a spot.
Gargantuan Serving Sizes
Diamond Jim's Grill
2400 Meridian Street, Bellingham, WA 98225
360.734.8687
Diamond Jim's used to reside in a miniscule triangle-shaped building on North State Street on the edge of the Sunnyland neighborhood, but now the delicious diner is smack dab in the Fountain District, in far roomier digs. The portions were always huge at Diamond Jim's; now the spacious dining room matches that theme. And they're not kidding around with their pancakes – 10 inches in circumference and nearly obscuring the plate they rest upon. And for the gluten-free crowd, Diamond Jim's carries Bellingham Flatbread & Bakery gluten free'r toast and pancakes. The menu is chock full of egg dishes, of course, from omelets and scrambles to four different benedicts. Get some fried red potatoes on the side or dress them up with veggies, ham, corned beef hash, or chorizo sausage.
Fairhaven Favorites
Harris Avenue Cafe
1101 Harris Avenue, Bellingham, WA 98225
360.738.0802
Adjoined with Fairhaven's longtime coffee house favorite Tony's Coffee & Espresso and inhabiting one half of the historic Terminal Building, built in 1888, Harris Avenue Cafe serves up charm alongside breakfast staples for omnivore and vegetarians alike. The breakfast menu features locally grown produce, Breadfarm bread, and Hempler's meat and sausage – and organic eggs are available upon request for just an extra quarter. From traditional egg breakfasts  and omelets to French toast, pancakes, granola and oatmeal, you'll find plenty of options for everyone in your crowd searching for a spectacular first meal of the day.
1308 11th Street, Bellingham, WA 98225
360.715.3642
Skylark's Hidden Cafe isn't at all hard to find – there's a charming off-the-beaten-path entry down the cobblestone path past the vintage red telephone box, but there's also an entrance right in plain sight on bustling 11th Street. No matter how you find it or which door you choose, breakfast at Skylark's is always fantastic. The menu boasts specialties such as a Mediterranean frittata, biscuits and sausage gravy, and organic granola. But of course you'll also find omelets and scrambles served with hashbrowns and toast, plus hot-off-the-griddle pancakes and French toast, and baked goods.