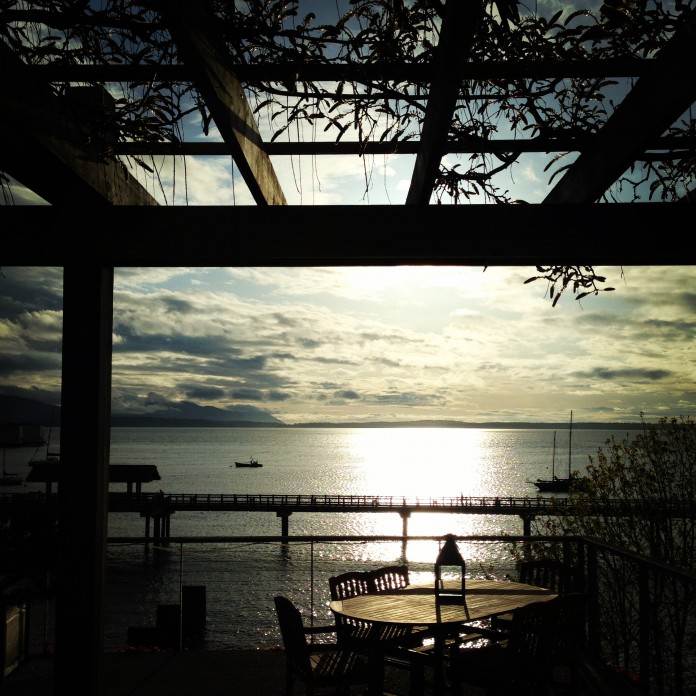 Looking to make a romantic impression? Bellingham is chock full of date spots that will make a potential love-interest's heart go pitter-pat.
A delightful date-night combo: Hit one of the following area eateries for a little romantic repast, and then, if the weather is on your side, either start or end your rendezvous with a stroll along the water at Zuanich Park, Boulevard Park, or Marine Park.
Over the years, several of my favorite Bellingham date-night dining spots have closed their kitchens forever (I'm looking wistfully at you, Calumet, Nimbus, and boZak), but many wonderful options remain.
1317 North State Street, Bellingham, WA 98225
360.714.0188
D'Anna's has been dishing up spectacular hand-made pastas since the early 90s, when it started a wholesale pasta business in Seattle. Upscale restaurants received regular raves when serving D'Anna's delicious creations, and the owners decided to open their own restaurant here in Bellingham. It's consistently named the best Italian restaurant in Cascadia Weekly's Best of Bellingham annual poll – and for good reason. D'Anna's dinner menu runs the gamut from traditional Italian dishes with lamb, pork, chicken, seafood and steak plus an array of their stunning fresh pastas: spaghetti, linguini, shells, pappardelle, spinach rigatoni, spinach fettucine, and ravioli. Entrée prices range from $11 to $25.
2530 North Shore Road, Bellingham, WA 98226
360.733.1126
The Fork is a gastronomical gem tucked up along the north side of Lake Whatcom in a secluded-feeling spot. Opened in June 2009, you'd never know it's housed in what was once the old Agate Bay Store & Gas Station. The dining room's ambiance trends upscale, though anyone would be comfortable in any attire – this is the Pacific Northwest, after all. The food is the real showstopper, focusing on local ingredients prepared with attention to detail and obvious loving care. The Fork's dinner menu changes with the season and must be perused to fully appreciate the detailed dishes it serves up. Entrée prices range from $16 to $28.
1200 Harris Avenue, Suite 310, Bellingham, WA 98225
360.733.6136
The Black Cat has been a Fairhaven staple since 1987, when it took over the space from La Creperie, which had closed down a few years prior. Gregg Kimber, a former La Creperie employee, took advantage of the space's fantastic architecture – think brick walls and soaring wood-framed windows – to give the restaurant a French Cabaret theme, which makes it feel intimate, comfortable and absolutely romantic. The menu includes bistro sandwiches and crepes but also offers beef stroganoff, wild sockeye salmon, filet mignon, and more. Bistro items are priced from $10 to $14, while entrée prices range from $14 to $27.
804 10th Street, Bellingham, WA 98225
888.808.0005
Both casual and elegant at once, Keenan's at the Pier offers a panoramic view of Bellingham Bay and the San Juan Islands from every table. Executive Chef Rob Holmes has created an ever-changing seasonal menu featuring the best of the Pacific Northwest, plated with special attention to detail and thoughtful flavor combinations. Local vendors and farmers are key to making so many menu items sing, from the Sage & Sky Farm lamp chops and Double R Ranch filet mignon to the Carlton Farms pork chop and local squash medley. Entrée prices range from $14 to $32.
331 North State Street, Bellingham, WA 98225
360.734.8660
It's hard to imagine a more romantic sunset-watching spot than at the Cliff House. Opened in 1969, this neighborhood restaurant is tucked up above Bellingham Bay, amidst its very quiet South Hill neighborhood. Long known for its decadent whiskey crab soup, the Cliff House menu also showcases local ingredients and seasonal offerings in its mouth-watering seafood, steak and chicken dishes. Entrée prices range from $21 to $36 (plus market price for steak and lobster).
A Dreamy Duet:
25 Bellwether Way, Bellingham, WA 98225
360.647.5588
Anthony's Hearthfire Grill – Squalicum Harbor
7 Bellwether Way, Bellingham, WA 98225
360.527.3473
The same Washington-based restaurant group owns both of these restaurants, which are nestled near each other on Squalicum Harbor. Entrées range from to $15 to $37, with appetizers on the slightly spendier end. Anthony's dinner menu is heavier on seafood, with several steak options, while the Hearthfire Grill menu serves up chicken, fish and steak. Both restaurants feature magnificent views of Bellingham Bay and the San Juan Islands.