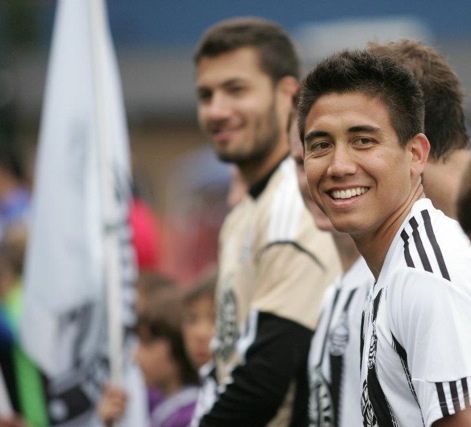 By Stacee Sledge
Matt Zigulis is an amazing juggler. Maybe not literally, with flaming knives or bowling pins, but his talent to multitask is just as impressive, as he teaches third graders at Silver Beach Elementary, coaches the Bellingham High School boys soccer team, coaches Whatcom Football Club Rangers U12 girl's soccer, and plays semi-professionally for the Bellingham United Football Club – and he does it all with a big smile on his face.
Born and raised in Northern California, Zigulis came to Western Washington University on academic and athletic scholarships, where he played soccer for Western and was team captain for his junior and senior years.
He first studied pre-physical therapy – "I couldn't get through the chemistry; it's just not my thing," he says with a laugh – and then switched to business. Halfway through the program he realized his love for economics had waned but he was committed to finishing the degree. "It was a good major and a great skill set to have."
While playing soccer at Western, Zigulis volunteered with the Whatcom Rangers, a youth soccer league. By the end of his college career, he was a paid coach for the organization.
"I became a full-on head coach for the Rangers and also had a work-study thing going on at Carl Cozier Elementary while I was still doing economics," he says. "Soccer ended and I was finishing my degree, trying to figure out what was next."
Through his work-study at Carl Cozier Elementary, Zigulis realized teaching was what he wanted to do. He ended up overlapping his business studies with a post-baccalaureate degree in teaching. "I finished econ and went right into teaching," he says.
After a few quarters of instructional core classes and practicum, Zigulis then spent three quarters student teaching at Geneva Elementary, where he ultimately filled in full-time, as a fifth-grade math teacher, for a colleague on maternity leave.
The 2012-2013 school year was his first full year, where he taught third grade at Roosevelt Elementary. He currently does the same at Silver Beach Elementary.
The 2012 season was his first playing with Bellingham United, which he began while still student teaching. "And then I started coaching high school on top of that," he says, laughing again.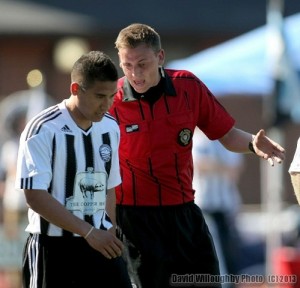 There was an opening in the head coaching spot for the Bellingham High School boy's soccer team. "One of the kids who I coached from Rangers said, 'Hey, you should apply. Why not?'" Zigulis interviewed and landed the job.
A typical weekday for Zigulis involves teaching in his Silver Beach classroom all day, holding practices or attending soccer games for his Bellingham High team every weeknight at Civic Field, followed by either Rangers practice or Bellingham United practice. On the weekends, he focuses on Bellingham United games and Ranger games. There isn't much downtime, to say the least.
"I just embrace it, honestly," he says with a big smile. "It's fun, it's not like it's a burden. And I like being busy. From going to college and playing soccer, I'm used to being busy and having so many commitments. It's something I love."
Bellingham United does sometimes travel for games, the farthest away being Kamloops, British Columbia, more than three hours away. But Zigulis has never had to miss school for playing or coaching.
"Unfortunately, I got hurt early on [with Bellingham United] and I never made those trips," he says.
He's found that his third graders get excited to read and talk about his soccer side-jobs.
"Some of the kids will catch on and they'll say, 'Mr. Z! You're in the paper!' because they interview me after every game," he says. He's worked the newspaper clippings into his class's current events curriculum.
"I'll put the newspaper up and we'll talk about it," he says "We're connecting it to what's happening outside of the classroom."
He's also been known to use his experience with his third graders to motivate his high school kids. "I'll use the examples of my third graders," he says. "'If third graders can do it, you can do it!'"
Zigulis continues to get great enjoyment from simply playing the game of soccer, too. "That's my release, my therapy," he says. "The high school team is great because I can play with them."
Working with different age groups keeps Zigulis balanced. "Going from eight-year-olds at the start of the day to 18-year-olds by the end is refreshing, yet stabilizing," he says. "It levels me out because I get to relate my knowledge and experience on an entire spectrum of supportive minds willing to listen and learn in a team environment."
Last year, the core group of graduating seniors on Zigulis's Bellingham High team were players he'd coached back when they were in seventh grade, as Rangers. It was a fitting way to come full-circle.
Spend just a few minute talking with Zigulis and his enthusiasm for teaching, coaching, and playing soccer is clear. He feels fortunate to have found a way to combine his passions. But he knows what's most important to him now and looking into the future.
"Teaching is my biggest commitment. This is the thing, right here," he says, looking around his classroom. "Soccer got me through college and I'm fortunate to get to play and coach, but education – that's where I was meant to be."
Check out this YouTube interview with Matt Zigulis, filmed in 2012 after he signed with Bellingham United.