What constitutes a perfect sandwich? Ah, a question for the ages. What is the exact combination of sweet, savory, salty and crunchy that meld together perfectly to create a true work of sandwich art? Well, I think we finally have our answer. After thorough research, examination and a healthy amount of taste-testing, I can say Old World Deli has figured it out.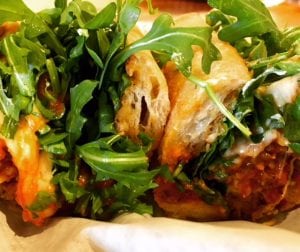 At Old World Deli, they don't rush the creative process. General Manager, Zach Holmes, and Owner, Christos Adams, collaborate on sandwich ideas. The ingenious results of their creative process are served up in weekly specials.
Zach, Christos and the rest of the crew are committed to creating a unique flavor experience. Nothing is overlooked when they're concocting a sandwich. From ensuring that the proper bread is paired with the best, one-of-a-kind, hand-crafted meat to balancing out the right ingredient textures, Zach and Christos navigate the process like skilled surgeons (opting for porchetta over scalpels).
"There's a lot of preparation, planning and love that goes into our sandwich specials," says Zach. "A big reason why we take so much time with each sandwich we prepare is because a lot of the meats we use are made in house, and that takes time."
Before they're used, Old World Deli meats must be rubbed, brined, aged, smoked or cured depending on the type of meat they're creating. Truly remarkable tastes take time. Zach and Christos are always excited to work on creating new meats for upcoming sandwich specials. So, you may ask, what are they working on now? An interesting cut of stuffed beef with Sicilian origins called "bruciolone."
Christos lets me look at the beef while it's cooking. It's unlike anything I've ever seen. To make bruciolone, you pound out flank steak and stuff it full of onion, bread crumbs, parsley, garlic, parmesan and Romano cheeses, mortadella and chopped egg. Once everything is stuffed, you roll up the mixture and tie it together. After it's securely tied, the stuffed meat is braised in a tomato sauce.
Zach says they're already getting some ideas on what to pair the meat with. Initial thoughts include provolone cheese, arugula and their house ricotta cheese. However, Zach and Christos assure me the recipe won't be finalized until it's properly taste-tested.
"We always make sure to create taste-testers," Zach says. "Sometimes the idea for a sandwich can change completely after the testers go around to a few people."
Zach even gave a new sandwich taste-tester to one of their wine delivery drivers for an outside perspective. "We want to know what other people think about what we're putting on the menu," Zach says. "This way we can put things on the menu we know will sell well."
Old World Deli's collaborative and creative nature is reflected in the many diverse vendors from which they source their ingredients. They gather products from around the world and right here at home. For example, all of their bread comes from Breadfarm in Bow, Washington.
According to Zach, using the right type of bread matters as much as the ingredients between the slices. By sourcing from a local bread purveyor such as Breadfarm, Old World Deli can ensure they're getting high-quality ingredients while fostering local relationships.
"No one sandwich is the same," says Christos. "If you want to have unique sandwiches, you also need to have unique bread. Each sandwich needs to be dialed in its own way."
Old World Deli has run many different sandwich specials over the years. If there's a specific sandwich you wish would come back, don't worry. It just might – in at least one incarnation or another. Zach says they sometimes revisit a special that sold well and change it up a bit, updating its inner workings.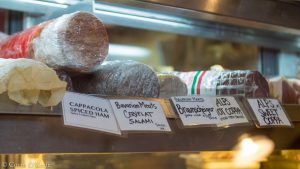 The porchetta is a popular sandwich they have returned to multiple times. A hit since they put it on the menu, this sandwich has seen several different looks over the years – and it won't be surprising if it sees a few more in the future, too.
Old World Deli continues to be a memorable Bellingham eatery, largely because they aren't afraid to try new things. With impressive weekly sandwich specials and a plethora of imported wines, this is a remarkable culinary experience. Be sure to stop in and savor one of their unique and delicious creations.
Old World Deli
1228 N State St.
Bellingham
Sponsored