Over Easy serves delicious, home-cooked food just like Mom used to make. You might feel like a kid again as you savor their delicious comfort food in the eatery's warm, inviting space – where you're always welcomed with a smile.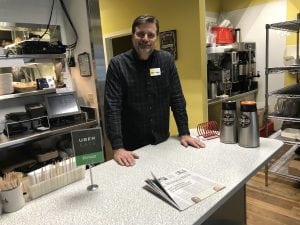 "I fell in love with the concept," says Owner Jamie Bohnett of the Over Easy franchise opportunity. "The idea came from one of the founders wanting to re-create his mother's kitchen from the 1950s."
Over Easy serves classic customer favorites, such as chicken fried steak, chicken and waffles, and good old-fashioned sandwiches. Then there's the popular "Wolf Pack," a layered mixture of hash browns, eggs and bacon. You'll find yourself transported right back to the comforts of home with these timeless recipes.
"We don't take shortcuts," Bohnett says. "We use fresh ingredients and make our food mostly from scratch. There's nothing from a box at Over Easy."
The Over Easy franchise was developed in Scottsdale, Arizona by a father-and-son team. The concept first caught Bohnett's attention while he was spending time with his father, a restaurant veteran. He fell in love with the idea of serving good, home-cooked food in a comfortable setting.
After 30 years working in the non-profit sector, Bohnett was ready for a new adventure. He decided to bring Over Easy to the Bellingham community. From the beginning, he knew this was something he and his wife could do well and enjoy. On April 30, 2015, the couple opened Over Easy on James Street, next to Trader Joe's.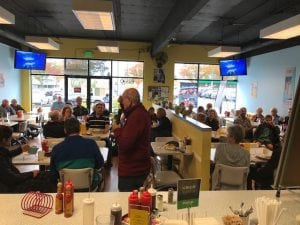 "We love this community," says Bohnett. "We love bringing family and friends together."
The new endeavor also brought Bohnett closer to his father. The two spent time together when Bohnett attended new franchise owner trainings in Scottsdale. Jumping into the food service industry also meant the two men could share a new connection, as Bohnett's father co-founded a national restaurant franchise in the 1950s. Bohnett knew the enthusiasm and commitment it takes to successfully run a family restaurant – and he wanted to replicate that excitement.
"I wasn't really attracted to being in the restaurant business most of my career," Bohnett says. "But I really fell in love with this concept. I knew it was something I could do."
Bohnett has always had a passion for community building. For him, Over Easy is a place to bring people together: for a family meal or a quick business meeting. In fact, the Better Together Breakfast, part of Bohnett's A Future & A Hope Foundation, meets at Over Easy every month.
Bohnett created A Future & A Hope Foundation in 2014 to serve the neglected and the vulnerable in our community. The organization works in partnership with Over Easy to provide fundraising opportunities that benefit many of our local non-profit organizations. The foundation facilitates breakfast meetings and evening fundraising events, as well as provides grants to qualified organizations and individuals.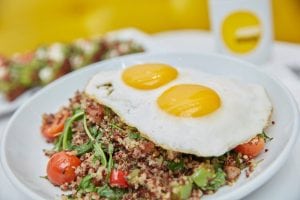 "I don't want to be just another restaurant," says Bohnett.
Bohnett has learned a lot along the way. This committed father, grandfather and husband recounted his journey and life lessons in the book, "Letters to My Son," published in 2011.
"Be better and not bitter," he says. "It's very important to listen to criticism. There is no silver bullet when it comes to success, which makes consistency in quality and service so important." He has learned to always look forward and not dwell on the past. "Have perseverance and learn from your mistakes."
Learning from his own father has helped Bohnett create a special experience at Over Easy. "I want this to be a place that creates memories," he says. "We're not going anywhere; we're here to stay. Through the restaurant and the foundation, I want to continue to build community and support for our community. That's my dream."
Over Easy
2430 James St.
Bellingham
360-656-6585
Sponsored