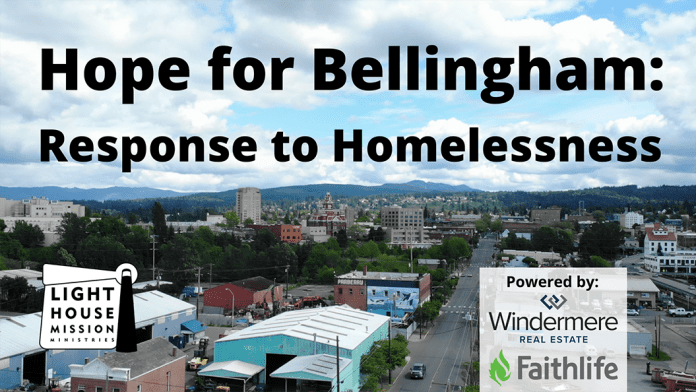 When:
07/30/2021 @ 12:00 pm – 1:00 pm
2021-07-30T12:00:00-07:00
2021-07-30T13:00:00-07:00
Where:
Zoom
https://us06web.zoom.us/meeting/register/tZYkf-ytpzwiE9HUcTRQcVMHF4ehix6oIIwc
Contact:
Lighthouse Mission Ministries
3607335120
We're excited to announce our upcoming 5-part video series, Hope for Bellingham: Response to Homelessness!
Through these videos, you'll be able to learn more about the struggles of neighbors who are homeless in our community. And guests and staff will share their personal stories and insights about the process of recovery. You'll also see how Lighthouse Mission addresses the root causes of homelessness in a person's life and what it looks like to thrive after being homeless.
Each video will cover a different aspect of the reality of homelessness and the process of recovery:
– The Reality of Homelessness: Broken relationships
– Building Trust: First steps towards healing
– The Road to Recovery: Addressing trauma, addiction, and mental health
– Restoration: Getting your life back
– Community: All in to heal homelessness
The first video will be released on Friday, July 2nd, with each episode a week apart. The videos will be available to watch on:
YouTube (https://www.youtube.com/channel/UCbs4v1MVm8bukwtRCg-40EQ),
Facebook (https://www.facebook.com/LighthouseMissionMinistries),
and Instagram (https://www.instagram.com/bhammission).
We'll culminate the series and watch the final installment together, those of us who can, at a special Zoom event discussion on Friday, July 30th at 12pm. Register here: https://us06web.zoom.us/meeting/register/tZYkf-ytpzwiE9HUcTRQcVMHF4ehix6oIIwc
We can't do this alone and we couldn't do what we do without the support of our community!
This series is powered by Faithlife (faithlife.com) and Windermere Realty (windermerewhatcom.com).