When:
10/06/2021 @ 5:30 pm – 6:45 pm
2021-10-06T17:30:00-07:00
2021-10-06T18:45:00-07:00
Where:
North Cascades Institute
Contact:
North Cascades Institute
360-854-2599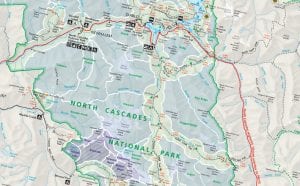 Look at a map of the North Cascades and you'll see a jigsaw puzzle of land designations and labels. How did one of the most remote, wild regions in the contiguous United States come to be carved up into these disparate pieces? And why is North Cascades National Park among the least visited in the country?
The answer is a tale of politics, passion, and people. The park jump-started the modern environmental movement in the Pacific Northwest and influenced wilderness preservation nationally, forcing federal public lands agencies to change how they managed our national parks and forests. North Cascades is a reminder that national parks are not only scenic landscapes of national significance, but political entities, created through negotiation and compromise.
This program will be presented by Lauren Danner, author of Crown Jewel Wilderness: Creating North Cascades National Park.
If you are unable to make this specific date or time, you may still register and we will send you a link to view the class on your own time! All registrants will have access to the class recording for one week after the program.