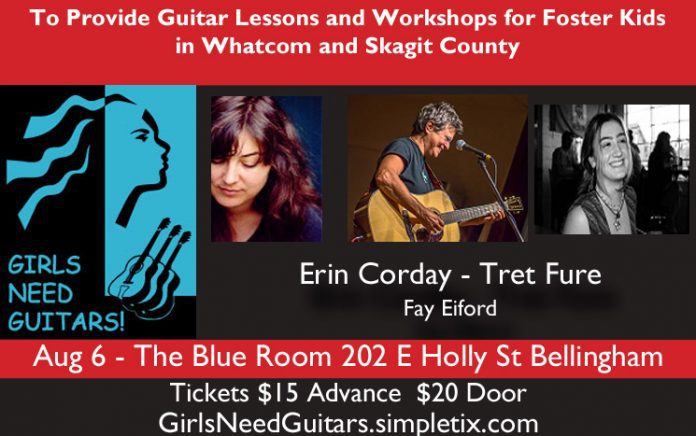 When:
2022-08-06T00:00:00-07:00
2022-08-07T00:00:00-07:00
Where:
The Blue Room
202 East Holly St Bellingham
Cost:
$15 advance/$20 Door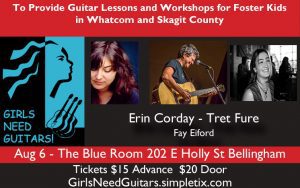 Girls Need Guitars to provide Guitar Lessons and Workshops for Foster kids in Whatcom and Skagit County.
Erin Corday Cinematic Folk & Americana She wraps her voice around a trip?hop folk song, a Brazilian classic, even the sound of skipping stones across the water. Of Mexican, Icelandic, and Swedish ancestry, Erin Corday is an American singer and songwriter who brings a love of epic quest, emotional depth, lyrical imagery, and imagination to subtly dynamic performances.
Tret Fure began her career at the age of 16, singing in coffeehouses and campuses in the Midwest. At 19, she moved to LA in hopes of obtaining a record deal. Within a year she was performing as guitarist and vocalist for Spencer Davis, touring with him and penning the single for his album "Mousetrap". She went on to record her own album "Tret Fure" in 1973, on MCA/UNI Records, with the late Lowell George of Little Feat as her producer. With the success of that release, she opened for such bands as Yes, Poco, and the J Geils Band. A prolific artist in the contemporary singer-songwriter arena, Tret Fure has released 17 albums and CDs over the course of her 51 year career.
Fay Eiford was born and raised right here in Bellingham Washington. She has had a passion for music since she can remember. Ever since she was 3 years old, Eiford has been a performer. Singing and dancing her way around the hardwood kitchen floors, she grew up in the spotlight. Now at 20 years old, she is performing original songs on the hardwood floor of a stage.