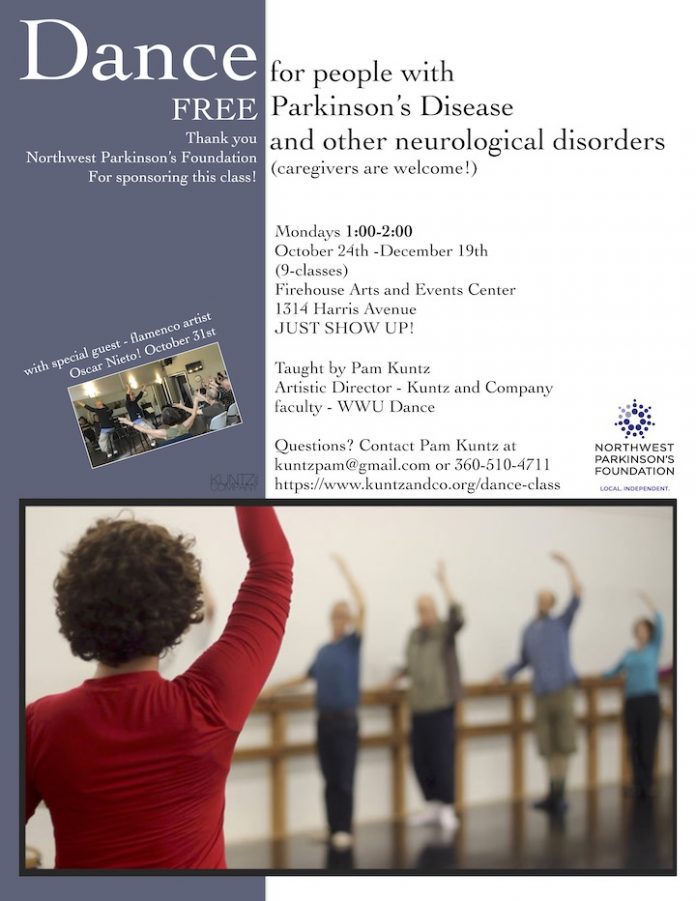 When:
2022-11-28T00:00:00-08:00
2022-11-29T00:00:00-08:00
Where:
Firehouse Arts and Events Center
1314 Harris Avenue
Dance for people with Parkinson's Disease and other neurological disorders starts up again this fall.
After a three-year break, Dance for PD and other neuro disorders returns to our community. Classes will run for nine weeks on Mondays from 1:00-2:00 from October 24th – December 19th. No experience is necessary, and all are welcome. The class is designed for people with Parkinson's Disease and other neurological disorders, but caregivers are invited to join in. The goal of this class is to create community and experience joy through movement. Class structure follows that of a traditional modern dance class including warm-up, center and barre work, and culminates in a final combination. Much of class is seated work with a portion towards the end geared towards standing. Students are invited and expected to adjust as needed.
Pam Kuntz and Rick Hermann (a community member with PD) created this class over 10 years ago and it enjoyed much success over the years. Kuntz is excited to bring it back to our community this year.
Thanks to the generous support from the Northwest Parkinson's Foundation this class is free for attendees. Individuals with the means are invited to make a donation to Northwest Parkinson's Foundation to help them support programs such as these.
This fall session includes a flamenco class taught by Oscar Nieto, a professional Flamenco artist and person with Parkinson's Disease on October 31st. Oscar is one of Canada's most recognized and respected flamenco artists. A master dancer, singer, choreographer, and teacher, he has a long list of accomplishments and awards on his résumé. He has been performing and teaching since he was a teenager. Now a cancer survivor in his seventies, he was diagnosed with Parkinson's disease a couple of years ago. Despite this, Nieto has no thoughts of retiring or altering his artistic practice. In fact, his diagnosis has only served to strengthen his resolve to continue dancing, singing, and teaching. It can be frustrating – his body doesn't always do what he wants it to do anymore – but he firmly believes that his dancing career and his social, active lifestyle have helped to delay the progress of this (as yet) incurable disease. This is why he is reaching out to help other people living with Parkinson's.
Winter and spring sessions are scheduled for Mondays as well so be sure to watch for announcements on those dates and times. To receive email notifications about this class series contact Pam Kuntz at 360-510-4711 or email her at kuntzpam@gmail.com.
Class will be held at the Firehouse Arts and Events Center in Fairhaven at 1314 Harris Avenue. Attendees should arrive at least 15 minutes early. No pre-registration is necessary. Feel free to contact Pam Kuntz at 360-510-4711 or kuntzpam@gmail.com with any questions.
https://www.kuntzandco.org/dance-class
DANCE FOR PEOPLE WITH PARKINSON'S DISEASE AND OTHER NEUROLOGICAL DISORDERS
FREE
Mondays October 24th – December 19th
1:00-2:00
Firehouse Arts and Events Center
1314 Harris Avenue, Bellingham, 98225
No need to register. Attendees are encouraged to arrive at least 15 minutes early.
Contact Pam Kuntz with any questions: Kuntzpam@gmail.com, 360-510-4711
https://www.kuntzandco.org/dance-class