Thrift shops are big in Whatcom County these days. With lots of people still struggling to recover from the pandemic's economic impacts and others simply having discovered the value in reusing things — or the small joy of a great bargain — thrift shopping is in fashion.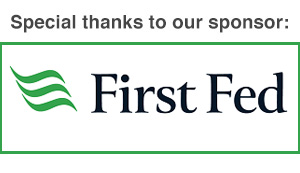 Like many nonprofit agencies, the Whatcom Humane Society has been in the thrift shop business for a while. From Paws Awhile, the Fairhaven "gently used gift shop" that attracted foot traffic from the Fairhaven Green for over a decade, to the thrift shop they took over in 2020 from WeSnip, the Whatcom Spay-Neuter Impact Program, thrift shopping has contributed to the agency's operating budget. The shop benefits domestic, wild, and farm animals in their shelters.
The Move to Birchwood
Recently, though, under the leadership of powerhouses Dana Browne and Jo Williams, the WHS Thrift Shop has become a standout in the Bellingham thrift shop scene. After three years in the Bakerview Square shopping center, the shop moved to the Birchwood Neighborhood in the Park Manor Shopping Center (near the old Albertson's, now Big Lots) at 1534 Birchwood Avenue.
The move has put the shop in the spotlight. "We have better visibility and much more foot traffic," says manager Dana Browne. "More drivers impulsively turn in when they see we're here."
The Birchwood neighborhood brings in more families, and the shop fills the void created by the closure of the Salvation Army Thrift Store. Another thrift shop, La Segunda, is next door, which has meant more business for both shops. Big Lots, in the old Albertson's location, is a deep-discount retailer, making the strip mall a center for bargain shopping.
The Park Manor Shopping Center had been troubled by high vacancy rates since Albertson's closed in 2016. The popularity of the WHS Thrift Shop has revitalized the center and brought a lot more people to the area, benefitting all the neighborhood businesses.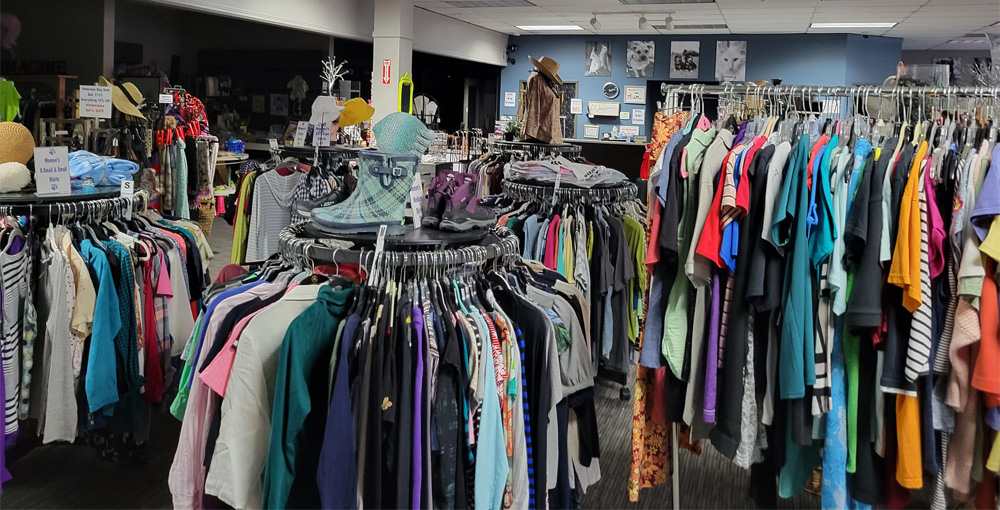 The WHS Thrift Shop stands out by offering only quality merchandise. "We accept clean, unbroken items," Browne says as she sorts a chipped plate from a donation area into the "pass" bin. "People know when they come here that they will find only working, usable items."
Sam, a 96-year-old volunteer, comes in once a week to test all the electrical items and make sure they can be offered for sale.
A Change for Dana Browne
After working as the events manager at WHS for 10 years, managing the thrift shop has been a huge change for Browne. "I thought about the path to retirement," she says. "Did I want to do the same thing for 10 more years, or mix it up with something new?"
She has consistently broken fundraising records for the society's annual gala, and supercharged other regular events with new ideas, like the Dog Days of Summer Festival and the Putt Fore Pets golf tournament. Her long career in fundraising has taught her what works and what doesn't.
"My favorite part is working with the volunteers," she says. "They've been around forever and I learn so much from them."
Browne plans a spring fashion show featuring only clothing for sale at the thrift shop, and getting the shop involved in neighborhood events. "We're joining the Neighborhood Association and we want to be active citizens of Birchwood," she says.
Browne is closely flanked by Assistant Manager Jo Williams, who has made a big splash in the year she's been at the thrift shop. Williams discovered a flair for presentation, including social media promotion. While talking with Williams, her eyes were all over the shop, keeping track of what was happening in every area, ready to jump in if she was needed.
Volunteers Are the Heart of the Shop
It takes a roster of 65 volunteers to keep the shop running. Volunteers worked 1,373 hours from September 1 to October 19, 2023. This included the move from Cordata and the Grand Opening day on September 30.
Browne showed me a binder filled with sign-up sheets for potential volunteers to attend biweekly orientation meetings. Volunteers do donation intake, display, customer assistance, cleaning, cashiering, and often help customers out to their vehicles with their purchases.
Mother-and-daughter volunteer team Nancy and Anne Seeger work in the donation room. For seven years they did small animal TLC with rabbits, guinea pigs, ferrets — whoever came in the door. Three years ago they started volunteering at the thrift shop, and they love spending the time there together.
"I don't know what this is, Mom," Anne interrupts, holding out an object that turns out to be a classic book inside a dust sleeve that holds it like a box. It's like that with donations: sometimes it takes a few people to figure out what an item is for.
Extra Features to Build Community
If you're lucky, you also might see animals while at the thrift shop. Stephanie, a volunteer who has fostered over 150 kittens in four years, recently brought her litter of four kittens to show at the shop, to raise awareness of the foster care program where animals too young to be in the shelter are cared for until they're old enough to be adopted.
The kittens had a small swatch of different-colored paint on their right ears. "That's safety paint, so we give medications to the right kittens," Stephanie explains. "You can't rely on their markings to tell them apart; you might still make a mistake."
Near the kitten enclosure is a community bulletin board where people can post animal- and neighborhood-related notices. A poster on the board advertises that every child who visits the thrift shop may pick a free book.
By the cash register, there is a lovely tooled "vegan leather" purse with a jar next to it for the weekly Customer Appreciation Drawing. "I pick an item that I think will be popular and raffle it off," says Browne. "It gets people to come back, and it's just a lot of fun."
The thrift shop welcomes new volunteers, who can sign up for shifts in 2-hour increments. This encourages people with a range of physical abilities and time constraints to participate. There is a sign-up sheet at the shop, if you're interested.
Location: 1534 Birchwood Avenue in Bellingham's Birchwood neighborhood.
Hours: Wednesday through Saturday 10 a.m. to 5 p.m. and Sunday 11 a.m. to 3 p.m.
Donations are accepted Wednesday through Saturday 10 a.m. to 4:30 p.m., and Sunday 11 a.m. to 2:30 p.m.
Important note: Only credit/debit is accepted; the shop does not take cash or checks.
Come see what all the fun is about!