For the past several months, Jackson Graham has been blending the timeless appeal of live theatre with the tried-and-true late-night television talk show formula. The result is a show called Repeating Gossip, which you can catch monthly at Bellingham's The Blue Room.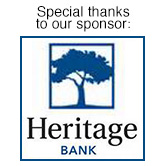 A Unique Comedy Show
Born in Bellevue, Graham has lived "all around Washington" also calling Kirkland, Duvall, Redmond, and Woodinville home. He's currently a senior year at Western Washington University, majoring in English Literature with minors in French and history, and plans to attend graduate school for translation or teaching.
He'd been performing stand-up comedy for three years before launching Repeating Gossip a little less than a year ago. "I realized I wasn't that good at stand up — at least not as good as I wanted to be," he says. " I thought if I produced my own talk show and got different acts each time, it's still a guaranteed 30 minutes of stage time for me every month. So, it started out very selfishly."
A New Take on a Proven Format
Graham would like to be the next Johnny Carson. More specifically, a Johnny Carson-type that the underground hardcore punk scene can be proud of. A do-it-yourself work ethic gives his talk show a local theatre feel, and a roster of local guest performers helps it keep a grass-roots relevance. Rather than attempting to create a show that transcends its surroundings, Graham chooses to keep it firmly rooted in what makes Bellingham special.
"Just like Late Night with David Letterman was New York, this show is an extension of Bellingham," he says. "We feature oddities from around town; one month we had a perfume salesman, and another time we had Dinger, the mascot for the Bellingham Bells. I go to DIY venues and I grab all my favorite hardcore bands and book them on a professional stage. It's a cool contrast between really subversive music, and as clean of a talk show as I can put together."
Expect the Unexpected
Each show kicks off with standup from of one of Bellingham's comedians, followed by a monologue from Graham as the host. Then Jason, his "chair guy" plays Ed McMahon to his Carson, announcing sponsors and preparing the crowd for upcoming acts. Some of the acts are sketches, while others are slightly less planned out, like taking questions from the audience. But it's never safe to expect the show to go in any predictable direction.
"We help old ladies get Worcestershire sauce stains out of their shirts or give away Iraq War-era bumper stickers and such. And we usually have a drag artist. Gotta have a drag artist," Graham says. He recognizes that the crew of drag queens that perform at Bellingham's Rumors Cabaret are some of the best drag artists in Washington state; performers known for their ability to be witty and engaging.
Booking a long list of local talent and inviting people to help with the nuts and bolts of the show has not only worn away some of the initial 'selfishness' Graham spoke of, but has also shown him that he has a passion for production. When he talks about putting together shows for people to attend, he talks about the magic that comes about as people step into a cinematic scene that transports them from the ordinary into an artistic creation.
Producing for the Future
In addition to Repeating Gossip, Graham is moving forward with a nascent production company by the same name. He recently helped friend Troy Schultz realize an independent film, "Knife of Glass," through the WWU Film Production Club. It premiered on Western's campus and should hit other local independent screens, as well. Described as an "Italian discotheque horror film," Graham is proud of its high production quality and is already moving forward with his involvement in another film project.
If it's fair to judge by the momentum he has built up with his stage show, it looks like Graham is on the right track to continue enjoying himself while also creating experiences for others to enjoy.
"The last show had a perfect monologue [and] perfect comedian; the sketches went great. We showed a clip from "Knife of Glass," then the musical act came along and took the roof off. And then we had a great resolution to the show," he says. "I hope, in the future, it's an institution for Bellingham so I can [eventually] hand off the foundation of the show to a new comedian. A lot of shows end once the producers think it's done, but I want to make something that's separate from me."
Follow Jackson Graham on Instagram for details on upcoming shows.