Submitted by the Bellingham Regional Chamber of Commerce
Tomorrow's leaders are here today working in positions behind the scenes and in those of prominence. The Bellingham Regional Chamber of Commerce in partnership with Whatcom Young Professionals, a chamber program, recently announced this year's Top 7 Under 40. This is our community's recognition of top young professionals in our region.
This year over 70 nominations from coworkers, colleagues, and supervisors were submitted. The Top 7 Under 40 process values attributes such as character, community, leadership, professional accomplishments, and personal vision. To be qualified you must be 40 or younger on January 1, 2024.
The program culminates in a celebratory event on Thursday, October 19th at the Hotel Leo, where the seven will be celebrated by colleagues, friends, and family. At the event, a culminating award is announced which is chosen from one the seven. This award is the Young Professional of the Year, which predates the Top 7 Under 40 event.
Guy Occhiogrosso, President/CEO of the Bellingham Regional Chamber of Commerce said, "This is such a great program to be able to produce – one where we can showcase some of the amazing talent and humans in our community. We need to support those young professionals and employees as they are not simply our future, they are our now."
This year's event is again sponsored by Barron Heating AC Electrical & Plumbing. Brad Barron, CEO and recent Top 7 Under 40 alum, agrees with the importance of showing younger professionals, "When we build up our young professionals, we strengthen our local economy and our future."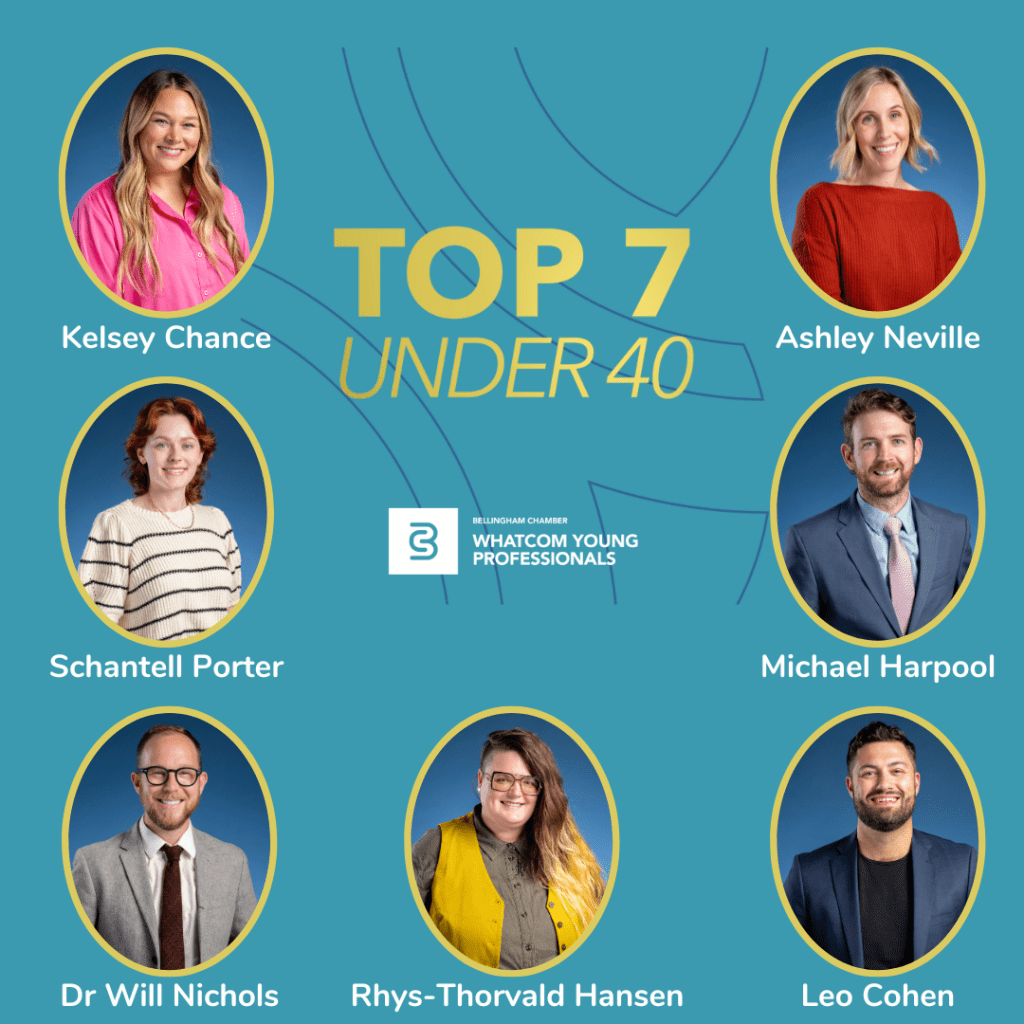 The 2023 Top 7 Under 40 Whatcom Young Professionals:
Leo Cohen
Kelsey Chance
Rhys-Thorvald Hansen
Michael Harpool
Ashley Neville
Dr. Will Nichols
Schantell Porter
About Bellingham Regional Chamber of Commerce
The Bellingham Regional Chamber of Commerce has contributed to the success of the local business community for over 110 years. As a not-for-profit membership organization, the chamber advocates for its members by convening leaders and influencers, serving as a catalyst for business growth and advocating for policies that bring about positive change. Visit bellingham.com to learn more.