With days growing shorter and a cool chill in the evenings, there's no denying that autumn is once again upon Whatcom County.
And out at Home Farm U-Pick & Events, autumn is a wonderful time to visit the family-owned-and-oriented farm, located just two miles from Birch Bay. From a pumpkin patch and corn maze to a fall farm store stocked with warm swag and delicious goodies, Home Farm's slate of fall festivities offer something for everyone.
The U-pick pumpkin patch, which opens for the season on September 29, will feature heirloom and specialty pumpkins in a variety of sizes, shapes, and colors, plus an array of squashes and gourds ready for decorating or eating.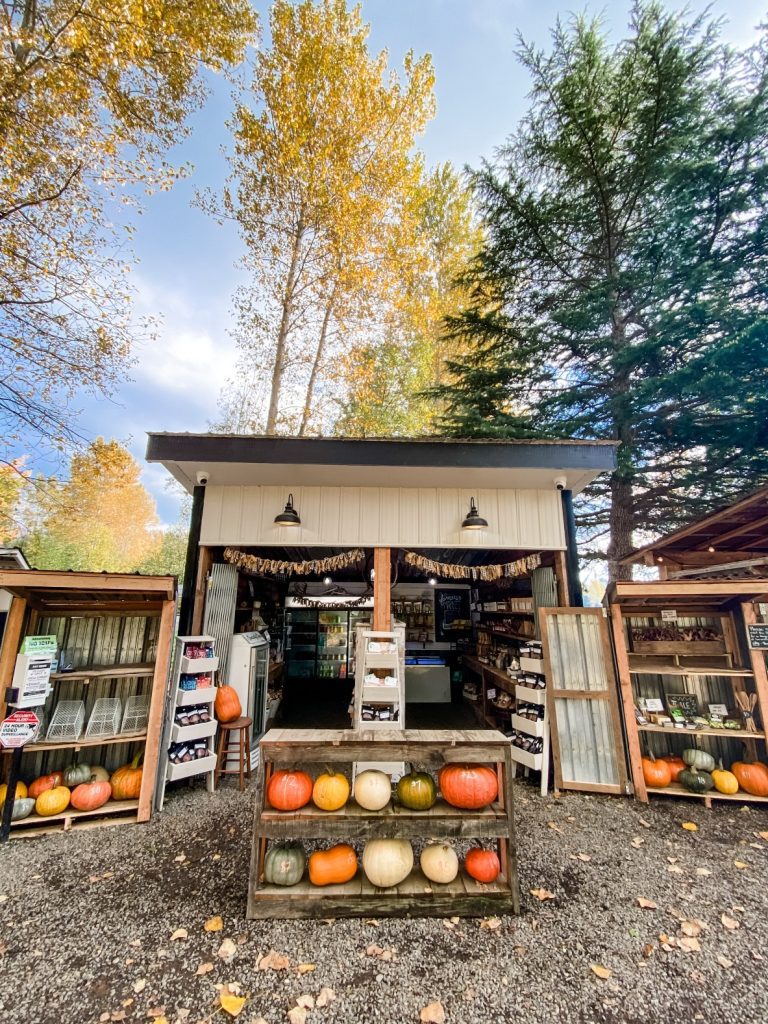 "We're upping our pumpkin patch game," says Home Farm co-owner Bridgette DiMonda, who has run the farm with her husband Dan Burdick since 2018.
The couple and their daughter, Khloe, moved to Whatcom County from Monroe in 2017, seeking both a change of pace from Dan's work in Bellevue and a place to hobby farm.
"My husband had a dream of having a farm," DiMonda says. "We just kind of went for it."
From their first summer selling berries and vegetables at their farm stand in 2018, the farm has morphed from a hobby into a true community agricultural operation. In addition to vegetables, berries, and sweet corn, Home Farm also raises hogs year-round. From 10-pound porkers to those weighing in at over 300 pounds, Home Farm currently has about 25 hogs available for purchase.
While the farm is not certified organic, it abides by strict organic growing methods — no sprays or Round-Up-ready seeds.
Explore the Fall Farm
Visiting the farm for a pumpkin is a nice change of pace from just buying one at the grocery store, DiMonda says.
"We love having a place where kids, especially, can come and see how things grow," she says. "A lot of people these days are just disconnected from where food comes from, and how it grows."
It's also a great place in general for children, with few rules and restrictions.
"The farm's really big and open," DiMonda says. "Kids can just run free and have fun — that's the whole point of being out on the farm."
The U-pick pumpkin patch will operate each Wednesday through Sunday through October 29, with hours running from 9 a.m. to 5 p.m. Wednesdays through Thursdays and until 6 p.m. on Fridays through Sundays. No reservations are needed, and there's no fee to visit aside from the price of the pumpkin(s) you purchase.
In addition, weekend trips to Home Farm will feature a corn maze, hot cider and popcorn, and tractor train rides from 10 a.m. to 3 p.m. (weather-permitting). An antique tractor — one of several the farm has on display and uses for planting and harvesting — pulls the train. There will also be weekend food trucks, and face painting by Art & Happiness from 10 a.m. to 3 p.m. on September 30, October 14, 21, and 28.
New this year is the farm store, located in an event building near the farm's U-pick area. Several local small businesses and handmade vendors will sell their wares throughout the month of October, along with Home Farm's fall-oriented swag and products. Those will include hot ciders and cocoas, as well as shirts and sweatshirts sized for both children and adults.
If you're planning to visit, Home Farm is easy to find: Just about 20 minutes from Bellingham, take Exit 270 off Interstate 5 and head west on Birch Bay Lynden Road. After a brief left turn onto Kickerville Road, you'll come to the farm on your left.
When it comes to autumn, Home Farm has what you and your family need for festiveness and fun.
Sponsored