In 2022, Bellingham resident Jennifer Weber fell on an icy road and broke her pelvis in multiple places.
As someone in her mid-50s who loves hiking, backpacking, and snowshoeing, it was a catastrophic injury, necessitating the use of a wheelchair, a walker, and crutches.
"Not only was it a huge physical setback for me, but it was a real blow to my confidence and to my sense of my physical capacity and strength," Weber says. "I work really hard to keep myself fit and active, and this was enormously humbling for me."
Weber's orthopedic surgeon referred her to CorePhysio, where she undertook seven months of physical therapy. When she "graduated" from her insurance-covered PT work with Brittany Fuller, an orthopedic clinical specialist, Fuller suggested she consider working with CorePhysio's lead personal trainer, Luke Galloway, to reach the next level in her recovery.
"I was mobile and I was weight-bearing, but I didn't feel like I had enough strength or enough balance…to feel like I could get back into the world and do the things I wanted to do," Weber says.
She chose CorePhysio's "Rooted to Rise," an eight-week series of biweekly classes focused on fitness and wellness of the lower body and core. The result, Weber says, was game-changing.
"It was energizing, it was encouraging, and I felt the change in my body," she says. "I felt like I could continue to improve. Rooted to Rise really showed me that no matter where I was, this class could take me to the next level."
Open to All
Rooted to Rise is open to everyone, regardless of physical fitness, age and circumstance. Whether someone is taking the classes to continue rehabbing a knee, ankle or hip injury beyond traditional PT, or "prehabbing" — strengthening against future injury — Galloway says they'll be able to make inroads on their wellness goals.
"I can always make things harder for people who need more of a challenge, but I can also make things more acceptable for people who maybe haven't done a whole lot of training with me," he says. "I like to meet people where they are. I want people to feel better not only physically, but mentally and emotionally, when they're done with each class."
Knee pain is one of the most common conditions seen at a PT clinic, and the classes are a great way to improve knees and hips, Galloway adds. Rooted to Rise is also popular with skiers and snowboarders, as a means to strength and conditioning for snow season.
As a physical trainer certified by both the American Council on Exercise and the National Strength and Conditioning Association, Galloway begins and ends the course with Lower Extremity Functional Scale (LEFS) intake forms. On average, Rooted to Rise students see their lower extremity functionality jump from the low-70-percentile to the mid-90s.
Fuller, who has taken personal fitness training with Galloway and encourages specific clients to consider training with him, says he's a positive and encouraging trainer, in addition to his great skillset.
"He's incredible at scaling exercises up or down based on fitness level, or if someone has some mobility challenges," she says. "He is incredibly adept at recognizing that and making modifications."
Weber found Galloway's training customizations helpful for her, and said the support of fellow students also greatly buoyed her spirit whenever she was struggling.
Together, she says Fuller and Galloway were instrumental in her physical healing, confidence building, and emotional equilibrium, bringing skill, compassion and encouragement to her rehab and training.
"I really credit them for bringing me back to fullest sense of both myself and my capacity," Weber says.
By the end of Rooted to Rise, Weber was doing things she couldn't have imagined at the beginning, and learned exercises and stretches she still does to this day.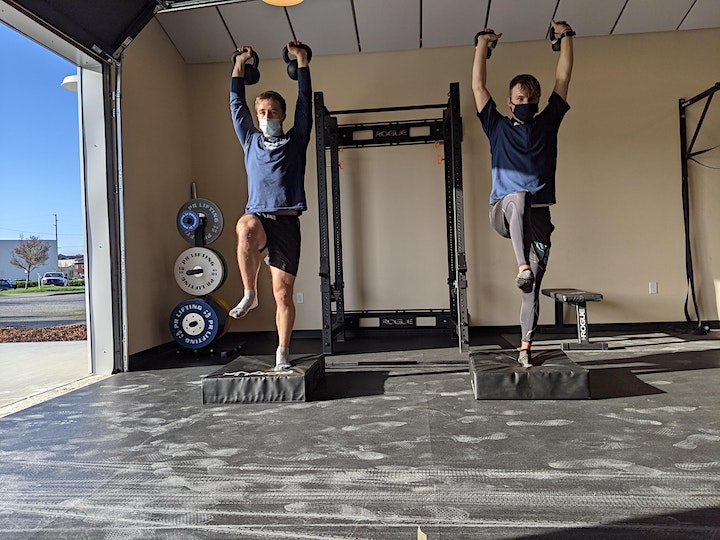 Details and Affordability
Group fitness courses like Rooted to Rise have a maximum capacity of 12 people, and last about one hour in duration.
While these sessions aren't covered by insurance because they don't qualify as medical care like PT does, they're still immensely affordable as a cash-based service. The 16 classes cost $240, or just $15 per session. This is substantially less expensive than regular individual training sessions with Galloway, Fuller says.
Weber says the classes were the best value she spent on her recovery once her insurance concluded her initial rehab.
"For this price point, this was the best investment I could possibly have made in my health," she says. "And I'd do it again in a heartbeat."
The next session of Rooted to Rise classes run from September 28 to November 20. For more information, please see CorePhysio's website or call at 360.752.2673
Sponsored