Bellingham is known as a beloved waterfront community — and for many that's where it stops. Residents and visitors alike enjoy driving to the beach, walking on the boardwalk in Fairhaven, and taking in breathtaking views of the islands while eating at a waterside restaurant. But many may not realize the variety of options easily accessible for getting out onto — or into — the water via all manner of watercraft, from kayaks to a historic windjammer.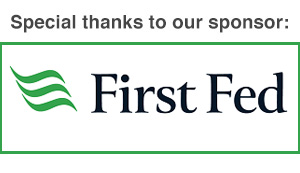 While some people opt for a boat — filled with fellow passengers and offering succulent appetizers or complete meals — others can be eager to get closer to the water itself. You can paddle yourself, charter into the islands, or take a schooner to explore places the public ferry doesn't go. Look at some of the price points below and determine if you want to go the route of a well-to-do traveler or a college student on a tight budget.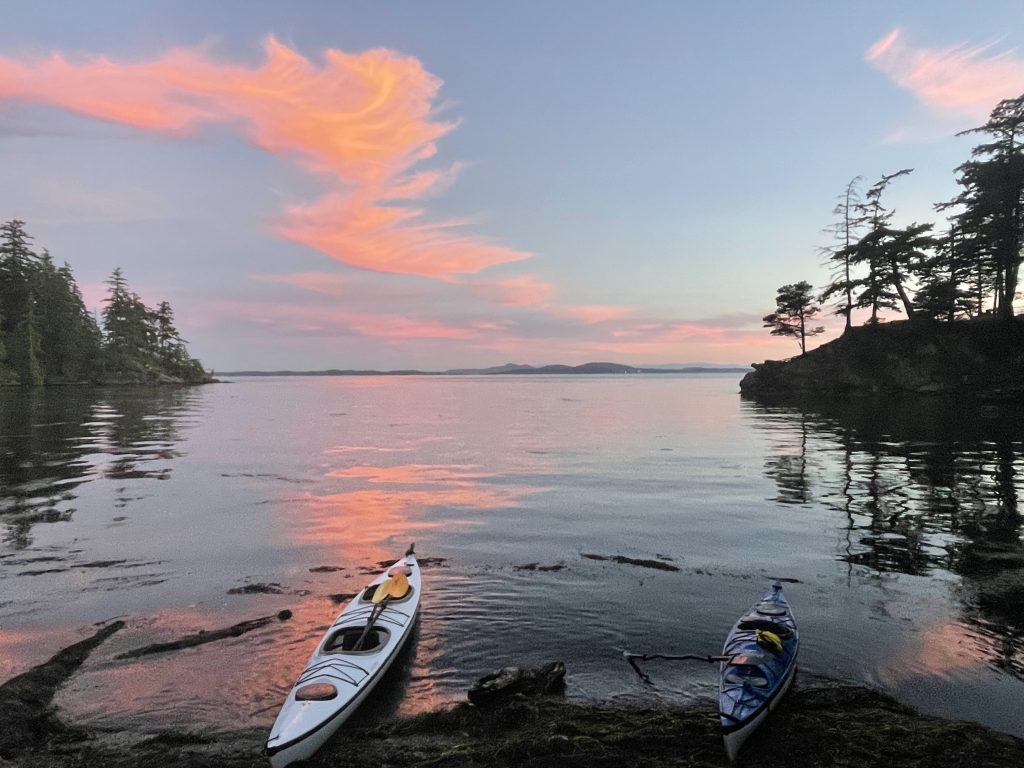 Learn the Ropes With Dragonfly Kayak Tours and Wildcat Cove Paddle
Dragonfly Kayak Tours is all about adventure — and these adventures, per its website, start around $86 (plus tax) for a two-hour commitment where you'll learn the basics of kayaking.
Victoria "Tori" Ayres started the business in 2018 and says her primary focus is running day kayak tours out of Larrabee State Park "in an effort to get people out on the water in a less impactful way." She assures that those who aren't strong swimmers will be equipped with a life jacket and only get wet up to about their knees.
"Our day tours are suitable for adults and children as young as five, and our evening and multi-day tours are suitable for adults and children 12 and older," Ayres says. Tours are suitable for any experience level.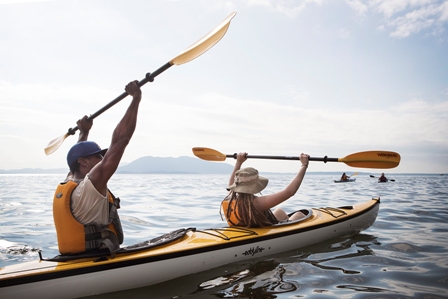 "We want our guests to be able to experience the beauty of our serene water from the gentle strokes of a kayak paddle. We also run multi-day tours to some of the lesser visited San Juan Islands including Lummi, Clark, and Cypress," she continues. "Booking a tour with us is like planning an intimate getaway with your closest friends. We'll take care of all the planning and work; all you have to do is show up prepared for fun and lasting memories."
Ayres says she loves to share the experience with others, especially people who haven't kayaked before or who haven't kayaked in our waters.
"We really get to immerse ourselves in nature and see so much more in the way of wildlife — seals, otters, eagles, porpoises, and even occasionally whales," she says of the multi-day adventures "Though common in our waters, I always enjoy watching playful and curious seals."
Ava Larsen of Wildcat Cove Paddle founded her business during the pandemic, with options for learning in Lake Padden or on Bellingham Bay. She's a certified Professional Stand Up Paddleboard Association instructor who works mainly with teens and adults, both beginners and intermediate, and is open to working with families, as well.
Once students have mastered the skills, she can suggest longer tours.
"Tours offer a guided, longer paddleboard experience in Bellingham or Chuckanut Bay," she says. "They're meant for the paddler who has gone boarding before and knows their abilities are a match for a bit of a longer duration and a scenic route."
The Community Boating Center
The Community Boating Center (CBC) is a 501(c)3 nonprofit that fosters safe small boat recreation on Bellingham Bay. It's located in Fairhaven and currently working on a capital fund to improve facilities and enhance growing programs.
Founded in 2006, the CBC has no memberships or dues. According to Director of Youth Programming Sara Welsh, what sets the CBC apart is that it has programs for everyone — weekly visits with the Max Higbee Center, a weekly Wild Women's Paddle, a HomesNow paddles for folks facing housing insecurity, those in the LGBTQ+ community, adaptive programs for those with physical limitations, and children from across the income strata.
Welsh sees boating as much more than mere recreation. It's also "a way for people to find mental health and community; to have togetherness and still have space at the same time."
Another CBC opportunity that many — of all skill levels — can enjoy in late summer is its bioluminescence tours. Bioluminescence is the production and emission of light by a living organism and is found throughout marine habitats and in Bellingham Bay from June through September. Bioluminescence paddles do sell out, so reserve early.
Sailing the Seas — While Learning — in Style
For those not as eager to be in the water but who wish to enjoy the salt air and the scenery, Bellingham Bay holds a number of options.
Hotel Bellwether recently partnered with local boat charter company Island Opportunity Charters to offer a boat experience and trip to Sucia Island on Wednesdays and Saturdays, which launch from the hotel's private dock. Sucia Island is the largest of the archipelago of 10 islands and Sucia Island Marine State Park includes nearly 80,000 feet of shoreline to explore.
For those aiming for a truly classy experience in which Sunday brunch is taken to the next level, climb aboard the deck of a 1920's sailing yacht, the classic and grand windjammer Schooner Zodiac.
The large, family-friendly boat has 127 feet of deck space — replete with polished brass fittings and a 12-story mast. While the annual Mother's Day and Fourth of July events have already taken place this year, another Sunday brunch sail is set for September 24. Tickets for adults are $79, children $59, with a boarding time at 9:45 a.m. and sail from 10 a.m. to 1 p.m.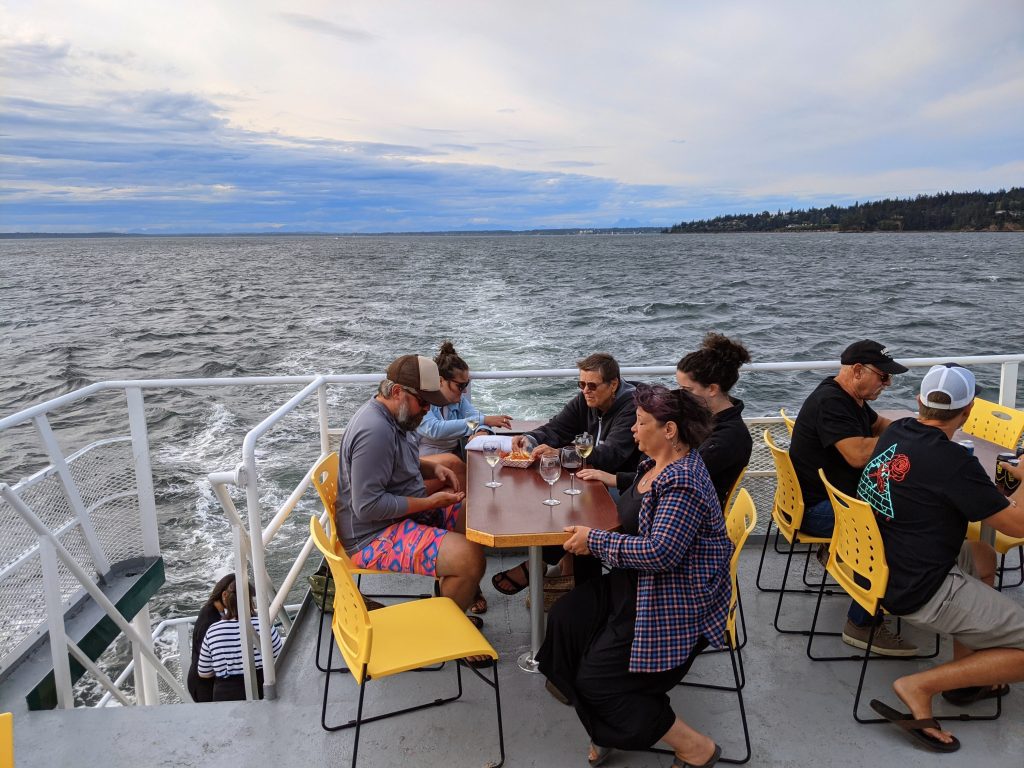 Whatcom Museum continues its summer History Sunset Cruises on Tuesdays through September 12 from 6 to 8 p.m. Tickets are purchased online, with a discount for museum members. Local historian and author Brian Griffin narrates each cruise, with the aid of speakers situated around the boat, from the 100-foot Victoria Star, which departs from the Bellingham Cruise Terminal and has indoor and outdoor seating, an onboard snack bar, and beverages.
Bellingham-based San Juan Cruises is a longtime, popular business that offers both the chance to venture out to see families of whales where they live, and also stay closer to town with sunset crab or beer and wine cruises.
Featured photo by Alicia Jean Photography