A key component of any town's cultural health is the quality of its music scene. And in Bellingham, the city has long enjoyed eclectic venues that bring in a diverse range of musical acts.
Some of those venues, however, have long since been reduced to saved handbills, aging memories, and possible bootleg recordings. So, let's take a look at just a few of Bellingham's many past musical playgrounds.
Speedy O' Tubbs Rhythmic Underground (1988–1995)
Located in the basement of the Nelson Block at the southeast corner of 11th Street and Harris Avenue, the uniquely named Speedy O' Tubbs Rhythmic Underground opened in 1988.
The venue existed in the same spot as a prior performance space, Toad Hall Coffee Shop, which in 1970 hosted a "Multi-Arts Festival" that attracted Beat poet Gary Snyder and author Ken Kesey. According to Lance Lindell's 2005 Whatcom County Historical Society article on Bellingham's music scene, the two camped in a vacant lot next to the bank building.
Speedy O' Tubbs brought in a steady stream of regional and national acts. On November 23, 1988, Nirvana — which released its first single that same month — played a show with fellow Puget Sound bands Skin Yard and Coffin Break.
Nirvana's only other Bellingham show took place after they'd rocketed to mainstream success, as an un-named "special guest" of the band Mudhoney. That concert took place at Western Washington University's Carver Gymnasium on October 3, 1992. Tickets went for just $4 to $6.
Other notable acts to perform at Speedy O' Tubbs included Canned Heat, the Canadian group 'Shadowy Men on a Shadowy Planet,' and Sublime, which played there September 14, 1994.
The venue was also reportedly haunted, as Bellingham historian Kolby LaBree told WhatcomTalk in 2018. Odd occurrences allegedly led the owner to hire a priest to exorcise spirits from the venue, but it didn't help it stay in business. After closing in 1995, Speedy O' Tubbs remains the last tenant to inhabit the Nelson Block basement.
The Nightlight Lounge (2004–2010)
Another basement-dwelling location was the Nightlight Lounge, which occupied the bottom of the Daylight Building in downtown Bellingham at 211 East Chestnut Street.
After opening in September 2004, the bar and music venue — with capacity for up to 500 people — booked an impressive array of national touring acts. Surf music pioneer Dick Dale performed there, as did Leon Russell, Brandi Carlile, Sleater-Kinney, and Henry Rollins.
Other notable performers included the Derek Trucks Band, Built to Spill, Camper Van Beethoven, Idiot Pilot, Sharon Jones & The Dap Kings, and Wu Tang Clan's Ghostface Killah. Years before they'd fill stadiums, The Black Keys played the Nightlight on Sept. 15, 2005.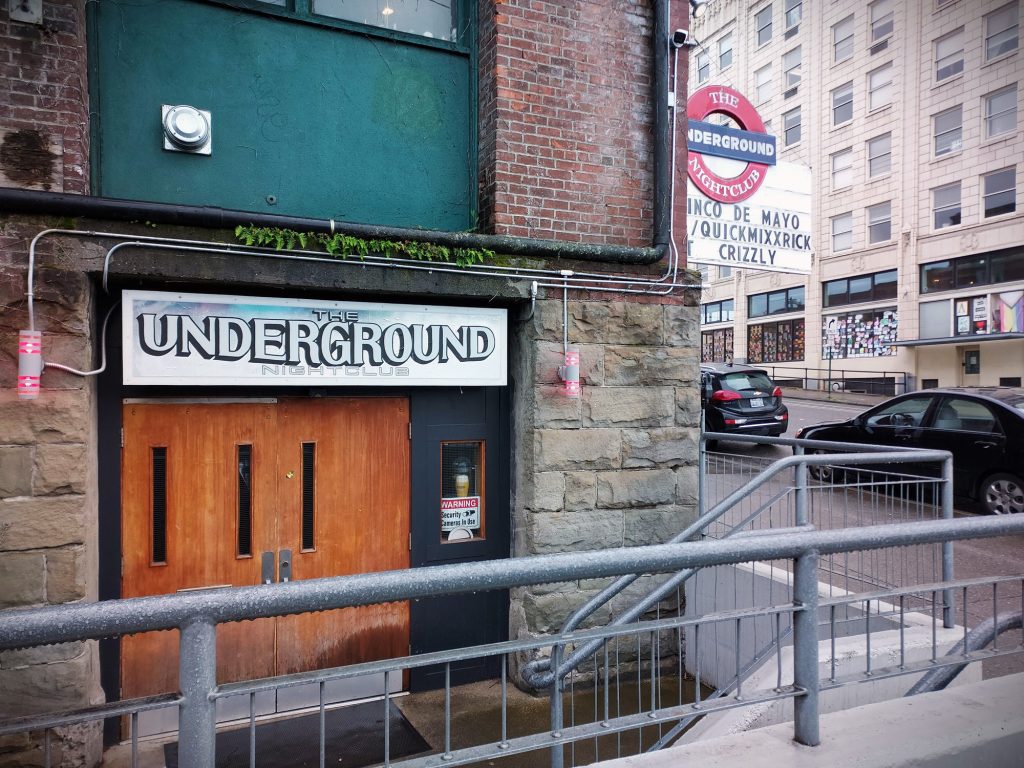 Eventually, however, the venue ran into financial problems: A brief closure in the summer of 2007 was followed by a lengthy closure from January 2008 to February 2009, according to a Bellingham Herald article.
The Nightlight closed permanently in March 2010, when the state's department of revenue revoked its business license over unpaid taxes. The venue's owner claimed to the Herald that a revenue agent had made a mistake, but the Nightlight's stage lights still went dark.
The Underground Nightclub opened in the space in 2011 and has occasionally hosted live music and comedy in addition to regular live DJing.
Pete's Tavern/Buck's Tavern/3B Tavern (1976–2005)
Located at 1226 North State Street in the former Hotel Laube building, Pete's Tavern was originally owned by Pete Mogel. It hosted live music on weekends, and its proximity to nearby Uncle Aldo's Pizza — which would later become Cicchitti's Pizza and, eventually, Rudy's Pizzeria — was also a big plus.
With 16-foot ceilings, Pete's was considered an acoustically favorable spot that booked a wide variety of genres. In 1981, it hosted the debut gig for a local dance band called "Eddie & The Atlantics," which later became simply "The Atlantics." The group still plays in Bellingham to this day.
As a 2005 Herald article recounts, bartender Ivan Buchbinder was able to book iconic jazz and blues musicians for nights between their Seattle and Vancouver gigs in the late 1970s: Dexter Gordon, Milt Jackson, Cal Tjader, and John Lee Hooker all played at Pete's.
In 1983, owner Dave Starbuck re-named Pete's as Buck's Tavern. David Lindley, late guitarist for Jackson Browne and other prominent 70s musicians, played there. My father saw blues legend Albert Collins perform; at one point during that particular show, Collins took his guitar on a walk to the end of the block, playing the entire time.
As Lindell recounts in his 2005 article, Buck's became a venue primarily noted for live rhythm and blues, hosting national acts, Seattle groups like Jr. Cadillac, and local groups like The Atlantics. Buck's also hosted Ska and reggae groups and closed in the spring of 1991.
Not long after, Aaron Roeder — drummer for Bellingham band The Mono Men and descendent of city pioneer Henry Roeder — opened the Bellingham Bay Brewing Co. with his brother Eric. The name was eventually shortened to the 3B Tavern and remained a staple of the Bellingham music scene for the next 14 years.
The venue featured "an inviting mixture of skid-row neon and tiki-lounge kitsch," recounts Lindell, and had pool tables, vintage pinball machines, and a dance floor. A large mural behind the stage depicted a State Street parade, and its large marquee featured the phrase "A day without beer is a day without cheer!" at the bottom.
For several years in the 1990s, the 3B hosted the GarageShock Music Festival. Idiot Pilot and Death Cab for Cutie also played there before reaching wider audiences. The 3B stage hosted its last show on December 31, 2005.
The space was taken over by the Bellingham Housing Authority, which created apartments above the tavern. Since then, the former venue space has held several business tenants, including its current iteration: a thrift store.
Roeder, meanwhile, currently co-owns Red Rum tiki bar.
Although these venues and many others are long gone, they still hold special places in the hearts of those who frequented them for music and good times.
Featured photo by Dave Ward