"Beautiful May is here," rejoiced the Bellingham Herald on May Day 1909, "the prettiest time of the year, when old Mother Earth has cast off her winter coat and comes bedecked in gorgeous colors, throwing from her green lap the beautiful spring flowers." In the early twentieth century, May Day was a special holiday for people in Bellingham.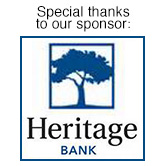 Cultures around the world celebrate the coming of spring at the beginning of May and many of the traditions practiced at the-turn-of-the-century America came from medieval English folk customs, including giving flower baskets as gifts and maypole dancing. In a maypole dance people — usually children — dance around a tall pole while wrapping it in colorful ribbons.
May Day is also now known as International Workers' Day or International Labor Day, but the holidays are unrelated.
Bellingham Normal School
Perhaps the best place to see May Day traditions at the turn of the century was at Bellingham Normal School's annual May Day celebration. Now Western Washington University, the Normal School was an institution for educating teachers at the time. Most of the students were women.
Sponsored by the YWCA, hundreds of students — including children from the Normal's practice school — participated. After a procession across campus, they danced around the maypole on the lawn, dressed in white. In rainy weather, they met inside. There was also Scottish and Swedish folk dancing, and "aesthetic" dancing, a style of interpretive dancing popular at the time. One female student would be crowned May Queen.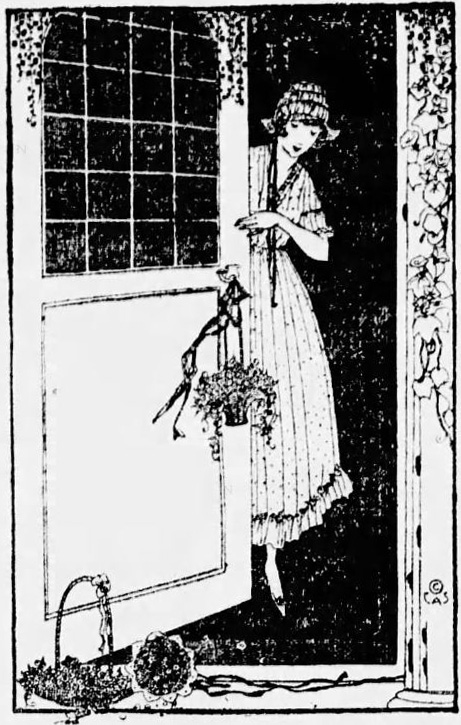 Other Schools
Other schools also celebrated May Day in similar ways. For example, in 1912, Mrs. H.H. Matteson held a May Day party for her kindergarten class at the PLF clubhouse, Garden Hall. Josephine Mason entered the room in a white chariot pulled by "prancing steeds" and accompanied by knights, the boy students. As May Queen, Josephine decided the day's games.
Celebrations could be public festivals. The Meridian School District sponsored an event on the school grounds in 1921 for students and their families. After a program of music and dance, they held a baseball game and students served ice cream and cake.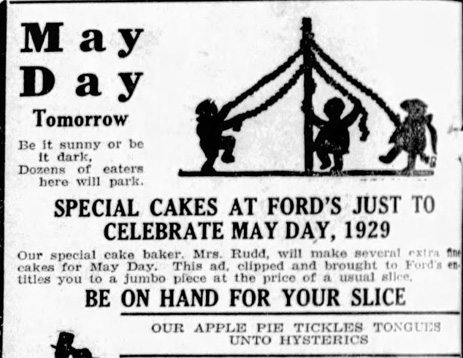 Churches and Clubs
Music was a big part of the holiday, and church groups sometimes held May Day concerts and events. A typical concert was one organized by South Bellingham Presbyterian Church in 1914 where violin, vocal, and piano numbers included spring-time themed songs like "O For a Day of Spring," "What's in the Air?" and "Song of the Nightingale." Women typically sponsored these events, like a 1913 May Day festival held by the ladies of Zion Lutheran Church.
Other organizations also arranged May Day events. These included dances, such as one held by the Central Labor Council and Woman's Union Label League at the Fairyland Rink in 1913. The women's auxiliary of the Albert J. Hamilton post of the American Legion put together a May Day dance for veterans in 1922. Women guests were instructed to bring May baskets with sandwiches and cake for two.
Clubs held parties for members. Typical was one given by the Royal Ann Club in 1911. They decorated a member's home with white narcissus flowers. The table's centerpiece, a key part of a proper turn-of-the-century party, was a miniature maypole made from cherry blossoms. Place cards were attached to ribbons connecting the pole to the plates. The program also featured prizes and piano music.
Some clubs turned May Day events into fundraisers. For example, the Business and Professional Women's Club held a dance in 1925 to benefit children's orthopedic medical care. Guests were charged 50 cents admission.
Private Parties
Entertaining was a key part of early twentieth century life and people used May Day themes for these events. In 1910, Mrs. Fred Jenkins turned her daughter Helen's fifth birthday into a May Day party. May Day breakfasts were popular and in 1908 friends of Ava Dodson held a bridal shower for her on May 1st. The table was decorated with apple blossoms and guests were given heart-shaped May baskets. Guests wrote their favorite breakfast recipes in a souvenir book to give to Dodson.
For their 40th wedding anniversary in 1915, Mr. and Mrs. Carl Schmidt held a luncheon at their home with a May Day theme. The dining tables' centerpiece was a mini maypole, decorated with asparagus ferns, with red and white ribbons winding from plate to plate.
May Day Party Ideas
Those looking for ideas for May Day parties could turn to the Bellingham Herald, which published suggestions for May Day menus. A 1930 luncheon menu featured stuffed hard-cooked eggs, chicken timbales and creamed asparagus, strawberry preserves, pineapple salad, sponge cake topped with whipped cream, and hot rolls and coffee.
Legacy
While May Day is not as prominently observed today, people in Bellingham and Whatcom County continue to welcome the coming of warmer weather and the flowers that bloom at the time. After all, April showers — as the old saying goes — still bring May flowers.
Featured photo by Kostiantyn Li from Unsplash