Some people are creators. They have the ability to make something beautiful out of raw materials. Others are storytellers who share tales from those who came before them. Dan Friday is both — and uses glass to tell stories of the Coast Salish people. With a family heritage stemming from the Lummi Nation and using his art to tell stories, Friday not only carries on the traditions of his people, he also honors the work of his great-grandfather, Joseph Hillaire, who was a story pole carver; his 1953 cedar "Centennial Story Pole" can be seen in front of the Whatcom County Courthouse.
Friday, who was raised in North Seattle, spent his summers in Lummi with his uncle, where and from whom he learned about his heritage and its deep ties to art. Growing up, Friday went to alternative schools focused on art. There was an idea that art could be a way to make a living, but no straight, clear line between making art and making money.
So, after finishing school and not knowing what to do, Friday purchased a tow truck and got into the car industry. While on this path, a random occurrence led to his career in glass blowing. "When I walked into a glass shop for the first time," Friday recalls, "I was dropping off a bag or something at a glass studio that my friend's mom worked at. And once I saw glass, I just kind of knew that's what I was going to do."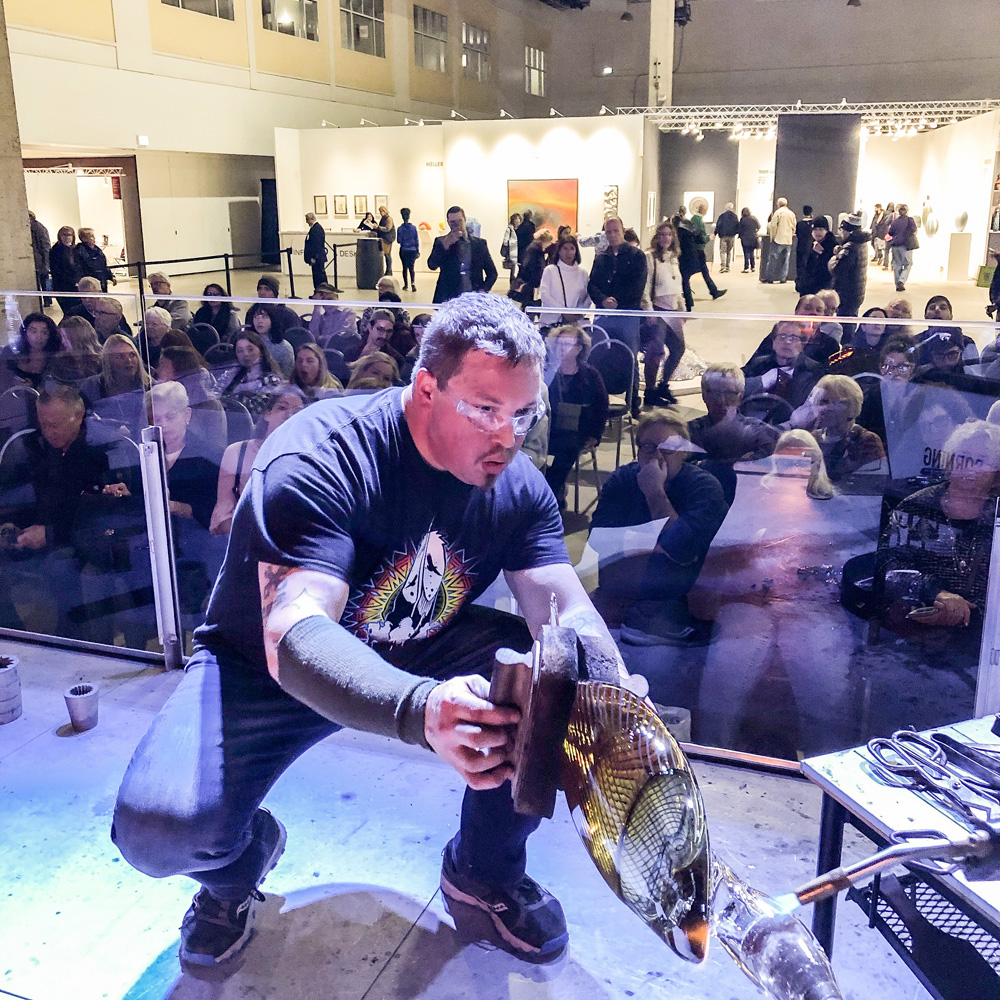 Knowing he wanted to make glass and actually making money doing so were still two very different things.
Getting into glass is always a challenge because of the expensive equipment needed for the process. There are college degrees in blowing glass but, again, a significant cost is associated with that. Friday decided he would take a different route and would be happy just getting to work with the glass and the equipment. He got a job working at the Glass Eye Studio in Seattle, in 1997, doing factory work. He made things like paperweights and Christmas ornaments for the gift shop. It wasn't creating his own art, but it was a creative process, and he got experience using the equipment.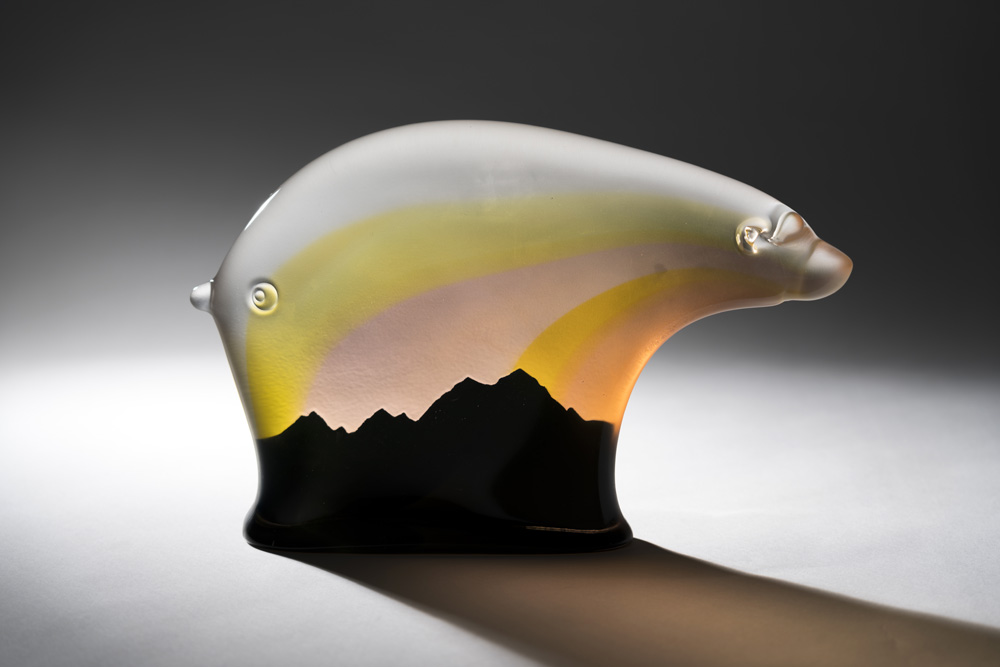 While Friday was content in the factory setting, making it to the Pilchuck Glass School in Stanwood opened his eyes to the wider world of glass art. Shortly after that, he was able to work with the world-renowned Dale Chihuly.
Friday was now creating his own glass art as well as returning to Pilchuck to work as a teacher and a gaffer, someone who helps other artists make their visions a reality. He had made his passion his career and has been doing it for 26 years now. "It's a weird way to make a living," he says. "I'm highly unemployable. If it wasn't glass, I don't know what else I would do. I hope to be doing it for another 26 years."

It looks like Friday just might get his wish. He had a show last year at La Conner's Museum of Northwest Art and has permanent installations at the Portland Art Museum and the Burke Museum in Seattle. In addition, he was a contestant on the most recent season of the popular Netflix competition show, Blown Away, which has now made him a household name. While Friday isn't a competitive person and didn't grow up with a TV (nor does he own one now) he was happy to be on Blown Away because of what it has done for the glass community.
Friday describes the glass community as a small, tight-knit, worldwide community. With much of the work done in teams, connections between artists run close and deep. Being a glass artist has given Friday the opportunity to travel around the world working with different people, knowing he will always have a couch to sleep on. He's happy that Blown Away is shedding some light on this community and is excited to see the art form growing in popularity.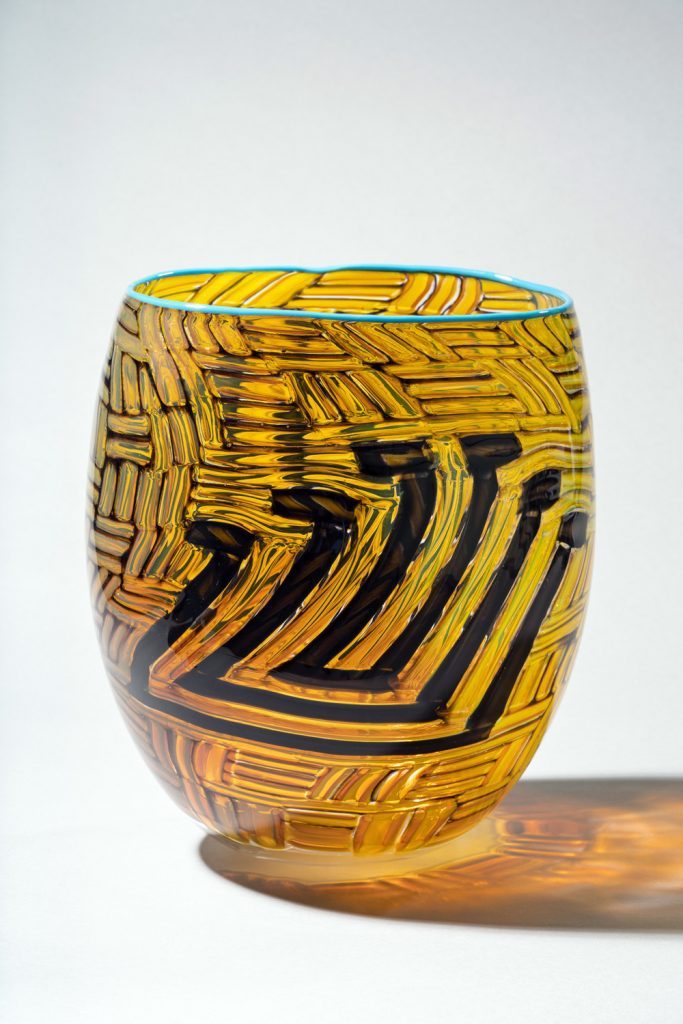 Friday wants to keep this momentum going doing what he can to share this art form with as many people as possible. "What I am looking forward to with my art is to continue to exhibit, make work, and share glass with people that don't have the ability to access it," he says.
Friday is currently working on turning a Lummi warehouse into a glass studio. In this location, he hopes to continue the connection between what his great-grandfather did and what he now does. Sharing the same native name, Kwul Kwul Tw, Friday hopes he can be the one to pass on their oral histories and give the next generation an opportunity to work with glass.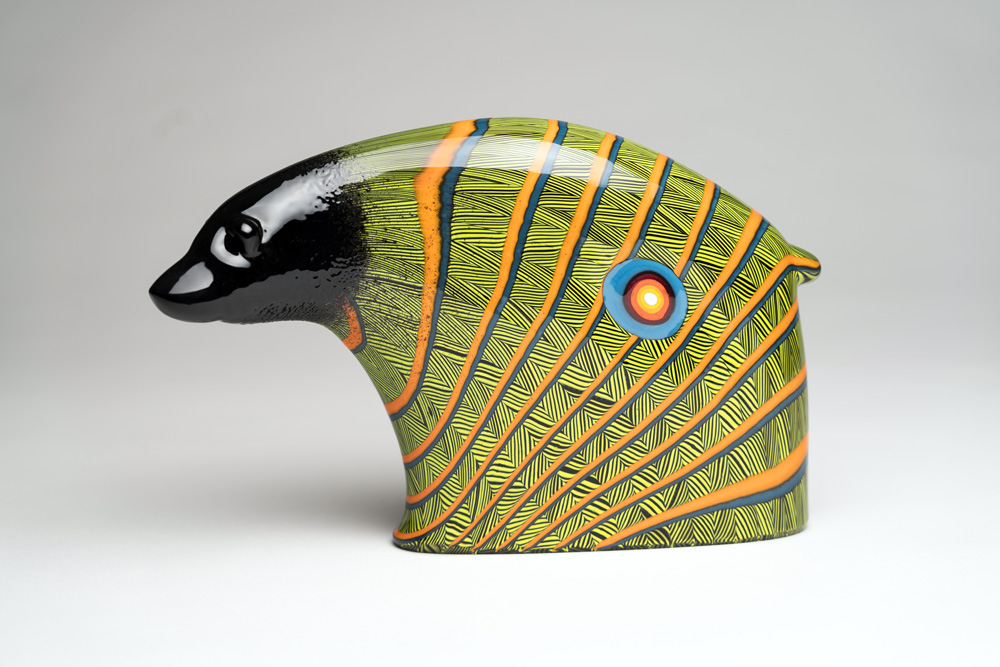 From his glass bears, which are his family crest originally created by his great-great-grandfather Frank Hillaire, to his glass paddles and salmon, Friday's art connects with people as he creates Native American art in his own unique way. With the ancient shapes being formed out of vibrant colors, it's no surprise so many are drawn to his work.
In addition to the museums, Friday's work can be found in galleries in the Pacific Northwest and throughout the country. You can see more of his work on his website, www.fridayglass.com, where he also lists where his work can be found. He also shares updates on Instagram @danfriday. Friday hopes that glass continues to grow in popularity and that people "Keep on glassing in the free world."