Summer is here! Mother Nature is granting us our annual reprieve and reminding us there's no better place to spend this season than in Whatcom County. There are trails to be hiked, lakes to be swam in, and bays to be paddled. This is also the time of year when we get to spend time in our yards and parks, hanging out with friends and family. When that's the case, it's always fun to add a competitive element to keep folks engaged.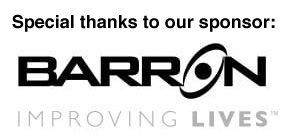 When I think of outdoor fun with a touch of competitive spirit, I think of yard games. From the simple to the complex, there are a plethora of games on the market designed for active fun. I've written here about five games that will liven up any lawn, which vary in required skill and activity level. For more game ideas, check out @yardgamenation on Instagram.
Body Ball
Body ball is as much about participants competing as it is spectators laughing. What in reality is nothing more than a hoop that would go on your bedroom door attached to a belt and a foam ball will add hours of hilarious fun to any gathering.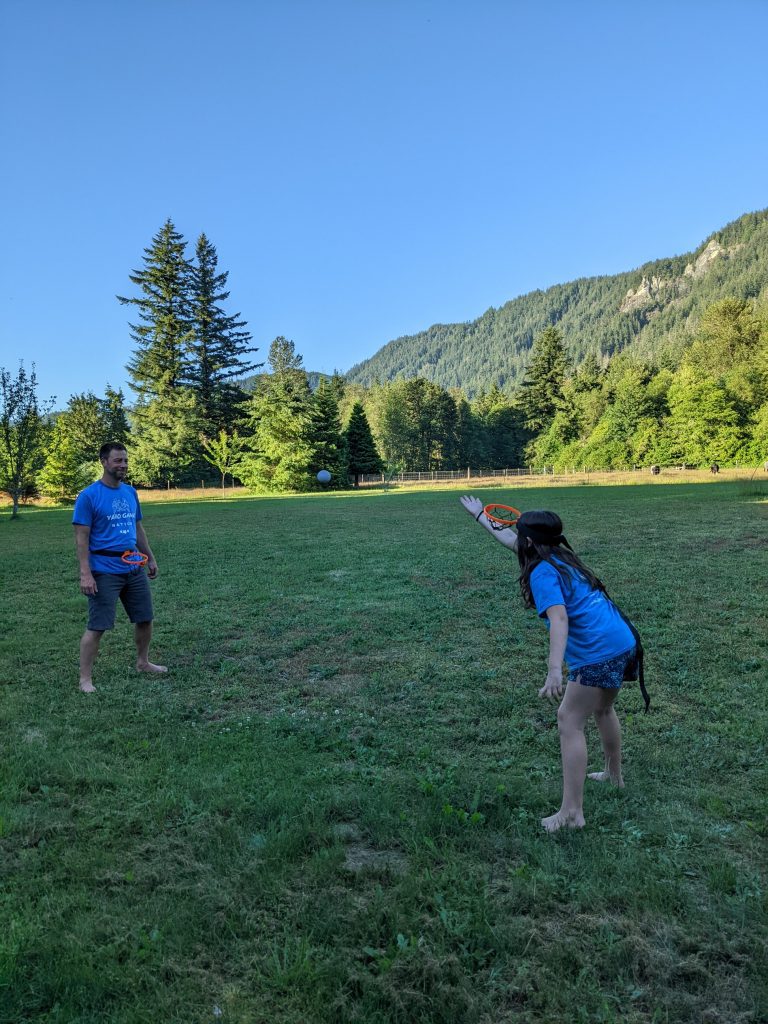 While any age and skill level can have a good time playing Body Ball, there is undoubtedly a level of activity involved that's directly correlated to your partner's shooting accuracy. The hoop can be worn any way you like; feel free to get creative, but most people wear it around their waist. From that position, you will likely have your body used as a backboard and prepare to get in some squats for catching those shots that come up a smidge short.
For official rules or to purchase a game, go to www.bodyball.net. I've also created a variation of the game where it's a race with both teams going simultaneously. We usually play to 10, with winners getting to stay and take on the next challengers. We vary distances between players based on age and skill level.
Ramp Shot
Games of Ramp Shot can range from active to downright intense. Gameplay requires accurate tossing combined with quick reflexes for catching. On every toss, three players are involved, including two teammates and one opponent. This results in a lot of action for everyone involved, while teammates work together to keep the ball from touching the ground and opponents try to catch a rebound to earn an extra shot.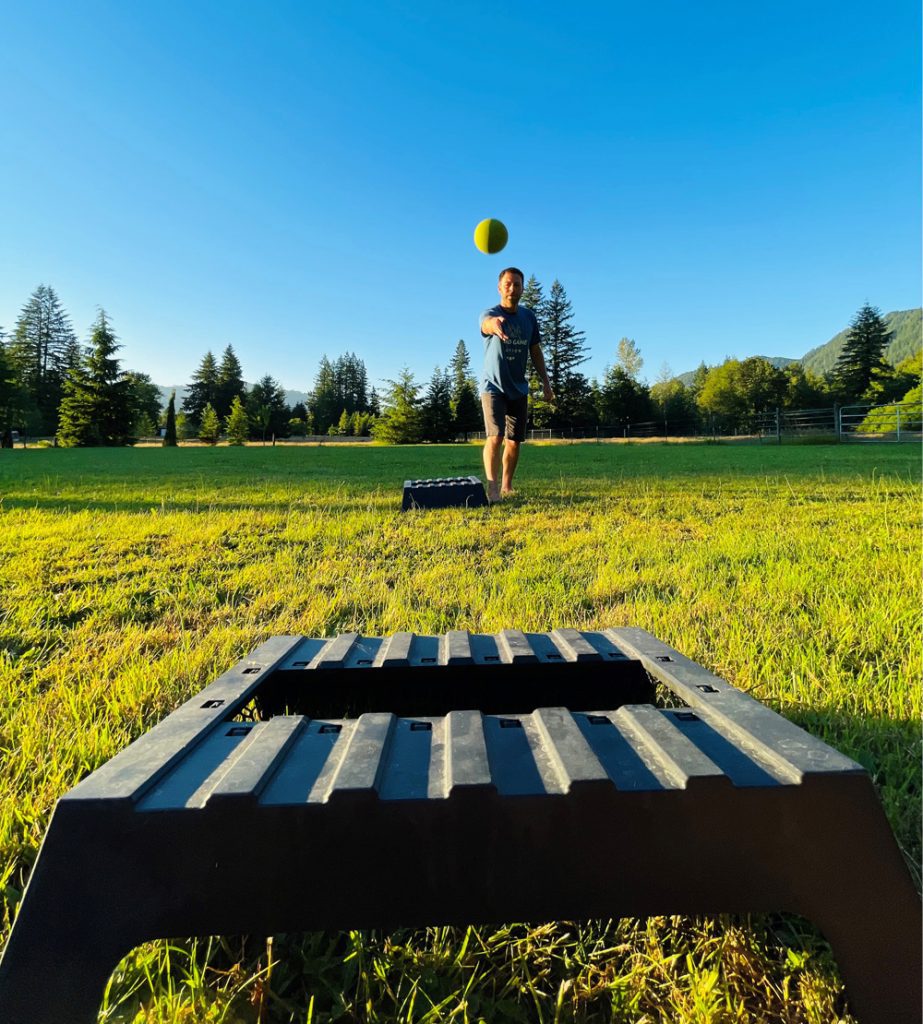 Ramp Shot could be potentially frustrating for younger kids and challenging for those with mobility issues. This is a game that will get the blood pumping and people up and moving. It fits the bill for an athletic endeavor in a relatively small space.
Gameplay can look complicated, but the game is easy to learn and fun to play. Complete rules and videos on how to play are available at www.rampshot.com.
BulziBucket
BulziBucket takes the classic tossing game and adds the fun of Hacky Sack. Gameplay works well for all ages and skill levels, and if your aim is a bit off, your teammate can assist in your shot. Multiple scoring sections make for an exciting game while opponents attempt to cancel each other's made shots.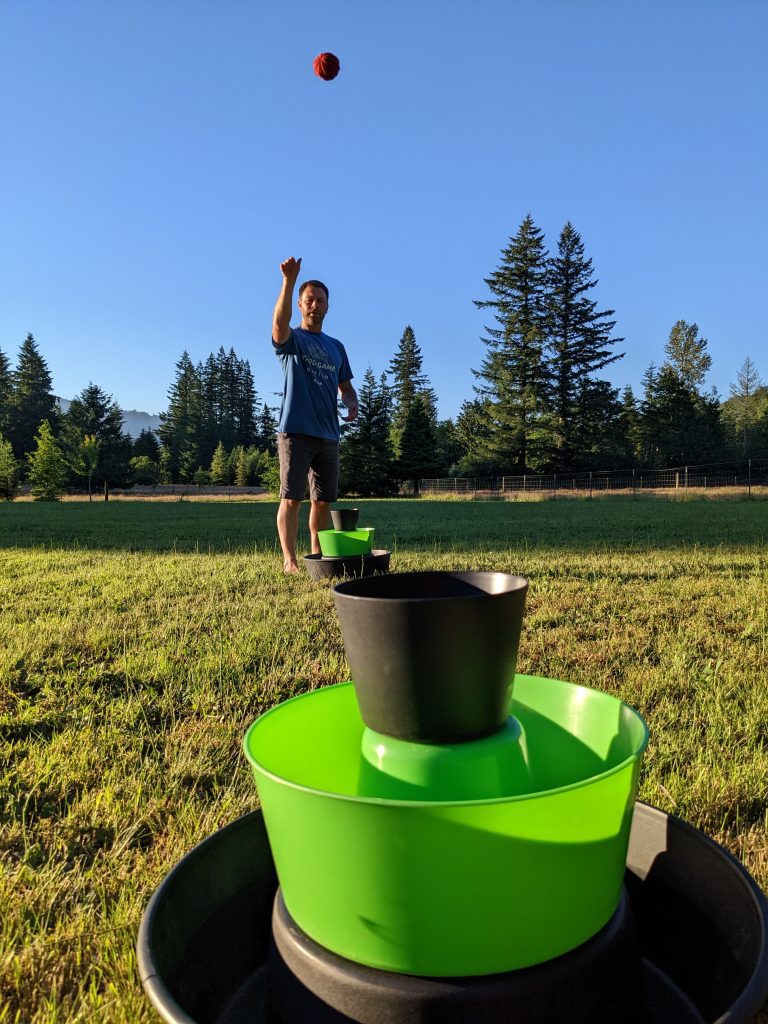 For a larger game, BulziBucket is highly transportable. It collapses down and goes in an included bag, making it easy to take with you to the park and compact for storage. BulziBucket floats, so it can even be played on the water.
With its growing popularity, BulziBucket can be purchased at many retailers, and there are plenty of videos available online on how to play. More information is available at https://bulzibucket.myshopify.com/
TopBlock
TopBlock combines throwing stuff with knocking stuff over, so what's not to like? Appropriate for all skill levels, anyone can walk up and begin playing. Honing your skill will improve results as knocking off just the top block rewards the thrower with more points.
This game is simple to set up and highly compact, making it good for the backyard or taking on the go. It is now a standard item in my camping equipment.
You can get your TopBlock set at www.playtopblock.com, where you can also find official rules. Once in hand, you can enjoy the sound of toppling blocks as you score points on your way to victory.
QB 54
The Transformer of Yard Games QB 54 is a camping chair that turns into a yard game. By revealing the net under the seat and adding the goal posts, an ordinary chair becomes the yard's focal point.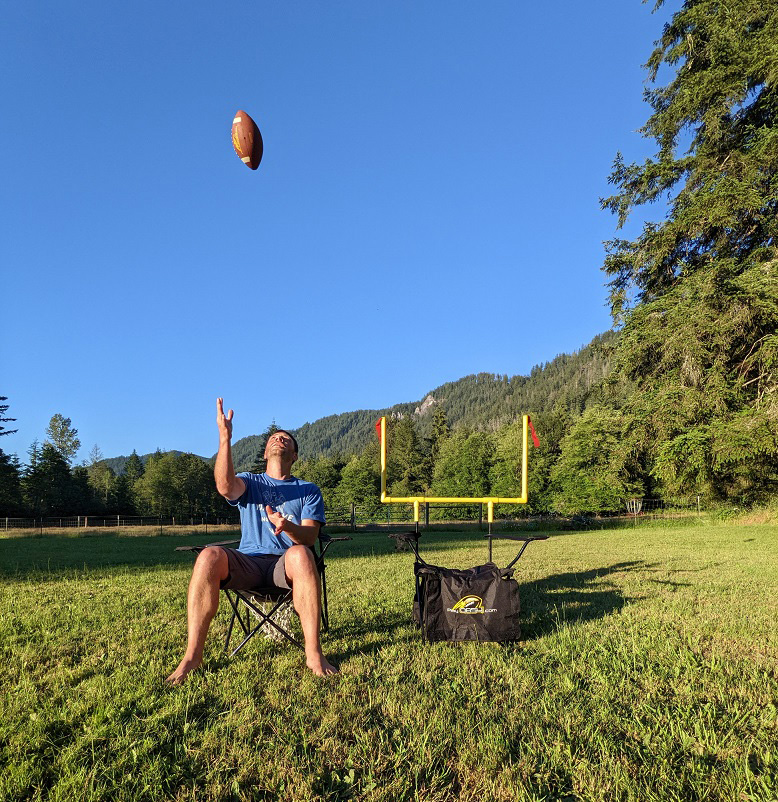 Opponents take turns throwing the football, trying to sink a shot. Opponents must stay on their toes as they can limit the scoring damage by catching a ball bouncing off the chair. QB 54 is more on the active side of yard games, but the distance between chairs can be adjusted for player's skill levels.
More information is available at www.playqb54.com, and variations on gameplay, like running back an interception, can be found online.