Whether you prefer an iconic Margherita, a classic pepperoni, or a specialty variety covered in everything from pineapple to sardines, pizza is a proverbial staple of the American diet.
I've eaten it on a near-weekly basis since I was old enough to remember, and I'm sure examination of my arterial walls would provide evidence to this claim. Regardless of what kind of pizza you prefer, Whatcom County has plenty of great places to get one.
The following list only includes restaurants that are not corporate chains and are mostly or entirely Whatcom County-centric.
Bellingham
Since 1998, La Fiamma Wood Fire Pizza (200 E. Chestnut Street) has often held the title of best pizza within the city limits. With a large selection of pies featuring a perfectly charred crust, La Fiamma pies also have plenty of regional ingredients. Specialty offerings include the lemon halibut pizza, which includes wild halibut and stinging nettles. If you're in the mood for quality pizza in downtown Bellingham, this is your place.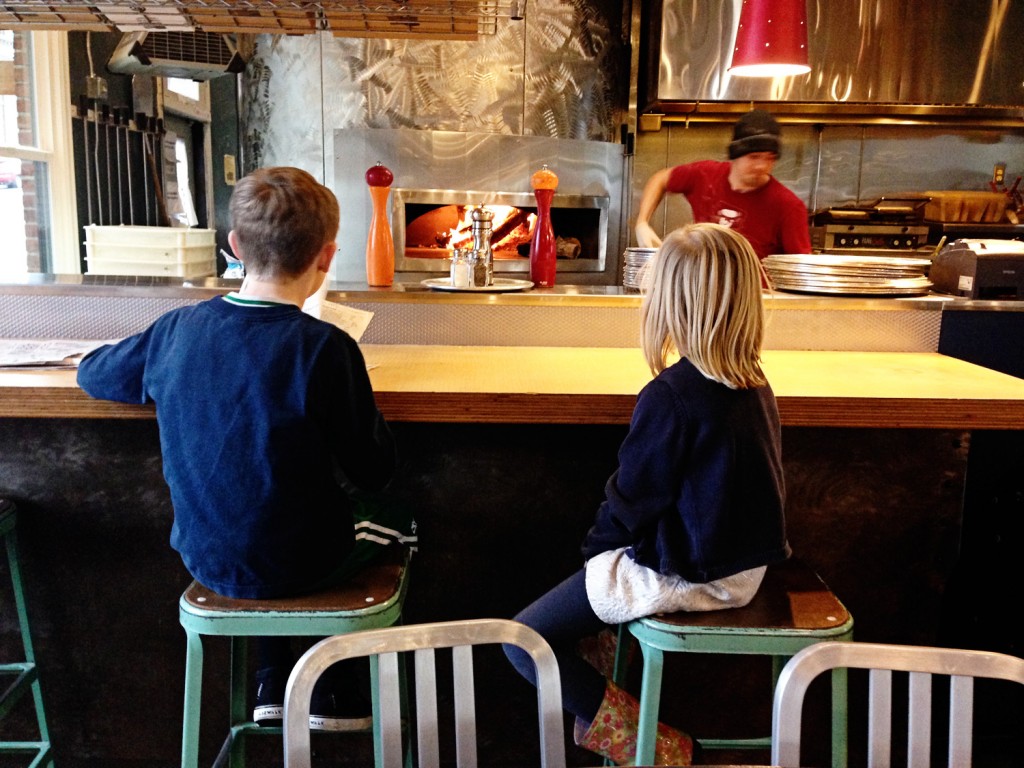 Fairhaven's Övn Wood Fired Pizza (1148 10th Street) features a three-ton oven that was hand-built in Naples, Italy. Their pizzas — 12-inchers intended for one person — feature hand-stretched fresh mozzarella and plenty of tasty options that can also be served on gluten-free crusts.
Among Bellingham's longest-running restaurants, Cascade Pizza (2431 Meridian Street) has remained owned and operated by the Tsoulouhas family since opening in 1978. The restaurant specializes in Greek-based, pan-style pizza, which provides golden, buttery crusts featuring the family's original recipes. This place comes up big on taste, service, and the nostalgia-tinged dine-in pizza experience.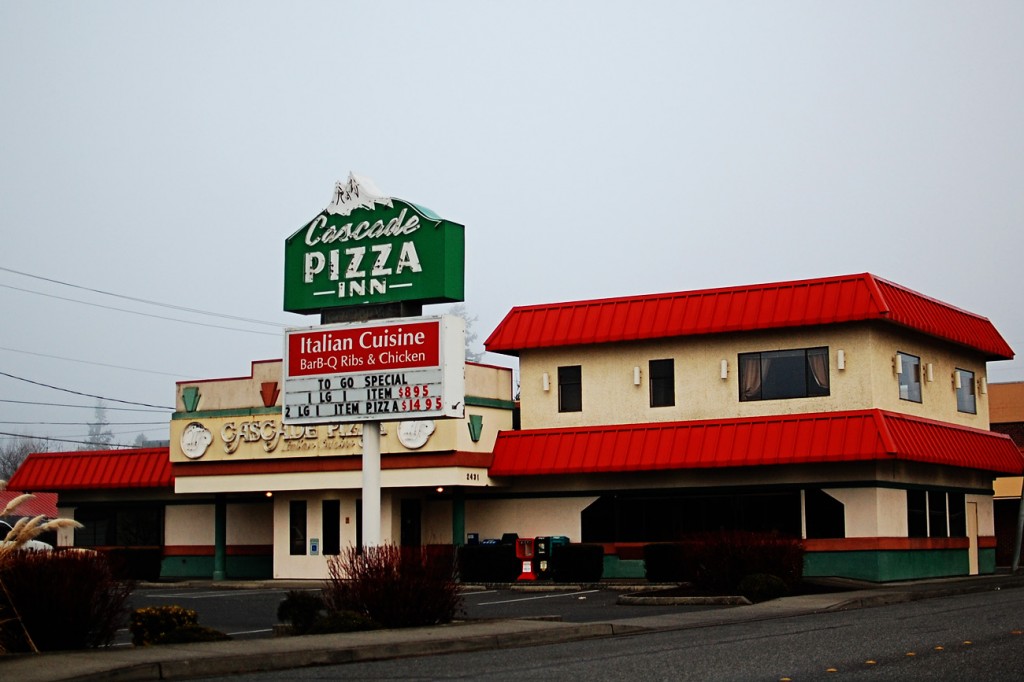 Fairhaven's Pizzazza (1501 12th Street) has offered locals farm-to-table pizzas since 2003. Every pizza features locally-grown and milled flour, fresh mozzarella from Ferndale Farmstead, and plenty of other regional topping partners. 
Pizzazza has 12 specialty meat pizzas — including one with BBQ brisket — and another half-dozen veggie offerings. Frozen versions of several pies, as well as take and bake offerings, are also available.
A hidden treasure of Sudden Valley, Tino's Pizza & Pasta Co. (1945 Lake Whatcom Blvd.) serves up a combo of specialty and build-your-own pizzas that include gluten-free options. Whether you're looking for a small or an extra-large, Tino's likely has what you're looking for.
With Bellingham Beer
Being that pizza and beer are always a welcome pairing, several places best-known for brews also offer solid pies. A quick slice can always be obtained at McKay's Taphouse (1118 E. Maple in Bellingham), and thin crust, east coast-style pies — many named after famous mob movie actors — can be found at Greene's Corner (2208 James Street in Bellingham). Eleven-inch Neapolitan-style pizzas can be had at Elizabeth Station (1400 West Holly in Bellingham).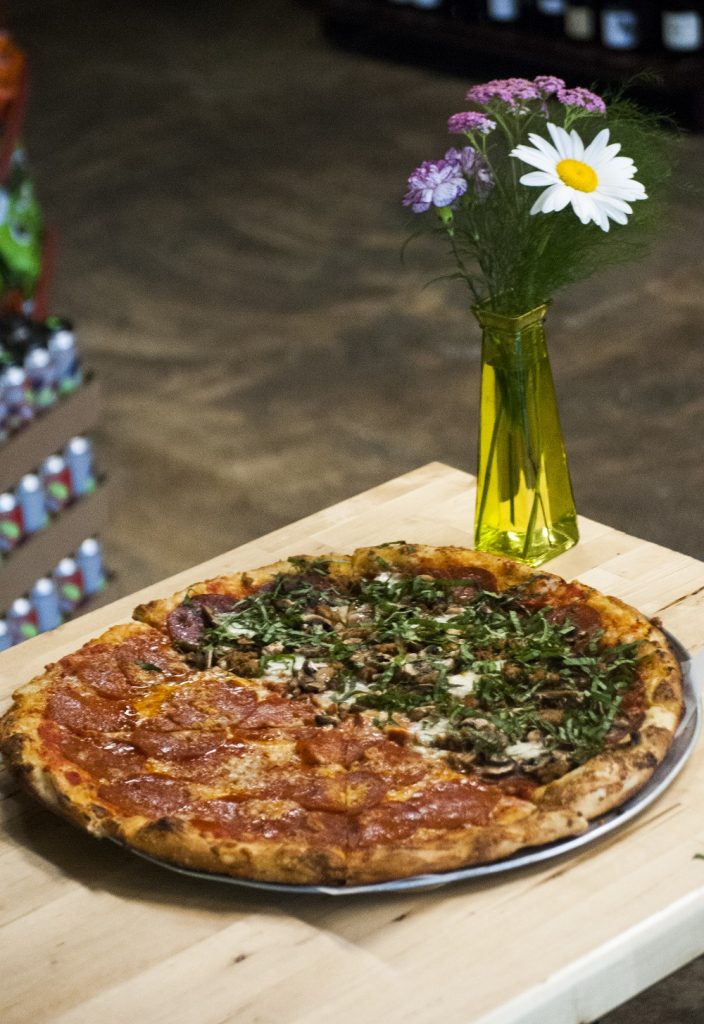 Honorable mention: While mostly known for its cocktails and pasta, Storia Cucina (109 Grand Avenue, downtown Bellingham) has pizzas featuring crusts made with a 1971 sourdough starter, topped with sauce made from San Marzano tomatoes and fresh mozzarella. 
East County
Since it opened in the mid-1990s, The North Fork (6186 Mount Baker Highway in Deming) has retained its renown for being a pizzeria and beer shrine often frequented by those who've spent a long day in the Mount Baker National Recreation Area. Both their beers and pizza are filling, and you have to see their old beer bottle collection while visiting.
A little further up the Mt. Baker Highway is Chair 9 Woodstone Pizza & Bar, perhaps most well-known by its sign, which proclaims it as the last cocktail stop before the ski area. In addition to building your own pie, specialty options include the "Mt. Ruth" — topped with smoked salmon, pesto sauce and roasted artichoke — and "The Heliotrope," which features Kalamata olives, pepperoncinis and a roasted garlic olive oil sauce.  
North County
Located in Blaine, The Rustic Fork (442 Peace Portal Way) offers artisan-style, medium-size pizzas. Among the highlights: the "Prosciut of Happiness," a pie featuring their house-made marinara sauce, prosciutto, arugula, feta cheese and red onion, finished with a balsamic glaze drizzle.
Another Blaine spot, Border Town Pizza (738 Peace Portal Drive), has a solid handful of classic pizza options, plus a taco pizza with refried beans, ground beef, jalapenos and shredded lettuce to go along with onions, black olives and a cheddar-mozzarella cheese blend.
Countywide
A longtime Whatcom County favorite, Coconut Kenny's (with seven area locations), is well-known for their deep-dish, pan-style pizza. With locations in Bellingham, Ferndale and Lynden, there are plenty of Hawaiian-named offerings, including the Waikiki, Huki-Huki, Kanaka (kalua pork, green onions and BBQ sauce) and Big Kahuna. Kenny's has some particularly unique specialty pies, including the "Mac Attack" — a creamy macaroni and cheese pizza topped with bacon and topped with BBQ sauce.
Pizza Trucks
Several fantastic pizza trucks can also be found meandering their way around the county, popping up on roadsides and at local events. For many years Cicchitti's Pizza was a brick-and-mortar mainstay of Bellingham pizza, but the family-owned eatery eventually went mobile. They offer solid and sizable East Coast-style pizzas, and also provide it by the slice to satisfy that lunchtime hankering.
A longtime staple of the Bellingham Farmers Market, Gusto Wood Fired Pizza was born when former Bellingham Herald photo editor Russ Kendall decided to leave journalism and embark upon a new challenge. This mobile pizza trailer has also been cooking up delicious, thin crust Neapolitan pizzas at weddings, parties and catered events for some time now, and has no shortage of admirers.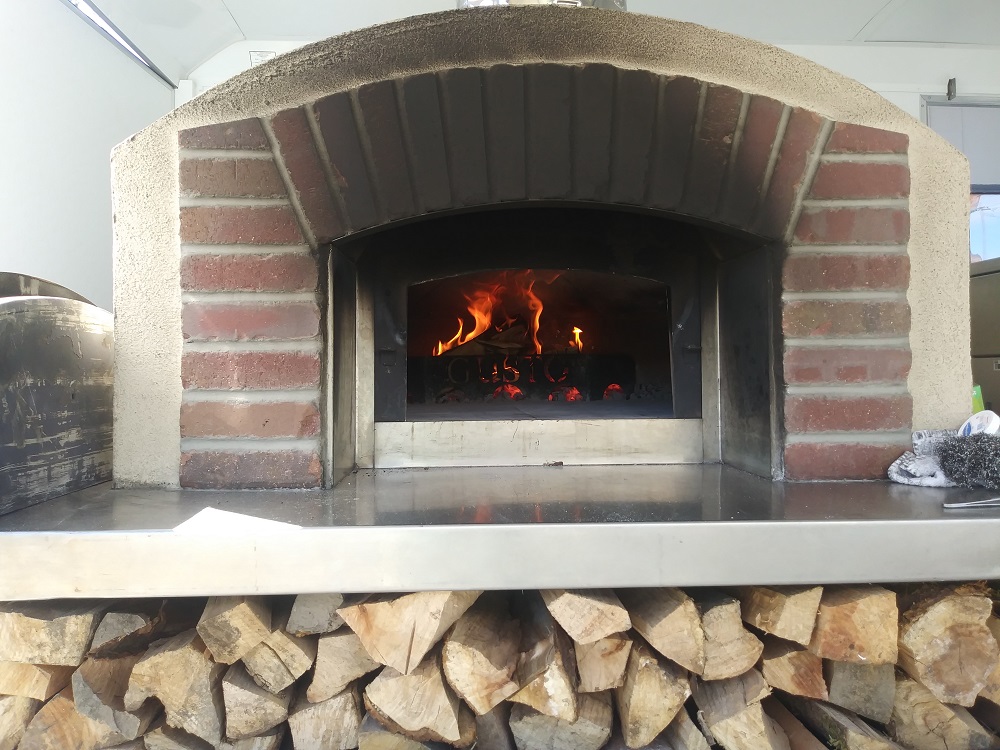 Homemade
Occasionally, you may have the urge or financial motivation to skip a restaurant and whip up a pizza at home. Whether you put your crust together by hand or opt for a bread machine recipe, and whether you grate your cheese or buy pre-shredded, a homemade pizza can be a fun, cost-effective way of doing pizza night with friends and family.
And you don't need a special pizza oven to get that perfectly even, crispy crust: pizza stones, usually available for $20 to $40, can perfect your homemade version.