Having grown up in Whatcom County and worked with property maps for the Whatcom County Assessor for almost 10 years, I thought I knew the county fairly well. Yet I hadn't heard of the Racehorse Falls until another friend posted a family picture at a location I didn't recognize — with stunning waterfalls behind them. I learned there are two ways to see the waterfalls: one fairly easy and family-friendly and the other requiring more wear and tear, plus a trek into water.
I also later found out about the fossil fields in the mountainside above the falls.
A safety concern: Please note when exploring that cell phones don't have full coverage in Eastern Whatcom County, so be prepared for the weather at hand, bring a hiking buddy, water, and know your limitations. As beautiful as the falls are, they have produced a number of 911 rescue calls for those climbing too close into the upper falls.
Getting to Racehorse Falls
Racehorse Falls is approximately 25 miles from Bellingham, near Deming. Take the Sunset Drive/Mount Baker Highway exit and proceed on WA-542 eastbound for 14.6 miles. Turn right at the Welcome Grocery Store onto Mosquito Lake Road, where you'll soon cross the Nooksack River. Be prepared to turn left/north onto North Fork Road. This road had damage from a washout during the winter and has been undergoing repairs. (Be sure to check the Whatcom County road closure list when venturing to places you aren't familiar with during storms.) The road is paved for several miles, and then becomes a rutted dirt road. Take it slowly.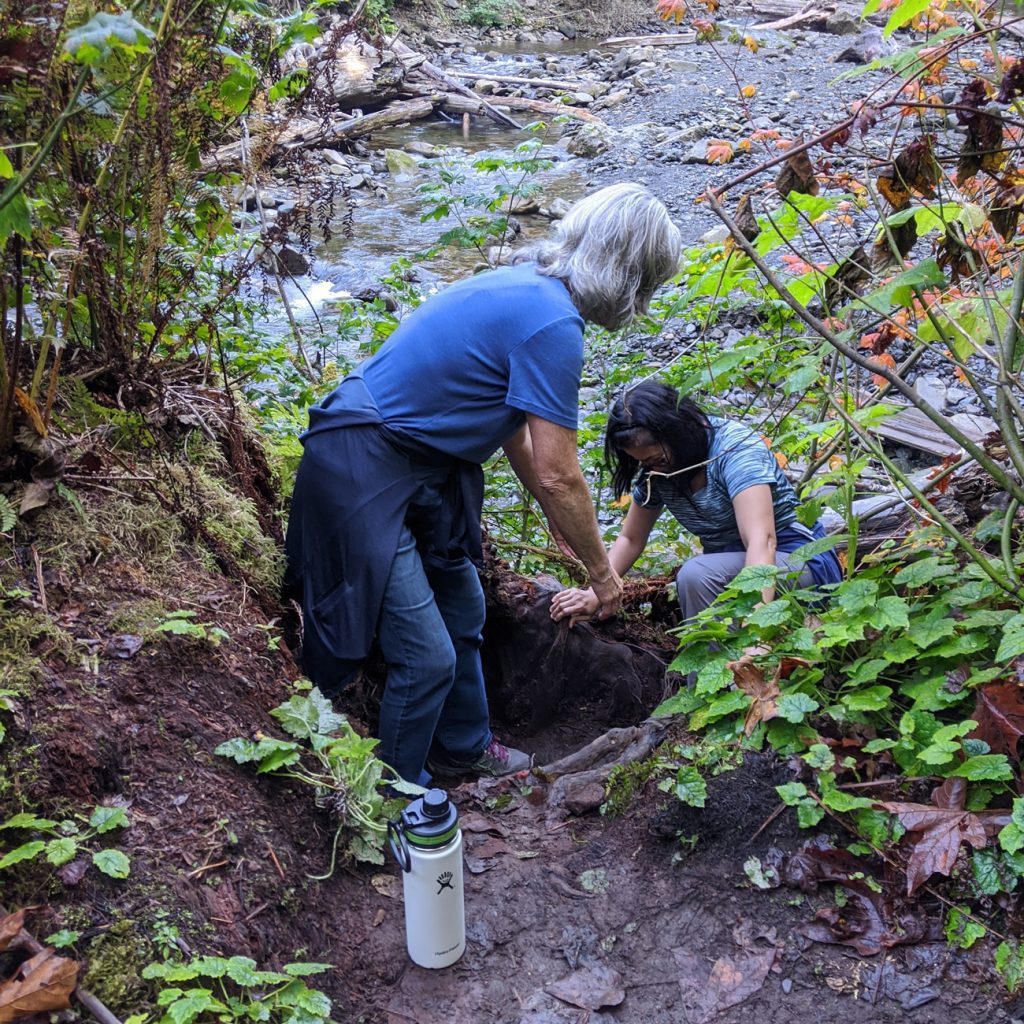 For the longer trail, look for a widened space on the right. You may see other cars parked in a dirt "parking lot." For the shorter trail, continue to drive over a bridge and up the hill. Signage is poor or non-existent. There is a small pull out for parking to the righ, which is easy to miss. A Discovery permit is needed at this point.
According to www.waterfallsnorthwest.com, the falls "drop a total of 139 feet tall over four distinct steps." It has flow throughout the year but is easiest and safest to visit during drier months — especially if you ford the creek, as I did. This is easily one of the most beautiful falls in Whatcom County and worth seeing but know that my friends and I crawled under and over fallen trees, down an embankment, and then scrambled around the creek to reach it.
Access to the falls from the base was much easier before a significant flash flood in 2009 following heavy rains on the appropriately named Slide Mountain. A huge debris avalanche slid into the creek about 400 feet upstream from the top of the falls, which sent a volume of water, dirt, logs, and rocks over the falls. These items still lie along the trail today.
But this event — and the building of the adjacent logging road — also uncovered the fossils.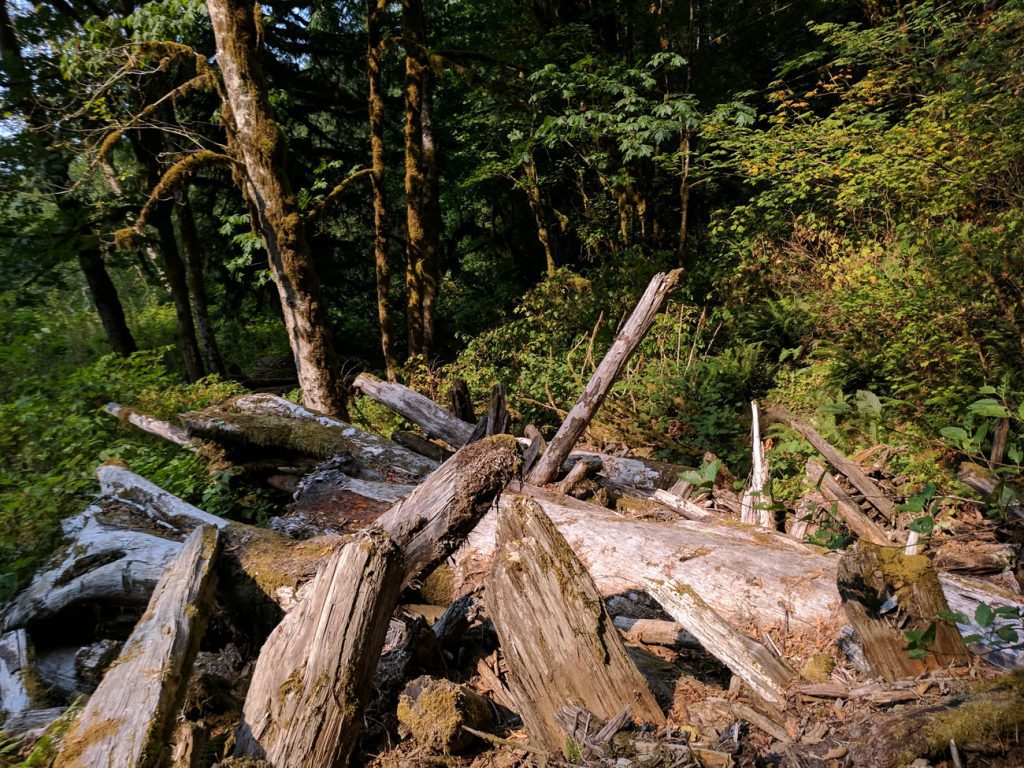 Finding the Fossil Fields
There aren't exactly signs pointing the way to the fossil fields. The same mountain road by the dirt parking lot proceeds up another part of the hillside of Chuckanut sandstone and shale. We parked in another small parking area, had wonderful mountain views through trees, saw some debris, and proceeded to go through the woods and up and up.
Several of us turned back. A few continued.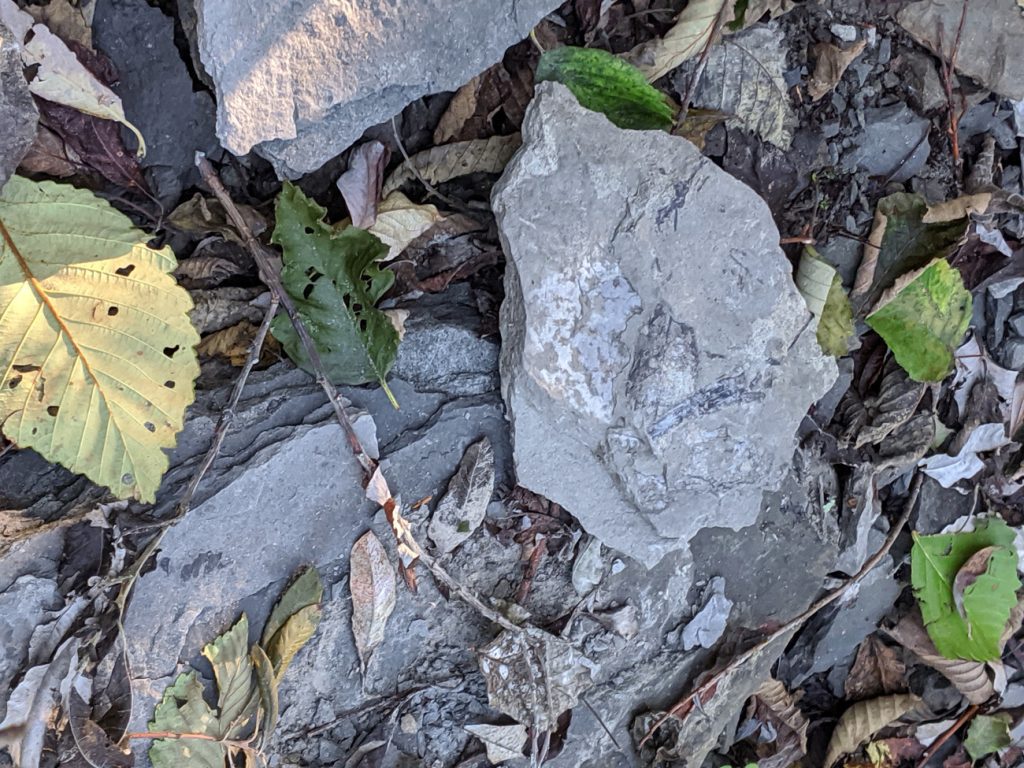 The trail follows what likely was a road. Geologists who maintain the Racehorse landslide fossil fields say it is about a mile in. This is Washington State Department of Natural Resources land and collecting plant fossils is permitted. In a leafy area — where the trail is noticeably steeper — fossils are more easily found, and some have been left behind by others.
I considered their weight and the walk back to the car and selected a few small fossils for my backpack. Be sure to keep any fossils you collect indoors once you get home; they will fall apart if left out in the rain.
See Fossils on Display at WWU
For those interested in fossils without traveling by foot into the mountains, Western Washington University's Geology Department has ongoing displays of this region's finds on the first floor of the Environmental Studies Building. The building is generally open to the public, but be prepared for paid parking — or heavy fines — unless you take a bus or walk onto campus.
Upon entry is an astonishing specimen from a Diatryma, a giant possibly seven-foot flightless bird that left its footprints behind in the silty layers of what was then a more tropical version of Whatcom County. Both the depression and the cast are seen.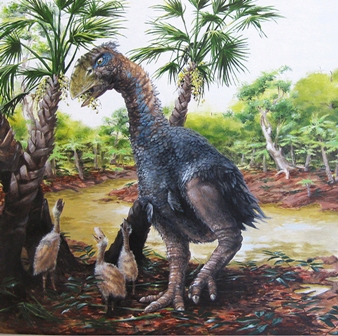 George Mustoe, who officially retired from the department as a research technician in 2014, met me on campus. He spoke of landslides more recently and prehistorically in Oso, as well as at the waterfall.
Mustoe told the story of large fossil recovery, in 2009, akin to an Indiana Jones exploit. In a simplistic explanation, the geologists nicknamed the "Bird Herd" managed to find the large intact footprint fossil, later saw other rock hounders trying to remove it and damaging the edges, so cut it to a 1,200-pound chunk, buried it to protect it from more damage, went back for it…and flew it away.
Actually, it wasn't quite as simple as that, since they had no budget or helicopter. The group managed to convince a helicopter pilot working nearby on habitat restoration on the Nooksack River to help them. They didn't have the $4,000-an-hour fee, but convinced them to drop a cable and to load it as quickly as possible, and then lower it onto a flatbed truck, which took it to campus.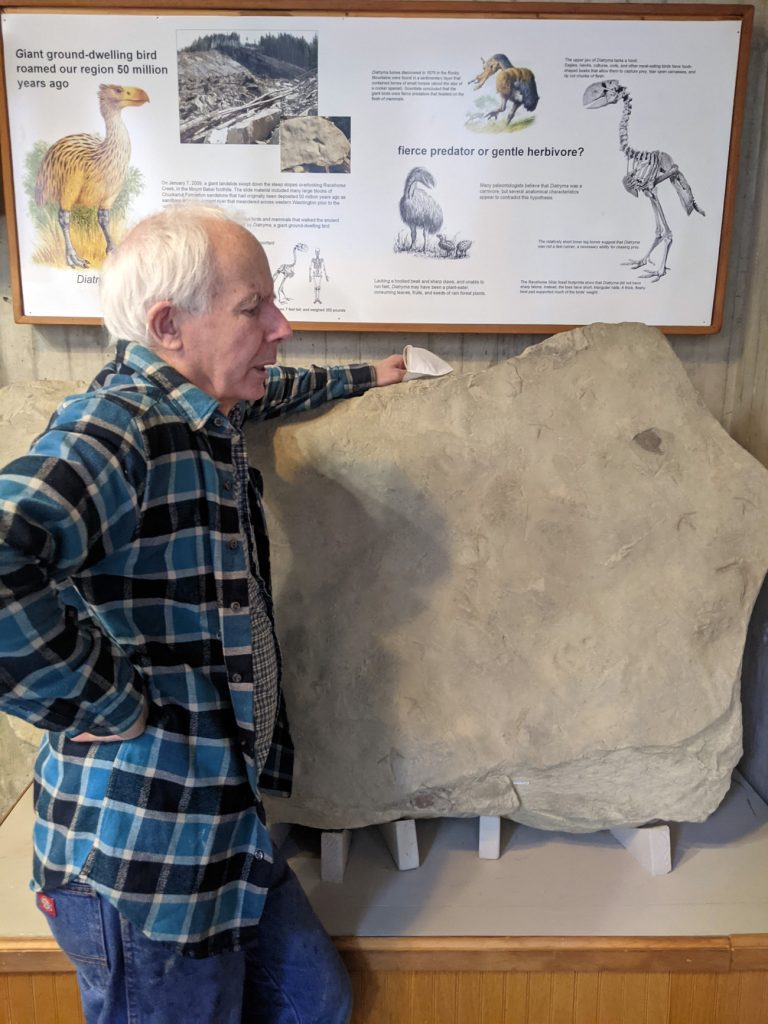 Learn More
For more information about the falls themselves, and other spots to explore, revisit this 2016 WhatcomTalk article.
For more information about Whatcom County geology, visit this site, created by WWU research associate Dave Tucker, which looks Racehorse Falls fossils and also the volcanic history of Mount Baker, the Chuckanut Mountains, Point Whitehorn, Excelsior Trail, and other local terrain.
Visit this DNR page about Racehorse Creek.
For those interested in rock hounding, the Mount Baker Rock & Gem Club meets regularly and also conducts field trips.