In the beautiful village of Fairhaven, a clown has had their last laugh, found crushed under the rather dusty weight of a hay bale on Harris Avenue. As rumors swirl and a mystery arises, Mayor Wilson calls for aid from any gumshoe willing to ponder the dastardly deed and put their theories to the test. The Dirty Dan Murder Mystery weekend is back on for the second year in a row with the Case of the Crushed Clown. Executive Director of the Fairhaven Association, Scott Ward, and chair of the Murder Mystery committee, Chris Caldwell, recently sat down with WhatcomTalk to set the stage for the mystery and mayhem set to unfold on April 23.
"Last year, during the pandemic, we were trying to come up with something to do that would honor the COVID protocol," says Ward. "One of our business owners — Robin Robertson at Bellingham Training and Tennis Club — remembered that Langley, Washington, had done a murder mystery for several years, and she thought we could do a murder mystery here. We felt we could easily do that in a safe and respectful way."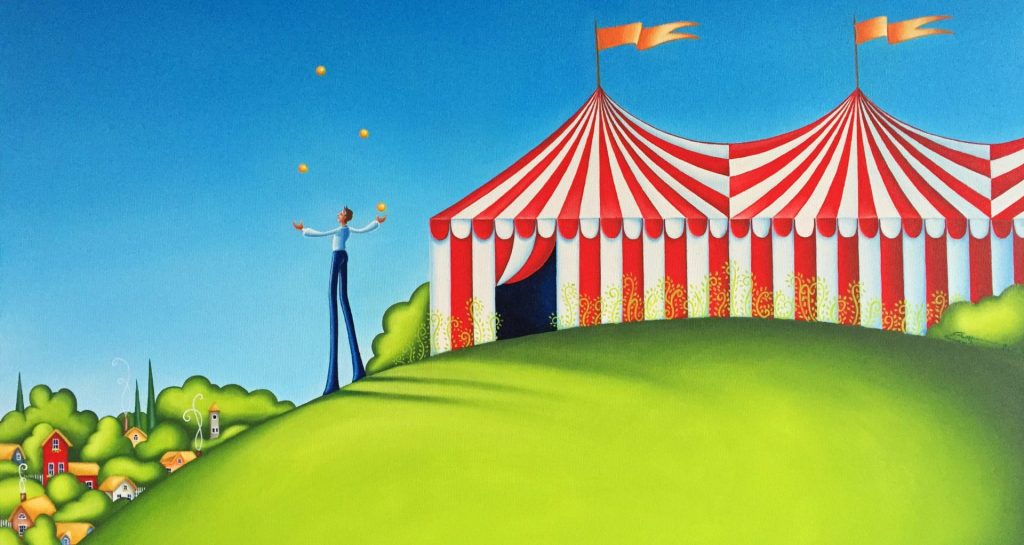 Thus, the Dirty Dan Murder Mystery weekend commenced with the case of a runner found dead next to the statue of Dan Harris. The Fairhaven Association encouraged local detectives to begin their quest by reading the Fairhaven newspaper front to back and collecting clues from different locations all within a half-mile of the Fairhaven Village Green.
"It was fantastic," Ward says. "We didn't know what to expect, especially since it was in the depth of COVID. We had about 550 people show up and we got a lot of positive feedback, especially from the folks that participated — we call them gumshoes — and the businesses involved. Everyone had such a great time."
Incorporating the enigmatic world of the circus, the Fairhaven Association hopes to shine a light on some of the village's history with this year's case.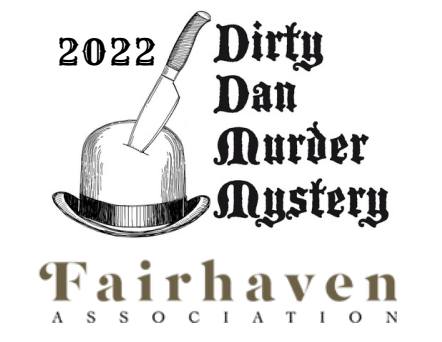 "It's a theme based on a circus that actually came through Fairhaven in 1891 and will have a cast of 10 characters, all playing circus performer parts for this year's Case of the Crushed Clown," says Caldwell. "On the weekend of April 23 and 24, we'll have those suspects roaming around the Fairhaven Village in character and in costume, answering questions from the gumshoes trying to solve the mystery." Twenty-five business locations will hold additional clues gumshoes can collect to help solve the mystery.
Village Books is the title sponsor of the event and several other businesses have lent their resources to the success of the weekend.
"We have the 25 clue locations, and we have businesses that have purchased ads in our newspaper, which is also part of the clue finding," Caldwell says. "We have donors for food and prizes that will be named and most of the village is involved."
The "Fairhaven Observer" will feature photos of the suspects wandering the village and answering questions about the murder. Gumshoes are directed to submit their answers with their official ballot and the correct ballots will be entered into a drawing for amazing prizes like merchant gift certificates, memorabilia, and weekend getaways. Even if you guess wrong, your ballot will still be cast into a drawing for other prizes.
The Murder Mystery weekend aims to welcome new visitors to the historic village while honoring its current residents. "Part of what we wanted to do was share and celebrate some of Fairhaven's history with this event," says Ward. "When we bring Dirty Dan Day back, it will be a part of the same weekend, so we just wanted to make sure that in this event we were telling a story from Fairhaven's past."
Last year's event was a smashing success and Ward expects much the same for 2022.
"If this year is as successful as last year — or even more so — we'll continue to do this," he says. "This is the perfect event for us because it does everything we want it to do: We want folks to discover Fairhaven and all of its many independent and beautiful businesses, and we want to keep people in town as long as possible — to stay here and enjoy Fairhaven and Bellingham. Doing it over two days gets people to stay overnight and really just spend more time in a place that we really love and want to share."
Try your hand at cracking the case and enjoy a gorgeous weekend in historical Fairhaven. Prior to April 15, tickets are $15 per individual and $25 per family or group. After April 15, ticket prices raise to $20 an individual and $35 per family or group. Register online here or at 1106 Harris Avenue during the week.
Sponsored