It's not uncommon for many homeowners to add a second housing unit onto their property. Sometimes called a "mother-in-law suite," what's formally known as an accessory dwelling unit (ADU) can be a helpful addition for homeowners, whether they're looking to defray mortgage costs or increase their property's selling potential.
John L. Scott Real Estate Bellingham's Hannah Cranny knows a thing or two about ADUs, as she built one onto her home several years ago. There are two types of ADU to consider: the attached, where the addition is connected to the main home, and detached, where the ADU stands separate from the main residence.
"I think every house has the potential to have an ADU," Cranny says. "You can build one above your garage, you can build one on either side, or the backside of your house."
The Benefits
In 2018, Cranny added a 500-square-foot ADU to the side of her 3-bedroom, 2-bathroom home. It cost about $48,000 to build, but its occupancy helped cut her monthly mortgage payment in half.
"In my opinion, it's a no-brainer," she says. "It can really offset expenses."
Rapidly appreciating home values make taking out a $50,000 home equity line of credit (HELOC) a reasonable decision in deciding to build an ADU. The rental income from an ADU can not only help cover the monthly repayment of such a loan, which could be as little as $200, but also defray mortgage costs or other expenses, Cranny says.
Utilities for an ADU can either be split by the tenant and homeowner or separated with the installation of additional utility meters.
ADUs can also have huge benefits for families. Cranny initially built hers with her mother in mind, and such a residence is a great idea for aging parents or an in-home caregiving situation.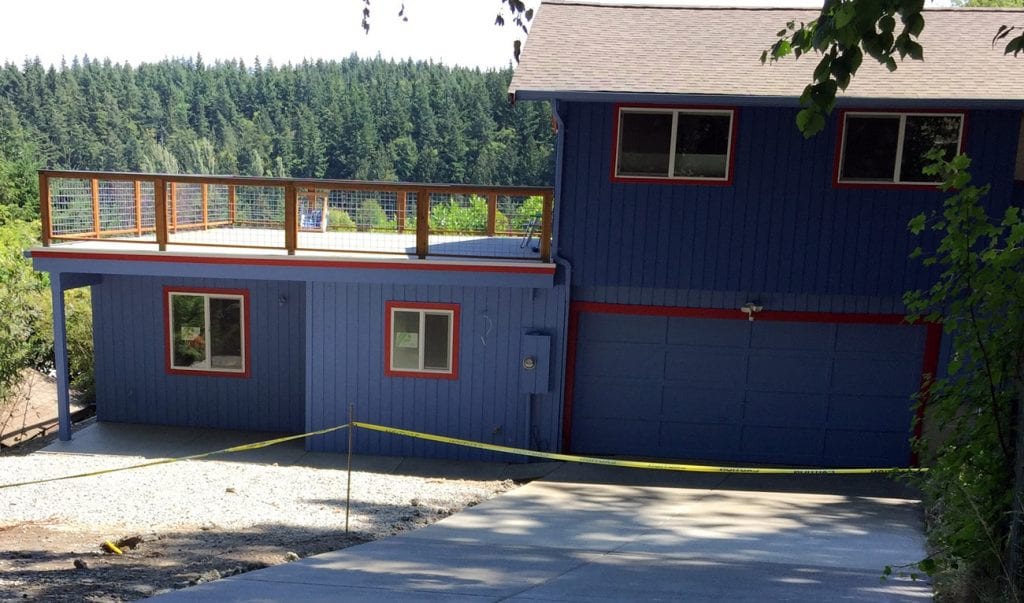 "I love the idea of bringing back ADUs so that families can take care of one another when you need it," she says.
Again, cost savings also come into play. Why pay someone for baby, house or pet sitting when your own family members can help you out?
ADUs are also helpful for those downsizing, especially if you move into an ADU and rent out your main house.
Things to Consider
Regardless of which ADU you choose or where you put it, a permit is the first step to building one. Understanding local zoning codes, whether inside the City of Bellingham or elsewhere in Whatcom County, is critical.
"It needs to be of a limited square footage compared to the size and square footage of the primary dwelling," Cranny says of building an ADU. "The city is really wanting in-fill, so they are really encouraging ADU permits right now."
The City of Bellingham passed an ADU ordinance in 2018 to allow ADUs in all single-family zones, and since then, permit applications have increased significantly. Both ADU and building permits must be submitted and approved before construction can begin, a process that can take several months. Permitting costs will depend upon various factors, including the size of the unit, whether it's attached or not, and the number of bathrooms.
In Bellingham, an attached ADU cannot exceed 66 percent of the square footage of the primary dwelling, or 800 square feet (whichever is less). A detached ADU must have access to more than one public street, an alley, and the lot must be at least 5,000 square feet.
While an attached ADU is relatively similar to a duplex, they're still different based on zoning and code regulations, Cranny says. A duplex must be zoned as such, whereas an ADU can essentially be constructed in any single-family residence unless specific restrictions apply. As an example, ADUs cannot be constructed within the Lake Whatcom watershed.
For most city lots, ADU construction is very dependent on setbacks, or the minimum distance an ADU can be located from a property line. Cranny says it's essential to have a clear idea of where those are.
Another consideration is parking. A Bellingham ADU must have a designated parking spot separate from a property's main parking area, which must account for 2 parking spaces.
Although there may be fewer restrictions outside the city limits, it's important to address utility concerns like water and power. If you're on a septic system, for instance, your home must be able to accommodate the added usage.
While the City of Bellingham currently isn't offering any known incentives for building ADUs, Cranny says they are highly encouraging of the practice, even creating a comprehensive booklet about how to build one. It's essential reading for any city resident currently considering an ADU build and covers estimated costs and handy tips for design and construction.
Cranny says that if you're confident an ADU can work for your property and your wallet, call the city and figure out your permitting costs. Once that's figured out, find the right contractor and bid, and before you know it, your new ADU will make your property that much more functional and desirable.
Featured photo courtesy of A1DesignBuild
Sponsored