Music, art, and expression are the ties that bind the human race and define us as a species, forming a connection that runs through every person, regardless of history or identity. Island nations of the Southeastern Pacific and Indian Ocean recognize the connection their cultural art can bring to every corner of the world as they open their hearts to others through Small Island Big Song, a multimedia production centered around a shared musical and artistic foundation. Mount Baker Theatre Executive Director John Purdie is proud to present Small Island Big Song on MBT's historic stage, welcoming a production steeped in artistry and brimming with a message that can't be missed.
"Small Island Big Song is a musical collaborative from across the Southeastern Pacific and Indian Ocean," says Purdie. "They have explored collaborative approaches to music, how music is a display of culture, and how music is made. They discovered a shared focus on the Earth and the ocean and human's relationships with the [two], as well as the impact of global climate change."
The performance is a multimedia presentation by a diverse group of island nation representatives using music, AV projections, and spoken word to transport their audience deep within oceanic cultures. "One of the things that multimedia allows them to do is shoot video and record audio from all of these different places where they're drawing collaborative music from," Purdie says. "You can instantly transport from one place to the next, jumping between a lot of different locations. A picture paints a thousand words and having a visual to go along with the music creates a more powerful, blended experience."
Small Island Big Song creates the opportunity for artists to share their experiences with the audience in a way that resonates with everyone. "We were struck by their message," Purdie says. "Our location has a strong connection to the ocean and the Earth, as well as a strong connection to Indigenous Peoples. The mission of the Theater is to enrich the region's culture through dynamic performance, so we saw this as an opportunity to serve the breadth of our community."
MBT is facilitating local connections for Small Island Big Song with Washington State Poet Laureate and Lummi Nation member, Rena Priest, and others from the Lummi, Nooksack, and Swinomish Nations. An important aspect of the show is welcoming local Indigenous representatives to take part in the performance and showcase their rich ancestry.
Additionally, local musician J.P. Falcon of the Blackfeet Nation is tentatively scheduled to perform a song with Small Island Big Song on the MBT stage. "He will be contributing a song they learn and play along with him, which will be a great collaborative moment," says Purdie. "I think what the performers who created this show are trying to get across is the interconnection; showing the importance of collaboration and how one can connect with music across all languages."
Global climate change is a major theme throughout the Small Island Big Song production, shedding light on the unique perspective only island nations understand.
"The Island nations are the ones getting hit first," Purdie points out. "Losing them affects us all, which emphasizes that we are all interconnected."
Bringing their perspective into the conversation is as important to the show as it is vital to their mission. "In our pre-tour planning discussions with them I realized they are excited about the opportunity to both share what they have learned from their exploration of other island cultures and to learn about other local cultures as they go around on their tour," says Purdie.
The experience of Small Island Big Song reinforces the bond between people and the world, creating a moving expression of tangible culture.
"The arts have been scientifically proven to help people develop a deeper sense of empathy for other people and experiences," Purdie says. "It helps us see how other people live and how other people are experiencing the world, and it helps us understand what we have in common. This is an opportunity for people to learn and grow together and the best way to prepare for this [performance] is to come with a sense of inquisitiveness, a sense of curiosity, and an openness to considering the messages while enjoying the music."
Small Island Big Song will embark on their North American tour at Mount Baker Theatre on Thursday, February 3. Tickets for seats are now available here and a link will be up and running soon to purchase tickets for streaming the event at home. Don't skip the opportunity to be a part of an extraordinary production that continues to grow and bridge cultures with transcendent artistry and musicianship.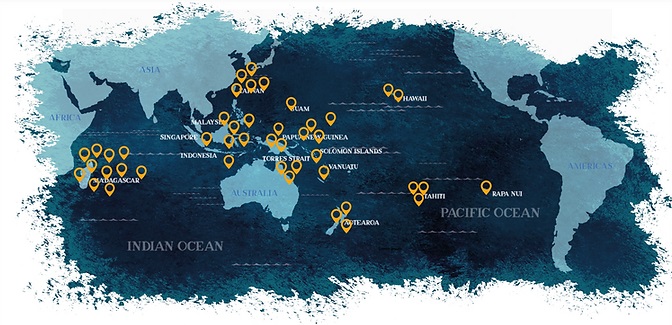 Featured photo of Putad courtesy Small Island Big Song
Sponsored