A close-knit community rooted in letting imagination take the wheel drives Jansen Art Center, a haven for Whatcom County creatives. While the art center serves as an axis for innovation and originality, the jewelry studio is a perfect illustration of the tenacity and growth The J has experienced over the years. With a foundation laid and built from the ground up by Judith Gauthier, and a productive partnership with fellow instructor Leah Meleski, Jansen Art Center's jewelry studio is rising to new heights in the Whatcom art community.
Arts Director Lindsey Gerhard paints a picture of the arts center as a historic building housing galleries, studios, and classrooms that provide a well-equipped space for local creatives. "The Jansen Art Center is located in the town of Lynden," says Gerhard. "It's a really groovy space. It used to be city hall, the fire station, the old morgue, and the old library. Everything is repurposed and beautiful."
Currently, the jewelry studio—led by Gauthier and Meleski—is located downstairs. "Together they complement each other and make a great team," Gerhard says.
Judi Gauthier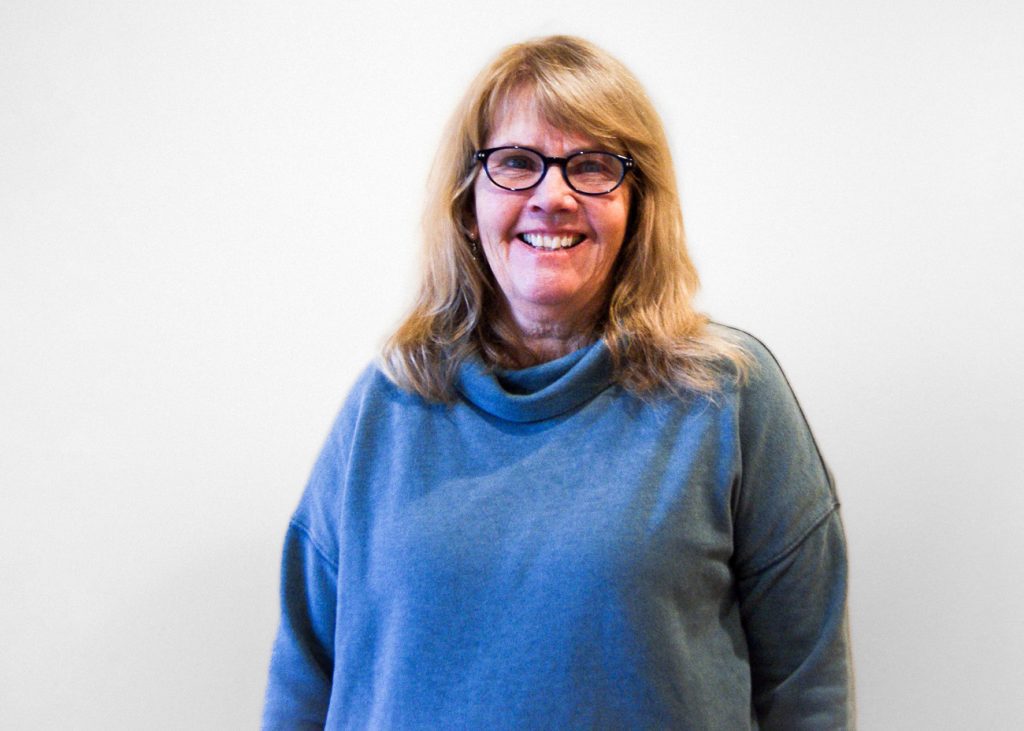 In 1973, Judi Gauthier started on her path to becoming the accomplished metalsmith and artist she is today with a journey west.
"It was fate when I came up to Bellingham in 1973 and needed a job," Judi says. "I came from Wisconsin on a whim and got a job at a small forming company called the Alaska Silver and Ivory Company, which was really just a couple of hippies from California.
Eventually, the company grew from the original five members, giving Judi a position of production supervisor over 25 individuals. "It was hands-on learning," she says. "I realized how much I loved it, and I then went to Montana where I entered the university of Montana in Missoula and took up art education with an emphasis on metal work and jewelry."
After training in Montana and a stint in Eugene, Oregon, Judi came back to Bellingham 10 years later and started her own school and company, called Pouncing Rain. "Years went by, and then this opportunity at the Jansen came up," she says. "They asked me to develop the jewelry studio here, so it was perfect timing. That was nearly 10 years ago."
The studio has been built on the experience and knowledge Judi brought to the art center, coupled with an affinity for inspiring others to create art in metalworking.
Even now, Judi manages to give her absolute support to the art studio while sharing teaching duties with Meleski. "I have certain days I'm here during what we call 'open studios' [where I] open the studio up, make sure everything is here, and make sure people have everything they need," she says. "Most of my classes are beginning classes and you don't have to have any experience, which I love. My favorite kind of class is with people that have no idea [about jewelry] and have never tried it."
Judi encourages her students and maintains her own artistic integrity as an example for all those who enter the studio. "The studio is a part of me," she says. "It gives me responsibility in how it runs, and it gives me pride to watch it grow."
As an artist, Judi continues to "listen" to her pieces as she creates them, finding inspiration in just about anything that speaks to her.
Leah Meleski
Judi's talented and driven counterpart, Leah Meleski, is a natural born art instructor and highly trained metalsmith.
"I went to Massachusetts College of Art and Design in Boston," she says. "I've always made jewelry, ever since I was little. Even though I've always done it, it was really nice to learn you could actually study it and I think that's probably the motivation behind wanting to teach jewelry, too—that it is possible."
Judi planted the studio's root system and Leah nurtures its growth, seeking outreach for both students and teachers alike in Jansen's jewelry department.
Recently, we received a grant to help further our studio," Leah says. "Through that, we found a lot of great contacts in the art community and I'm looking forward to continuing development of different mediums within the studio as well as hosting more visiting artists."
As Whatcom County arts continue to evolve and improve, so too does Jansen Art Center's gem of a jewelry studio under the masterful watch of Judith Gauthier and Leah Meleski.
Sponsored