By 1975, Randy Bachman—lead singer, guitarist and songwriter for the popular Canadian rock band Bachman-Turner Overdrive—had shot to fame and fortune with hits like "You Ain't Seen Nothing Yet" and "Takin' Care of Business."
That same year, the Winnipeg, Manitoba-born musician purchased nearly 30 acres of land off H Street Road in Whatcom County, about a 10-mile drive from Lynden and roughly a half-mile from the United States-Canada border. There, Bachman built a three-story mansion that became a family home for him, his wife, and several children.
Bachman owned the estate—today known as Gracewood Manor—until the late 1980s, after which the residence passed through several owners and business ventures. Today, the sprawling mansion clocks in at nearly 15,000 square-feet, with additional buildings that contain a recording studio, bowling alley, gymnasium, and eight-car garage.
There are rumors about who visited there during Bachman's ownership, including Beach Boys, a Beatle, and even Frank Sinatra.
Takin' Care of Building
It's not clear how much Bachman spent to construct his Tudor-style home but estimates range as high as $3 million (equivalent to $15.3 million today). Its original purpose was to be a weekend retreat, but the property wound up being a full-time home for Bachman, first wife Lorayne Stevenson, and their six children.
In addition to eight bedrooms and 11.5 bathrooms, the home features multiple spacious kitchens and what's known as the "Overdrive Room"—a former study that's now a cozy den, complete with fireplace and the giant wooden gear that inspired Bachman-Turner Overdrive's official logo, iterations of which graced several album covers.
Bachman literally stumbled upon the eight-foot-wide artifact during a band photo shoot in a Vancouver, B.C. field. Several years later, he went back to the field, took and refurbished the gear, and hung it in his home as a chandelier.
Bachman officially quit Bachman-Turner Overdrive in 1977, and also separated from Stevenson, entering into a difficult divorce period. In a 2019 Facebook post, Bachman says he stopped living at the home in 1979; afterward, it was apparently repossessed during his subsequent financial struggles. According to Whatcom County Assessor's Office records, Bachman's name remained on the deed until August 1987, when the property sold for $725,000.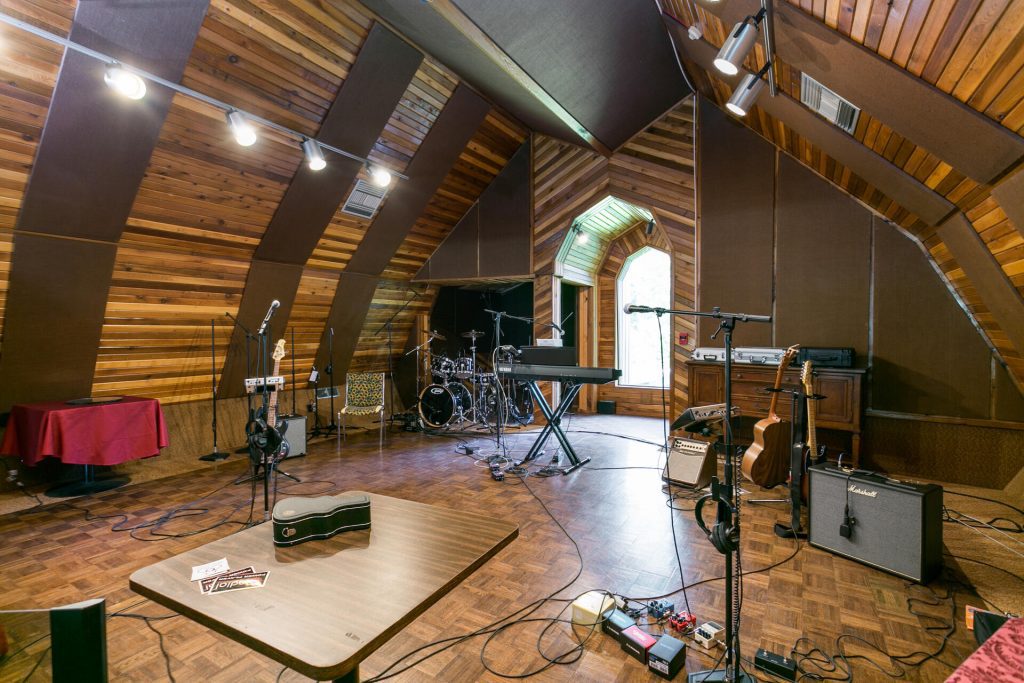 Though stories persist, through articles and real estate listings, that Frank Sinatra, Sammy Hagar, and even George Harrison were guests on the property (the latter supposedly stayed there one summer in the home's third floor suite), there's no concrete evidence that any of these music legends actually visited.
Ken Harrison, the Whatcom County realtor who worked with his son Zach to sell the property to its current owners in 2018, says he heard such stories from reputable sources, but has nothing to validate them.
However, it's true that one of the Beach Boys—late co-founder and lead guitarist Carl Wilson—did stay and record at Bachman Manor in late August 1979.
That year, Bachman's band Ironhorse opened for the Beach Boys several times during their tour, and Bachman worked with Wilson to write several songs. After the tour in late August, Wilson joined Bachman at his studio, nicknamed "The Barn," and recorded demos for two songs, "Keepin' the Summer Alive" and "Livin' with a Heartache."
Although Bachman was invited to come to Los Angeles and help produce and possibly play on the band's upcoming album, he turned them down to continue dealing with personal issues from his divorce. Recordings of the two songs, featuring the basic tracks Wilson recorded at Bachman Manor, appear on their 1985 album "Keepin' the Summer Alive."
From Then to Now
The estate changed hands several times throughout the 1990s and saw use as both a bed and breakfast and private rehabilitation facility. Neither business was successful for long. The rehab years resulted in institutional changes to the home, including an intercom system and various privacy walls.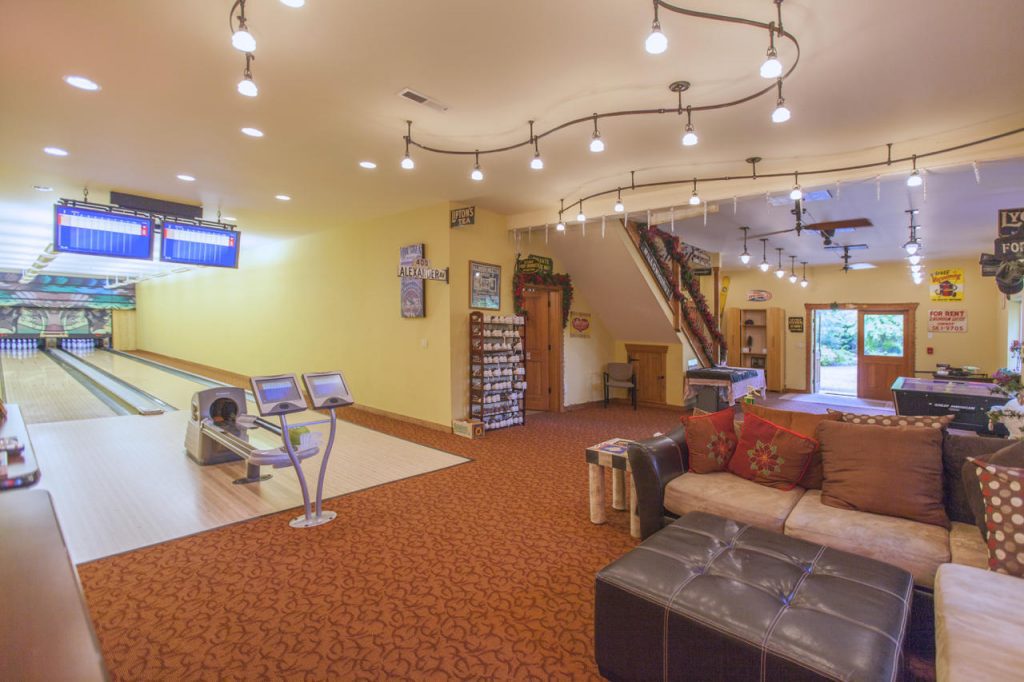 In May 2004, Jim and Andrea Clay bought the property for $1.8 million, using it as their primary residence for nearly 14 years. During that time, the couple restored the open floor plan, expanded the property's landscaping to include a pond, and built the barn housing the garage, bowling alley (complete with ball return and pin-setting machine), and upstairs gymnasium (containing a full-size basketball and volleyball court).
Originally hitting the market in 2018 at $4.3 million, the property sold in August 2019 to Faithlife—the Bellingham-based Bible software company—for $1.9 million. Now rechristened as Gracewood Manor, Faithlife CEO Bob Pritchett says the property is used for company events and business retreat bookings.
"We have need to entertain and host people for the business, to have off-site events," Pritchett says. "It just seemed like a really neat property to do that at."
While it doesn't have an event license to hold formal parties or weddings, you can rent out the entire place on Airbnb for up to 10 guests. It comes at a steep price, however: $2,250 per night.
The rental includes the use of two fully equipped kitchens, indoor pool and hot tub, and the fitness room. Outside, guests can explore manicured gardens, walking trails, and even a small, man-made waterfall.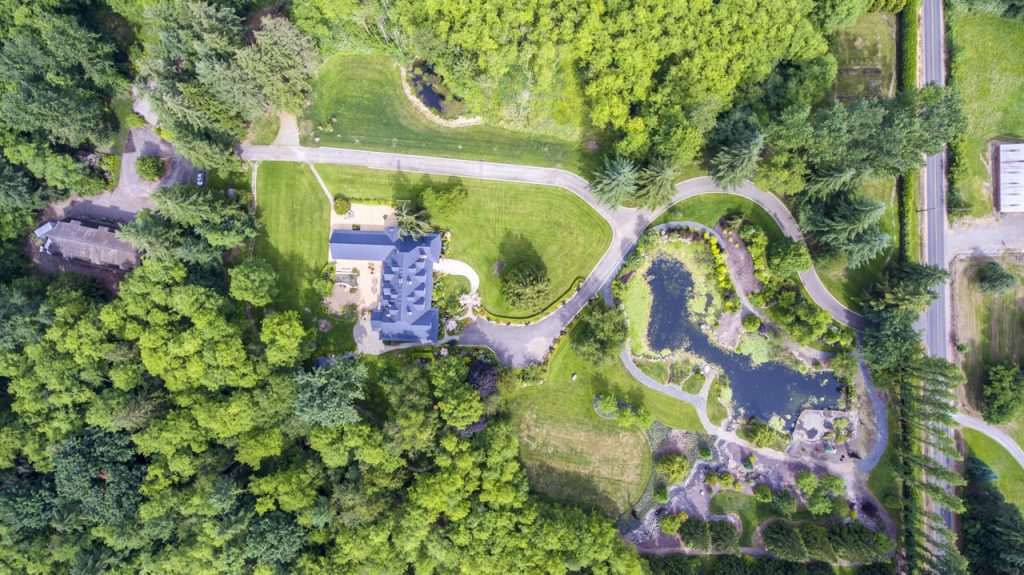 "If you're going to spend a couple of days at a retreat, or doing an off-site with a group, it's not the same as being in one hotel conference room for three days," Pritchett says.
Several bands have also visited Gracewood for songwriting sessions and made use of Bachman's recording studio, which has remained largely spared from renovation since its construction.
One band, Pritchett adds, even recorded a music video there, proving that as one of Whatcom County's most stately homes, the former rock and roll residence still has a few tunes left in it.