Submitted by the Bellingham Regional Chamber of Commerce
To the voters of the City of Bellingham:
This letter is to call your attention to the "Peoples First Bellingham" Initiative #4. As a community, we have always prided ourselves on being compassionate and politically savvy. As your business and employer community, we ask that you review this ballot initiative and the impacts it will and could have on our local employers (nonprofits, small business, and governments included).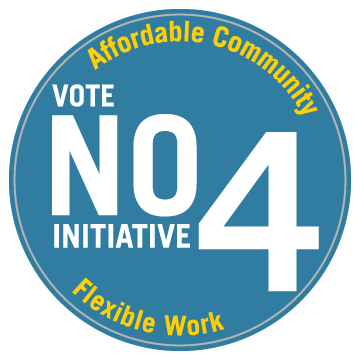 Through the last many weeks, we have had several conversations on this initiative as well as the other three. Most people have no knowledge of what these policies would mandate.
Intention
First it is important to address the intention of these initiatives. We choose to believe the best in the author's intentions. Our hope is they didn't know the ramifications and negative impacts these would have. Unfortunately, the results could be devastating to almost every employer in the City and impactful to the workforce of our entire county as we are still facing workforce challenges due to the pandemic.
It should be said that some of the policies in the initiative (and parts of the other three initiatives) should be reviewed at a local level to ensure even better outcomes for our local workforce. I trust that our City Council will review those if these initiatives are not passed by the voters.
What is damaging about #4
1. Secure Scheduling (also known as predictive or restrictive scheduling)
This mandates a 14-day schedule for all employees. Certain industries need flexibility to respond to consumer demands and certain employees value that same flexibility.
2. Employer Penalty
Employers are charged an arbitrary "one additional hour" of pay for every schedule change that results in the same or additional hours than originally promised in that 14-day window. Any reductions of hours result in "at least one-half" the hourly rate of pay for each hour cut. This would result in likely reduction in hours of operation, increased pricing of items (prepared food, goods, services), impacts to level of service, and potential business closures.
3. Hazard Pay
As of the writing of this letter, the City of Bellingham is currently under 3 declared States of Emergency: the summer drought, summer wildfire prevention, and of course the pandemic for more than 550 days.
This initiative would mandate every hourly employee would be paid an additional $4 per hour when the City of Bellingham is under a declared State of Emergency. This would be applied to every industry and all hourly employees. The declaration of a State of Emergency is used for many different situations, such as drought, wildfire concerns, floods, pandemics, etc. These do not necessarily create hazardous working conditions for employees, and certainly not all employees for every situation. This is weaponizing a federal funding mechanism to provide assistance when our City or State needs additional monetary support.
Other things to consider
1. City Council cannot revise these policies
If you were to approve these initiatives, our elected leaders would not be able to revise any damaging components. If you disagree with any aspect of these initiatives, you have three options: vote no on the ballot, produce another citizen petition to remove the initiative, or hope for a challenge in court.
2. Pandemic's impact on business
When so many of our businesses have been struggling and trying to make it through the pandemic, this seems a bit ill timed. We should be focused on helping our business community, not making it more challenging to do business.
3. Shocks to our local workforce
While there is a limit on the number of days our smallest businesses would need to pay the hazard pay, the simple economics is that they would have to raise their pay to match the employers with more than 30 employees to recruit and retain a talented workforce. It is not fair or logical to expect an employee to be willing to work for a small business and get paid less for doing so.
4. Courts are already at capacity
These initiatives do not create or mandate any enforcement from any agency or City department. Therefore, it could create the situation of pitting employees against employers in the legal system. This would be expensive for everyone and ultimately disincentivize small business from locating and operating in Bellingham.
5. Where should the City cut $6 million dollars?
The best guess the City legal department could project is the hazard pay component would cost the City about $125,000 per week, which equals about $6 million per year. What should we cut from the City budget? Additionally, which programs should our nonprofits cut? What would you recommend WWU cut from their budget? What additional day should your favorite restaurant close? This would apply to every employer in the City of Bellingham, including nonprofits, government entities, schools, and our small businesses.
Thank you for reading thus far. These initiatives include a great deal of detail and nuance. If you are unsure of any aspect or disagree with any piece, why would you vote yes?
When you fill out your ballot, it is our hope that you would consider the impacts to our local employers and businesses.
Please remember to vote.
Thank you.
Bellingham Regional Chamber of Commerce
Bellingham Whatcom County Lodging Association
Bellingham Whatcom County Tourism
Downtown Bellingham Partnership
Fairhaven Association
Whatcom Business Alliance
Businesses and organizations who have signed this letter as of 10/11/2021:
360 Hotel Group
AGC OF WA
Aliotti Enterprises
Allsop, inc
Apple State Vinegar LLC
Artivem Mead Co.
Aslan Brewing Co.
Avenue Bread
Baron & Company
Bergsma Gallery
Bellingham Bar and Grill
Bellingham Bells Baseball
Bellingham Cold Storage
Bellingham Grocery Outlet
Best Western Plus Bellingham
Birch Equipment
Birch Door Cafe
Black Sheep Bellingham
Boundary Bay Brewery
Boys & Girls Clubs of Whatcom County
Brandon Nelson Partners, LLC
Brumbaugh Co.
Caliber Home Loans
Carnal
Chrysalis Inn and Spa
Cicchitti's Pizza
Command Aviation
Craggy Peak Research
Dawson Construction
Faber Construction Corporation
Fitness Gear + Training
Foundation Restoration
Four Points BY Sheraton
Fringe Boutique
Gabrielle Balolia Realtor
Galloway's Cocktail Bar
Gary's Plumbing & Heating LLC
GK Knutson, Inc.
Goods Local Brews
Grizzly Industrial, Inc.
Guide Equipment Rentals
Hardware Sales Inc.
Henifin Construction, LLC
Holiday Inn Express
Horseshoe Cafe
Hotel Bellwether
Hytech Roofing Inc
Ideal Wellness
IHOP 3169
IMCO construction
J Dub's Filling Station LLC
Keenan's at the Pier
Kulshan Brewing Company
Lindsay Rohweder, Real Estate Broker
Lombardi's Italian Restaurants
Lorikeet Bar
Mills Electric Co.
Moore and Company
Mount Bakery – Temple Bar
Naples Best Restaurants, Inc.
NautiGirl Brands, llc
Northwest Contract Recruiting
Progressions Inc
Pure Bliss Desserts
RAM Construction General Contractors, LLC
RE/MAX Whatcom County
Right at Home, Northwest
Rollo Van Slyke Ins Agency Inc
Safety Signs, Inc.
Sage Management I LLC/Inn at Lynden & Waples Mercantile Building
Salish Wealth Management
San Juan Cruises
Scocon LLC
Servpro of Bellingham
Skylark's Hidden Cafe
SpringHill & TownePlace Suites Bellingham
Swell Media Solutions
Taco Lobo
Target Market Enterprises, Inc.
Thrive Forever LLC
Tiger Construction
Veritas Media, LLC
VSH, CPAs
Westview Real Estate
Whatcom Lawns, Inc.
Whatcom Sports & Recreation
Wild Buffalo House of Music
Windermere
Yeager's Sporting Goods
Avlon Finance
The Filling Station
The Torres Coffee Company
Cute But Crazy Socks
ModSocks
Muljat Group