Suzie Beringer has always loved handwriting. "It is a part of who and what I am," she says. "My father had a love for pens, and I can remember standing on my tiptoes in downtown Bellingham at the Griggs store trying out different pens with him—it's one of my fondest memories."
Her father has been gone for many years now, but she says she feels a connection to him when she's lettering, and especially when she discovers a new pen that writes smoothly.
Suzie graduated from Meridian High School in 1977 and attempted to move away at one point, before returning less than a year later. "I can't leave," she says. "This is home."
Her first memory of writing was on the wall in her childhood home on Laurel Road.
"I can remember how it felt when I pressed the pencil into the surface of the wall—it was covered with a felt paper and it felt so magical and good. The house no longer stands and how I wish I had a little chunk of that wall to put in my studio; instead, I have put that experience and the chunk of that wall into my memory and pull it out from time to time."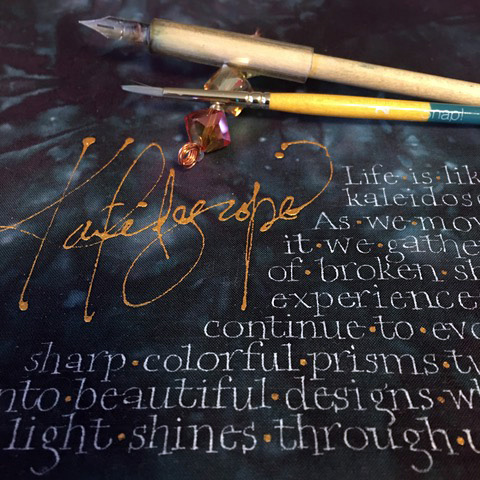 She married after high school, had two children, divorced, and then went to school to study commercial art as a single parent. She is now married to Chuck Beringer. When he saw she wasn't happy in her job at the time, he encouraged her to do what she really wanted. She has.
"I've been lettering for over 40 years, but seriously lettering for 21 years." Nineteen years ago, Suzie made a commitment to letter every day, even if only for a very short time. "When I'm away from my studio, I always have paper and pencil with me and will thoughtfully draw letterforms. That counts. I stayed true to my commitment [and] have seen a lot of growth in my work, but the best treasure of all is that I find myself getting lost in creating, discovering and exploring."
Suzie says exploring has taken her beyond staying within the letter forms on paper that many others are content to do. While in Boston 10 years ago visiting family, she looked around a beach, found a discarded plastic fork, and started to produce elegant messages right there. She photographed it to save before the water took it away.
Now she travels purposely, always carrying a similar tool, to be prepared. "I like to write happy things to brighten someone's day."
Journals line her Bellingham studio shelves and are dated to show her progress. Good light pours through large windows in her southside home.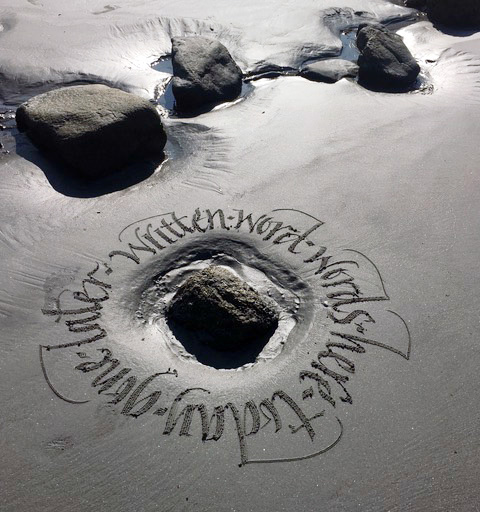 Suzie works primarily in series. Her current one is "The Cloths of Heaven," based on a poem by William Butler Yeats published in 1899. As she does multiples with the same concept, she pushes and changes and pushes some more.
Water, tea, or coffee and candy are nearby. She is listening to a playlist of 2CELLOS, Mary Chapin, '60s music, or Italian pianist Ludovico Einaudi. Since Suzie is working with words, she finds it easier to listen to instrumental music and not be distracted by lyrics.
Suzie takes a different approach than others: Her backgrounds are in dramatic, with letters appearing in white or gold. The gold is used sparingly, for accent. "You want to look like a movie star doing a cameo appearance," she says.
Suzie is fortunate to have two studio spaces. Her second studio is in her current winter home in Sun Peak, British Columbia, where she and her husband spend their winters "skiing and playing in the snow."
For 16 years, Suzie taught at Stampadoodle & The Paper Café, a retail store created by Steve and Wendy Schwartz that closed in 2019. Suzie has taught in numerous other places in the United States and in Canada. This past year, she has been teaching via Zoom to Calligraphy Guilds around the country, as well as being on the faculty for this year's International Calligraphy Conference, Legacies III.
As a Whatcom County resident, Suzie believes it's important to support local business. She will teach this fall at Bellingham's Art and Happiness, near Hardware Sales. The small store is owned by a former Stampadoodle friend, Elli Anderson.
You can dig deeper into Suzie's work on her Instagram page; a website is currently being built at www.penstrokedesign.com. She sources calligraphy items—nibs, 24 karat gold sheets for gilding—through John Neal Bookseller and Paper & Ink Arts).