While many in the Pacific Northwest are known for enjoying the great outdoors, many have missed the ability to celebrate weddings, host family reunions, or come together as friends safely in an indoor setting. Thankfully, that's now changed.
Most of the COVID restrictions were lifted in Washington state weeks ago, allowing full indoor occupancy levels once again. "We're excited," says Chris Caldwell, director of sales and marketing for The Chrysalis Inn & Spa, who is happy to again be coordinating with clients to make memories at the Chrysalis. "We anticipate a lot of pent-up demand."
The Chrysalis Inn & Spa—part of the Curio Collection by Hilton, comprised of independently owned hotels—offers an upscale boutique inn experience for overnight guests, incredible on-site food, and a full-service spa. It also has smaller, more intimate spaces for off-site corporate meetings and retreats, a beautiful backdrop for picture-perfect weddings and receptions, and room for afternoon getaways for groups of family or friends who want to combine the catering options and amenities of the unique space situated right on the water.
On-site restaurant Keenan's at the Pier looks out over the nearby boardwalk that sweeps down and over a portion of Bellingham Bay to Boulevard Park as the light of sunrise proceeds through the day to spectacular sunsets over the water.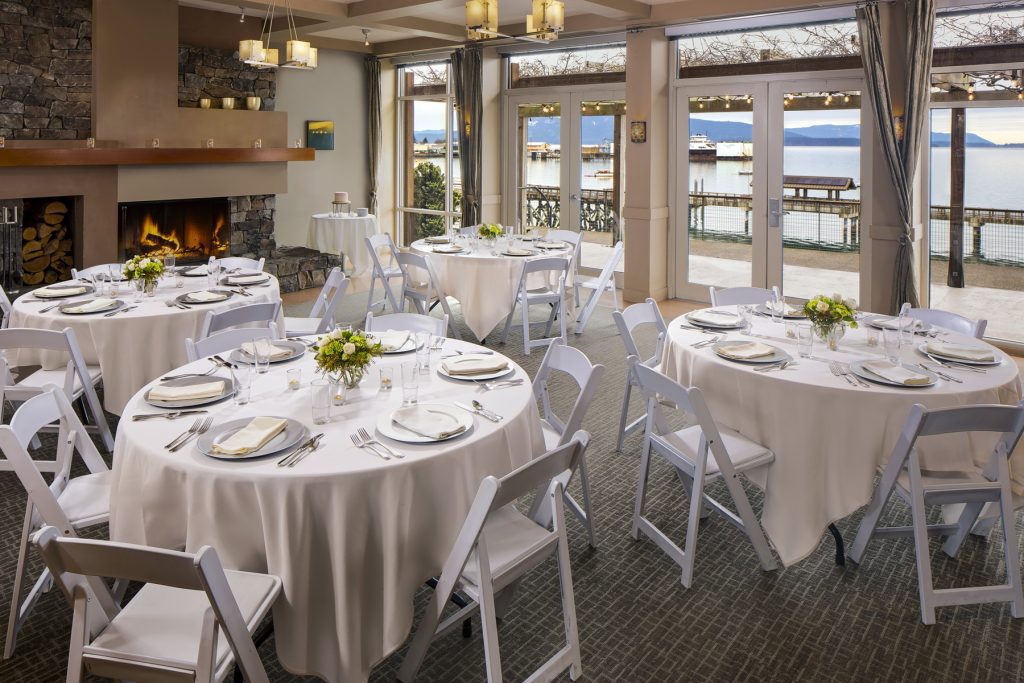 The "living room," an enviable space many would love to have in their own homes for entertaining and relaxing, shares the same astonishing water and sunset views and opens onto a terrace decorated by verdant purple wisteria, when in bloom. In the opposite direction, guests in the living room see the hotel's spiral entry staircase. Everywhere you look while at the Chrysalis, your eye falls on something lovely.
Options to rejuvenate and relax
A group of bridal party members can select spa treatments of massage, facials, nails, or makeup in the on-site spa. Peruse the entire spa menu here. Turn off your technology and sit by the entrance's waterfall and pond, journal, or even color in one of the adult coloring books available for purchase at the front desk.
Local and looking for a self-care spa day? Find childcare for a few hours and invite a group of gal pals or moms to enjoy a mini-getaway, and still be back in time to put the kids to bed.
Consider an off-site small working event
"Off-site meetings, on neutral ground, allow directors and managers the ability to strategize, look at goals and plan, often with fresh outlooks," says Jordyn Hettick, the marketing communication director for Bellingham's Larson Gross accounting firm, who recently planned a second annual off-site retreat at the Chrysalis for her firm's 11-member partner group.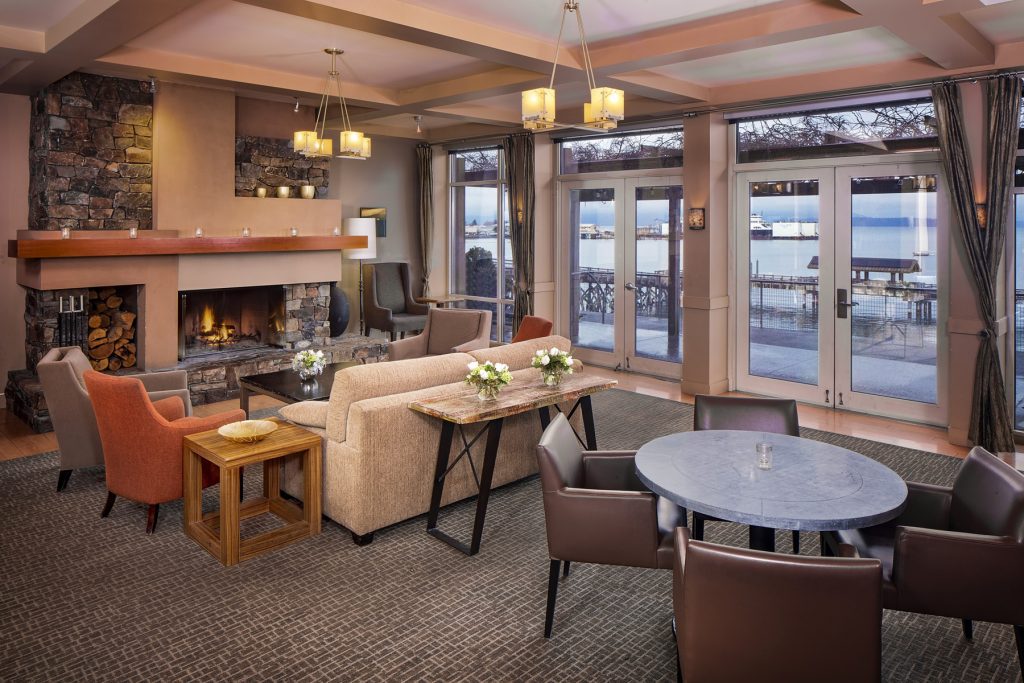 It was a full day session of partners followed by a second day in which additional management staff of around 25 to 30 joined them for a social time. They utilized the meeting room upstairs, she said, as well as the living room and terrace spaces. She recalls a buffet table with skewers of meats and vegetables, a charcuterie board of meats and cheeses teamed with bread, meatballs, and dips. Larson Gross continues to return to the Chrysalis Inn, as it transfers well between the professional world and the social one. "It is an intimate space in a phenomenal location."
Plan an unforgettable, intimate wedding
Pacific Coast Weddings notes that the Chrysalis is one of only three Bellingham hotels with a view of Bellingham Bay, making it unique and atmospheric for hosting weddings, wedding dinners, or other wedding-associated events.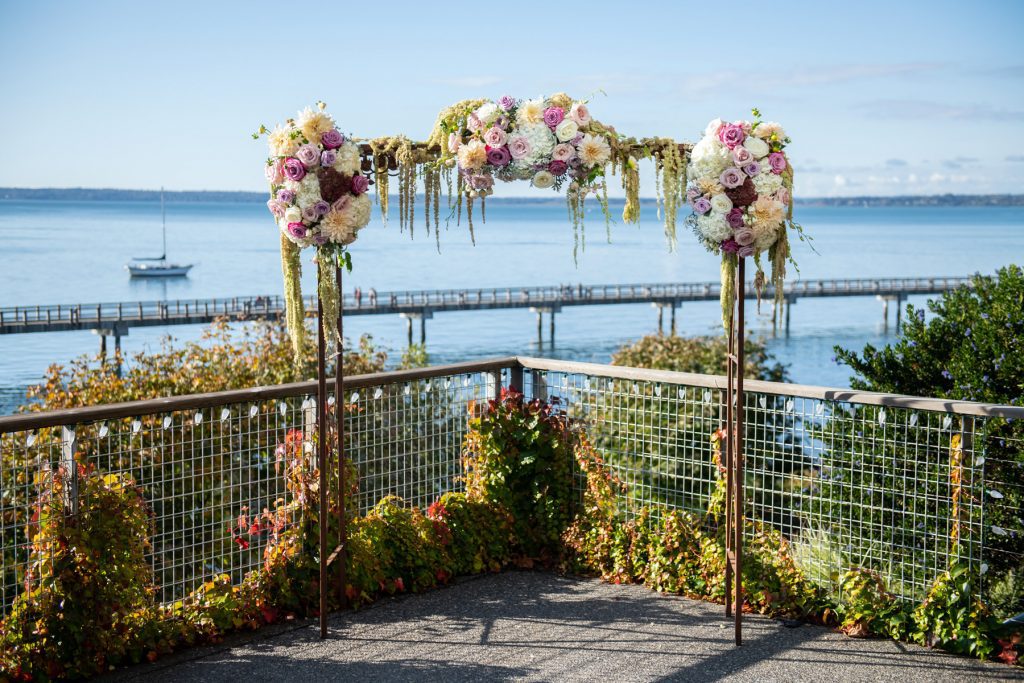 Popular wedding website The Knot also lists this phenomenal venue, describing it as "surrounded by the natural beauty of the Pacific Northwest and contemporary architecture. The Chrysalis Inn & Spa is perfect for an intimate waterfront celebration. Host your ceremony on a deck overlooking the calm waters of Bellingham Bay, or cozy indoor space in front of a warm fireplace. You can also choose to throw your reception, rehearsal dinners, and wedding party get-togethers at the beautiful waterfront hotel."
In 2018, the then-17-year-old property was updated while maintaining its simple, elegant palette for understated luxury and tranquility. In 2019, the locally owned hotel joined the Hilton brand in its Curio Collection of global upscale and luxury hotels hand-picked for their "unique character and personality." Hilton is a leading global hospitality company with a portfolio of 17 world-class brands comprising nearly 6,000 properties, according to Hospitality Net. As a result, it has a further reach into a larger marketplace of travelers.
Chris Caldwell and staff can be reached to plan special occasions by calling 360-392-5558 or emailing her at chris.caldwell@hilton.com to describe your event and receive a proposal. Located at 804 10th Street, Bellingham and adjacent to additional dining options and shopping in the historic Fairhaven village, the Chrysalis Inn & Spa is just minutes from Interstate 5 and scenic Chuckanut Drive.
Featured photo by Amy Parsons
Sponsored