Submitted by Whatcom County Library System
The Whatcom County Library System (WCLS) is one of eight winners of the 2021 John Cotton Dana Award, which honors outstanding library public relations campaigns. Managed by the American Library Association, the prestigious professional honor includes a $10,000 grant from the H.W. Wilson Foundation.
WCLS won for its 2020 Library Card Sign-Up Month campaign, a strategic, whimsical outreach effort that featured Sasquatch and friends exploring legendary library services. As a result of the campaign, the library system gained 431 new cardholders in September 2020, beating its goal by 23 percent. In addition, the messages contributed to a 28 percent increase in annual circulation of digital items.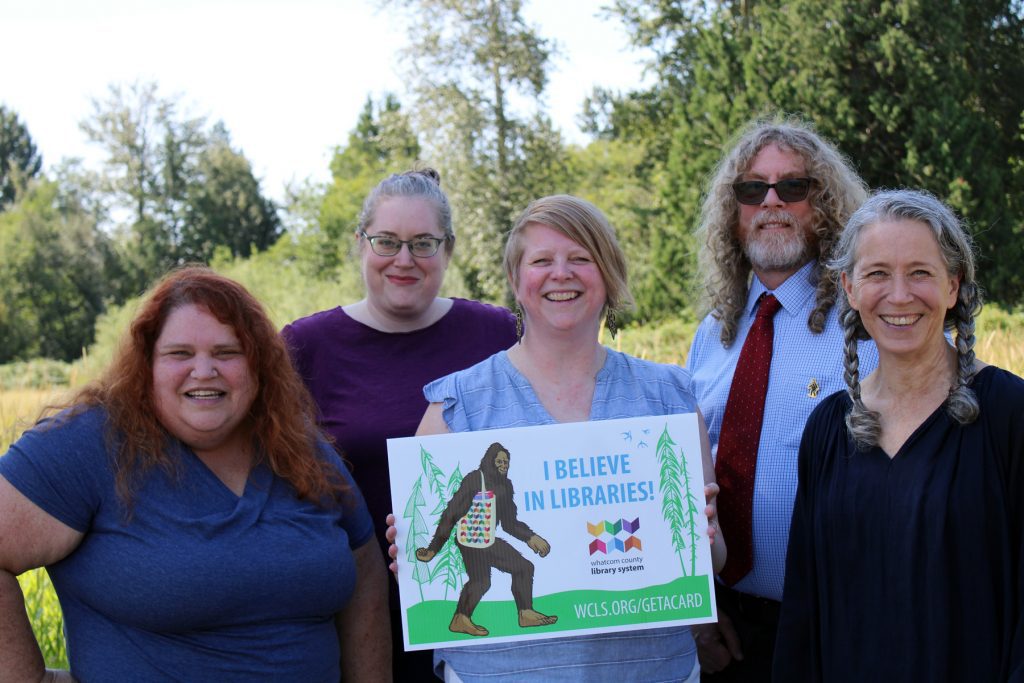 "We are particularly proud that this campaign was created in-house by our community relations department," says WCLS Executive Director Christine Perkins. "I'm also delighted to note that while WCLS is a mid-sized library system, our fellow honorees are among the largest libraries in North America, including Chicago, Los Angeles and Edmonton, Alberta."
COVID-19 health guidelines closed library buildings for several months in 2020, which required library staff to think of new ways to communicate and to deliver services. "After working with our colleagues to recreate the library experience online and via curbside services, our team evaluated how to drive library card sign-ups while our buildings were closed and outreach events were cancelled," says WCLS Community Relations Manager Mary Vermillion. Other members of the WCLS community relations department are Amy Jones, Cynthia French, Neil McKay and Suzanne Carney.
"Libraries were a vital part of the community safety net during COVID, providing inspiration, connection and information," Vermillion adds. "We wanted to remind everyone of libraries' value and encourage more people to use the services."
To surprise and delight people during this isolated moment, WCLS staff created a fully integrated creative campaign starring a cast of legendary ambassadors: Sasquatch, the Kraken, fairies, an alien and a unicorn. Messages supported the library system's overall brand and featured the "unbelievable" things you can do with a library card. Creative extensions included digital ads, animated posts, radio and newspaper ads, social media quizzes, videos, yard signs, stickers and pizza box fliers. The messages pointed to a new simplified online sign-up form, wcls.org/getacard.
"The pandemic demanded an entrepreneurial spirt, and our talented community relations team embraced that challenge," Perkins says.
Library staff are considering how they will use the award's $10,000 grant to create programs that benefit library patrons. The county library system previously won a John Cotton Dana Award in 2017 for a marketing campaign developed in partnership with Bellingham advertising agency Red Rokk. WCLS used grant dollars from the previous award to install vibrant vehicle wraps featuring book-inspired quotes on county library system vehicles.
The award is named after John Cotton Dana (1859–1929), the father of the modern library, who is credited with helping transition libraries from reading rooms to community centers. John Cotton Dana Award submissions include strategic library communications campaigns from libraries of all types and sizes. In recognition of the achievement, winners receive a cash development award from the H.W. Wilson Foundation. The John Cotton Dana Awards are typically presented during an awards ceremony hosted by EBSCO Information Services held during the American Library Association (ALA) annual conference. The 2021 winners will be honored at the next in–person ALA conference, currently slated for June 2022.