It's well known that businesses like to give back to the communities they operate in. CPI Plumbing & Heating has found a way to expand on its program—by putting its employees in the driver's seat.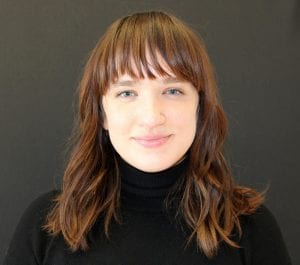 Sarah Eckenrode joined the company as marketing director just two months ago, but she's already had the chance to witness the effect the program has had on her co-workers.
"I moved here two years ago from Virginia. The Navy brought us this way, and we fell in love with the area. We really like it here and we're looking to stay and join the community," she says. CPI, however, are no strangers to Whatcom County. "We've been in the community for about 30 years now. We really pride ourselves on being a family-owned, three-generation business that's here to help and serve the community."
The first part of CPI's philanthropic plan is to bring worthy organizations on board. "We're thankful to the community for allowing us to be a part of it for the last 30 years, and we want to continue to have a positive impact," Eckenrode says. "So as a way to give back, we started the Charity Club
The next step is to involve the employees that make the business a success. "Every month we select our 'Golden Wrench,' our version of the Employee of the Month. That employee gets to choose up to two non-profits from our charity club to donate a percentage of that month's profits to," says Eckenrode. "So every month I get the awesome feeling of being able to call a non-profit to let them know our employee of the month has chosen to donate proceeds to them. It's an exciting opportunity for me to not only connect CPI to the community, but also give our employees an opportunity to connect as well."
Because the idea is to do good, they also take input from their Golden Wrenches about who might receive donations.
"We're not that strict about it, and we always want to encourage our employees to do community outreach," says Eckenrode. "If there's an organization they feel strongly about, they can recommend it, and if they don't see anything on the list that speaks to them, their passion and their mission, they can recommend one and we'll get them added and have the proceeds go to that charity."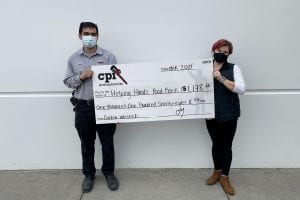 Sometimes the recipient is chosen because the employee likes the cause they support, and other times a worker will select a program that speaks more directly to them.
"Last month we donated to Growing Veterans. That was a unique opportunity because the person who nominated them had some experience with the military, so they were excited about it. To see them get the opportunity to give back to an organization they feel strongly about was really nice," Eckenrode says. "It's always nice to see an employee give back to an organization they have experience with. It feels great as a company to uplift them and give them that opportunity."
To make the most of the interaction, CPI schedules a meet and greet that allows a connection to be made between the worker and the organization they choose to benefit. The Golden Wrench gets an opportunity to tell the non-profit why they chose them, and why they're thankful for their organization," Eckenrode says. "On our Instagram, we post the meeting to share with our community.
While CPI didn't invent the concept of reinvesting its profits into its community, Eckenrode believes its Charity Club has added an extra dimension to the experience—one that makes it that much more meaningful for everyone involved.
"I've never seen this done through an employee," she says. "An employee gets the power to choose to donate money to an organization and to feel like they're making a direct impact. I feel lucky to work for a company that cares about the impact they have on their community."
Sponsored