It took nearly half a century, but the school shot put record at Lynden High School has received a rewrite.
Senior Matthew Furdyk etched his name atop the Lions' all-time shot put list with a throw of 56 feet, 10 inches during Lynden's Northwest Conference home meet against Mount Baker and Ferndale on April 14, breaking the previous benchmark of 53-3.25, set in 1974 by Randy Bajema.
Furdyk, however, wasn't done as he followed that performance by breaking his own school record two weeks later with a mammoth launch of 58-8 on April 30 at the Tigers Relay at Burlington-Edison, quite possibly making it another five decades before the record gets broken again at the school.
"Matt is a great young man who is dedicated and hard working," says Lynden coach Layne Hutchins. "He has put in a huge amount of time and effort to work on his technique. Its always a pleasure to work with kids who have a passion and are really good people. I was so happy for Matthew. He is a guy who deserves it."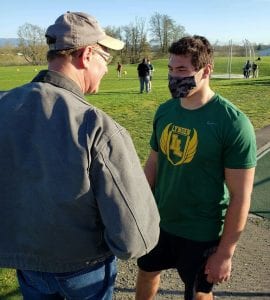 In addition to capturing the school record in the event, Furdyk's mark was the best among any shot put thrower in the state regardless of classification, bettering the second-place throw by more than two feet.
Furdyk also set a new school record in the discus with 175-11, the top distance in the state in the 2A ranks, while his best mark in the javelin (164-1) was fifth among 2A athletes at season's end.
"Knowing my placement statewide and the fact I broke the school records takes a little sting out of [not having a state championship meet this year]," says Furdyk, "but it's still disappointing that we don't get a full season."
Remarkably, Furdyk put up his lofty record-breaking marks despite not having the benefit of a junior season; his previous best throw was 43-7.5 set during his sophomore year. Throw in the fact that he also faced a drastically shortened season due to the COVID pandemic and it makes his accomplishments all the more impressive.
"I had beaten the disc record during the two practice weeks of my junior season, so I knew I had the ability to do it," says Furdyk. "Since I had a year of weight lifting and increasing my physical capability, I was betting I could break the shot record as well."
He flirted with breaking the record in the shot right out of the gate, posting a throw of 52-0.5 during the Lions' season-opening meet against Lynden Christian.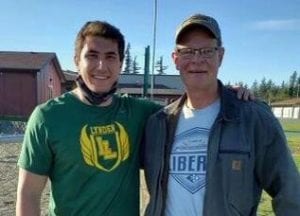 Two weeks later at Lynden's second meet of the season, the record was his.
"When they announced my 56 feet 10 inch throw," Furdyk says, "the only thing going through my mind was that all my hard work had finally paid off."
Randy Bajema was in attendance to witness the record-breaking throw.
According to Hutchins, Lynden football coach Blake VanDalen contacted Bajema, informing him his record was about to be broken.
"Randy Bajema is a great guy," Hutchins says. "I had the pleasure of knowing him a bit better when his son Brett was an athlete for us. Brett was a state athlete in the triple jump and the discus. He was only a few inches from [his[ dad's record but didn't get it. Blake VanDalen was the ring bearer in Randy's wedding. He got a hold of Randy to tell him this might happen, and Randy was kind enough to come watch and see it. [It was] such a cool moment because both men are awesome individuals."
The presence of the now former record holder only added to the experience for Furdyk.
"Randy Bajema and his wife being able to come watch me throw was awesome," Furdyk says. "I was congratulated and able to shake the hand of the man that held two records for almost 50 years. I thought that was an amazing experience."
Furdyk was simply dominant throughout his senior season. He finished first in both the shot put and discus in all six of the meets he competed in and won the javelin in five out of the six meets.
Up next for Furdyk will be Montana State University, where he plans to walk on the Bobcats' track and field program.
"Matthew is a highly motivated person," Hutchins says. "He's very successful yet humble, which is a true definition of success."