Assistance League of Bellingham may be one of the best kept secrets in our community—and I'm here to make sure this hidden gem doesn't stay hidden!
The first time I heard of Assistance League Bellingham (ALB) was when a friend walked into my office one day wearing a sports coat, which wasn't typical of his then 20-something self. He was channeling the "Thrift Shop" song long before it was a twinkle in Macklemore's eye. I complimented him on the new threads, and he enthusiastically replied that it came from ALB's thrift shop.
A couple of years later, ALB joined my women's networking group to help promote its Thrift & Gift Shop. Over time, we learned about ALB's five philanthropies—the range of important work they do in the community.
Perhaps the most well-known program is Operation School Bell®. Each fall ALB clothes low income and homeless children. Kids get a $100 gift card to spend at Target with the help of their family and ALB volunteers. From the stories I've heard from the volunteers, the big smiles from the kids and their families express just how grateful they are for the help.
Assistance League of Bellingham's other philanthropic programs include:
Enrichment Scholarship program, providing over $50,000 in summer scholarships to middle and high school public school students in Whatcom County. Scholarships are merit-based.
Care Center Support, providing small gifts for holidays and birthdays to care center residents who don't have family.
Hospital Patient Support, providing sweats and t-shirts to ER patients who can't wear their clothes home.
Eating Healthy program, providing scholarships to summer gardening programs for kids from preschool through eighth grade.
ALB is part of the national Assistance League® organization, and while a small portion of the dues paid by the members goes to support the national group, all of the money raised by ALB stays in Whatcom County.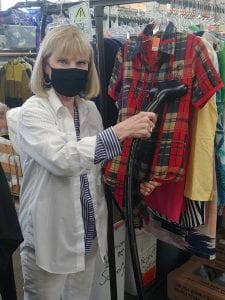 The main way ALB supports these good works in the community is through the aforementioned thrift shop, located at 2817 Meridian Street, across from the original Haggen. Recently, I had an opportunity to talk to Christy Dahms, chair of public relations and Operation School Bell, who showed me around the back area of the store. While I'd shopped in the space before, I had no idea how dialed-in the operation is.
I knew when they moved into their Meridian shop a few years ago that it afforded them much more space than the previous Cornwall Avenue location. But I didn't realize how much extra room they had! The space behind the thrift shop goes on room after room: a room just for Christmas items, a storage space for out-of-season clothing, a place just for shoes, and another for glassware.
Each area in the front of the shop—from books to tools to kitchen gadgets to furniture—is overseen by a specific volunteer—and each volunteer takes pride in setting up her display and rotating through seasonal merchandise.
Sound like fun? The Assistance League is always looking for new volunteers, Dahms says.
Currently, due to COVID-19 precautions, the thrift store is only open Thursdays and Saturdays from 10 a.m. to 5 p.m. Donations are received in the alley on the same days, from 10 a.m. to 2 p.m. or until full. Don't be surprised if you need to wait in line for a few minutes to get in, as the shop has been incredibly busy since reopening this spring. During the pre-pandemic times I'd been to the shop, it always had a number of shoppers, but it was downright bustling on my recent Saturday visit.
Volunteers don't have to work in the shop; there are opportunities to help with an annual spring fashion show and the Yule Boutique, which takes place in November.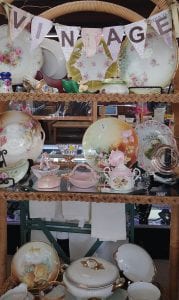 The Yule Boutique is my go-to for handmade Christmas gifts. The boutique usually takes place within the first two weeks of November, but this year's boutique is still up in the air, depending on rules around gatherings at that time. But whether the boutique takes place this year or you have to wait another year, do put it on your list. Not only will you find beautifully crocheted items, jewelry, holiday decorations, hostess gifts and more, you'll have the opportunity to nosh on homemade Christmas cookies prepared by the ALB ladies.
Now, I love Christmas cookies, so I'm biased here, but this is a spread like no other. It's like having 20 different grandmothers baking for you. What's not to love?
One of the things I find so special about the Assistance League is the dedication its members have to serving the organization. Many volunteers continue to work with the organization year after year, and if they're no longer able to volunteer their time, they still continue on with the group as non-voting members—because the good work they do and the friendships they build are priceless.
"Some of my closest friends today are friends I made through the Assistance League," says Dahms.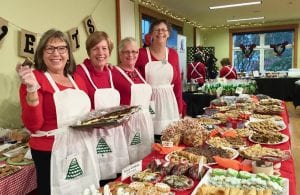 The Assistance League is working hard in our community, and we can help them by donating items to the thrift store, shopping at the Yule Boutique, or attending the spring fashion show. These are all fun, easy ways to support the real work that the Assistance League does in our community. The money they make stays here in Whatcom County, helping our friends and neighbors. And if all you have to do is buy a dozen Christmas cookies or donate your old dining set, why not do it?
To find out more about Assistance League Bellingham, please visit their website, and find the Thrift & Gift Shop on Facebook. (Pro tip: Sale items are posted each week!)
Sponsored