Today may be your lucky day.
That is, if you find one of the $10 Think Local First gift cards hidden around the Fairhaven Village.
Scott Ward, the executive director of the Historic Fairhaven Association (HFA), is behind these little gifts. So far, seven have been hidden and found, with more to come.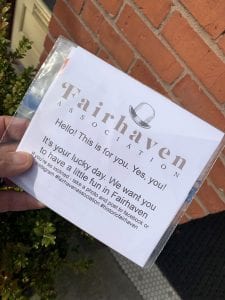 While the Think Local First cards can be used at 260 participating businesses around Whatcom County, Ward hopes that the cards people find in Fairhaven are spent in Fairhaven, as well. Currently, 35 businesses around Fairhaven are participating. Favorites such as 12th Street Shoes, Drizzle Tasting Room, Fairhaven Toy Garden, Good Earth Pottery, and The Black Cat are all on the list.
The gift card program started over the winter as a partnership between Bellingham Whatcom County Tourism and Sustainable Connections, says Ward, who is a member of Tourism's board of directors. The Tourism bureau wanted to find a way to help local businesses while the tourists the organization usually helps bring here were staying home. It made sense to encourage residents to shop locally, building on Sustainable Connections' already established Think Local First campaign.
The overall program has been a success with more than 8,000 gift cards purchased at a total value of $294,401—all to be spent solely at local businesses.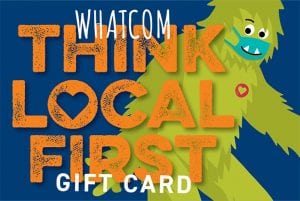 Ward says he has found the gift cards to be great way to bolster the work the HFA does for its merchants, using the cards as giveaways or promotional items.
If you're eager to find one of these cards, Ward says they will be hidden all around the shopping district—anywhere from the Firehouse coffee shop on 14th down to Paws for a Beer near the ferry terminal, and from Stones Throw Brewery on Larrabee Avenue to Fairhaven Realty near Finnegan and 11th. The cards are hiding outside, not in a business.
Ward recalls the first gift card he hid earlier this spring. "The first one I hid was right there in the gazebo. It wasn't really even hiding; it was just stuck on the board. It was there for about four of five days until somebody took it."
As for when to look for gift cards, Ward says, "You just never know when it's going to happen!"
While you're in Fairhaven searching for your Think Local First gift card, take a gander at the new windsocks being placed around the village this summer. Paitned by artists from the Whatcom Art Market and the Whatcom Artists Guild, the windsocks are in place of the traditional hanging baskets the merchants' association hung in the past. They add a festive pop of color, but don't require daily upkeep during the pandemic.
Many restaurants are gearing up for the summer season, as well. Three outdoor dining parklets are being installed at Galloway's, Avenue Bread and Swim Club, to expand seating areas outside.
As always, there are lots of great reasons to visit the Fairhaven Village for shopping and dining, but now you may find it even more lucrative if you're the lucky person who happens upon one of the Think Local First gift cards. And once you've found a gift card, share the love by posting on social media and tagging the Historic Fairhaven Association. Good luck!
Sponsored