Crystal Radwanski juggled motherhood and an advancing career in banking long before the pandemic hit—but this past year certainly added some unique challenges.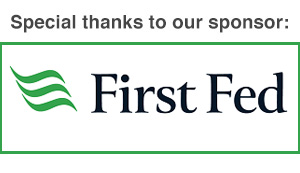 Crystal has worked in banking for 24 years, joining First Federal in Bellingham last year as its digital solutions and innovations manager. She oversees First Fed's digital strategy, anything from customer-facing digital solutions to supporting administrative-type digital solutions to create efficiencies.
"Customer insights and empathy is what drives our innovative mindsets here at First Fed," says Crystal. "Customers no longer compare their experiences in a linear fashion. They find what they like and then expect that experience anywhere and everywhere they do business. Based on that, we look for ways to enhance their banking experience with us."
"We recently partnered with a fintech company to enhance our digital account open system, which offers a more intuitive, timely and modern experience. We are set to go live with it this month!"
On top of her busy work life, Crystal is mom to 13-year-old Mikayla and 5-year-old Abigail.
"The pandemic has been tough and single momming is even harder," she says, "but when you don't have a choice, you just buckle down and get it done." Abigail has remained in daycare throughout this unsettled COVID period, but Crystal had to get creative with remote schooling for Mikayla.
"We have a pretty large office and thankfully there was space for her here," Crystal says. "She had her own office to do her schooling in on the remote days—I even put her name on the door."
Crystal tries to not dwell on what might or might not happen down the road. "My youngest will start kindergarten in the fall and I'm just praying that school is full time," she says with her ever-present warm laugh.
This positive attitude and plan of action help Crystal find success in both her profession and in parenting—which is never easy to juggle, even in non-pandemic times.
"It's high stress, high capacity," she says of all the things on her professional and parenting plate. "Honestly, the only way I've survived this last year is to literally just tackle what's in front of me. I just take the day as it's handed to me and get through it as best as I can."
We can all benefit from her reminder that the uncertainty of the future is enough to make a person feel crazed—but we have no control over so many things that may or may not happen, so best to simply not give energy to those "what-ifs."
"I've been on a journey of self-help the last few years and thankfully had positioned myself well to be in a positive and mindful mindset about life in general," Crystal says.
A Canadian living in Blaine since 2005, people near her Bellingham office often respond with surprise. "They say, 'You drive that far every day?' It's so funny, because it's only 20 minutes on the highway," Crystal recounts with a smile. "I love Blaine. It's such a quaint small town, and a great community."
She and her girls love to explore area beaches—and what could be better for unplugging and slowing down? "We love going to the beach and have so many options in Blaine—Blaine Harbor, Semiahmoo, Birch Bay, Point Whitehorn—in fact, we were just there yesterday. We love hanging out at the beach."
Crystal describes herself as "the tiller" guiding where her family goes, and she's worked hard this past pandemic year to just slow life down, when possible, for her and her girls.
With all of her extended family north of the border, the inability to travel has been difficult. But Crystal has even made the best of that situation, meeting up at Peace Arch Park for face-to-face time together. "They only live 15 minutes away, but we have that border keeping us apart," she says. "We're thankful for the ability to meet at the park and have a little time together that's actually probably more focused time than if we were traveling across the border to see each other."