Fresh spring air is circulating, the sun is shining, and classes at Joy of Pilates & Fitness are safely welcoming students into the studio. "The pandemic was very challenging for our small fitness business," says owner Ella Barney. Classes may still be limited in size, but the teachers' and students' enthusiasm for being on the mat or in a group class fills the studio. You will find a variety of body moving possibilities, including Pilates, step aerobics, yoga, TRX and weights.
JOP is a neighborhood favorite located in Sunnyland. Open seven days a week, the studio is staffed by a complement of comprehensively trained instructors. "Our teachers come from a variety of fitness backgrounds with years of experience and a love of exercise and teaching," says Barney. "As a business owner, I'm so grateful for my wonderful staff who continued to adjust to teaching under unexpected conditions during the pandemic." Classes took place virtually, which allowed people to continue exercising. Now people are thrilled to be able to work out with friends in the studio.
Barney was a licensed Physical Therapy Assistant and became a certified STOTT Pilates instructor in 2003. In 2008, she opened Joy of Pilates & Fitness. Her commitment to her Bellingham community extends beyond the walls of the studio, being a sponsor of organizations, such as Blue Skies for Children, Roller Betties, and other local non-profit organizations. People are attracted to Barney's warmth and knowledge.
If you've never tried, Pilates it's a wonderful exercise program! Pilates strengthens your core muscles and improves your posture, flexibility and strength. Classes take place on mats or on an apparatus such as the Reformer. Far more than a recent fitness craze, Pilates has been developed and practiced since the 1920s, when Joseph and Clara Pilates opened their "Body Conditioning Gym" in New York City. It was originally used for dancers and boxers. Taking a regular class can benefit everyone as Joseph Pilates said: "If your spine is stiff at 30 years old, you are old. If it is flexible at 60 years old, you are young."
Bone density and balance are critical elements to maintaining wellbeing as we age, so JOP offers classes created by researchers at Oregon State University meant to reduce the rate of hip bone loss and the risk of fall. It includes strength exercises, stretching and light cardio. They offer BBS classes five days a week and their schedule is expanding as more students return to the studio with a variety of classes, such as Osteo Pilates and BBS Challenge.
"I love the variety of teachers at JOP," says Elizabeth Bennett, a dedicated student who comes four to five times a week. "Each class feels tailored for me, and they're always fun."
Marisa Papetti, owner of Marie's Bees, is a valued partner and student. Her honey can be found for sale in the studio store along with other locally made products including coffee from Maniac Coffee Roasting and treats from Anytime Toffee. "My favorite aspect of Joy of Pilates & Fitness is that it feels like a family," Papetti says, adding, "being a small business is difficult enough; having people be supportive makes a world of difference."
JOP wants to be your neighborhood fitness home where you come to exercise and be with friends, whether you're in the studio or virtually. Every month offers various specials to encourage your participation. If you already have a body-moving routine, JOP would be a great addition. Experiencing new classes and alternative types of exercise uplift your body as well as your spirits. You'll find JOP to be a friendly and motivating environment where you're encouraged to live a balanced, healthy lifestyle. Need a massage? You can make an appointment with JOP's licensed massage practitioner, Bob Silverman. In need of physical therapy? Brandis Gunderson PT at Baker to Bay PT is in the studio's wellness room once a week.
"JOP is beyond grateful for our core students who supported our studio and kept our door open during the difficult times," says Barney. Now it's possible to celebrate in person. Bring a friend and make fitness your priority for 2021.
May Specials
JOP offers monthly specials to give new students a chance to try JOP and experience the full experience of what they offer. May offers a "buy 2 privates/get 1 free" special, which is a great way to get oriented to the studio and gain one-on-one guidance. There's also a two-week pass for unlimited classes for $30/month.
The JOP Membership is set up for students who want to commit to exercise and make fitness a priority. Members can come every day to exercise and meet their fitness goals. Memberships range from monthly to yearly and come with a free private orientation.
Join the fun.
Joy of Pilates & Fitness
2130 Grant Street in Bellingham
360.224.1433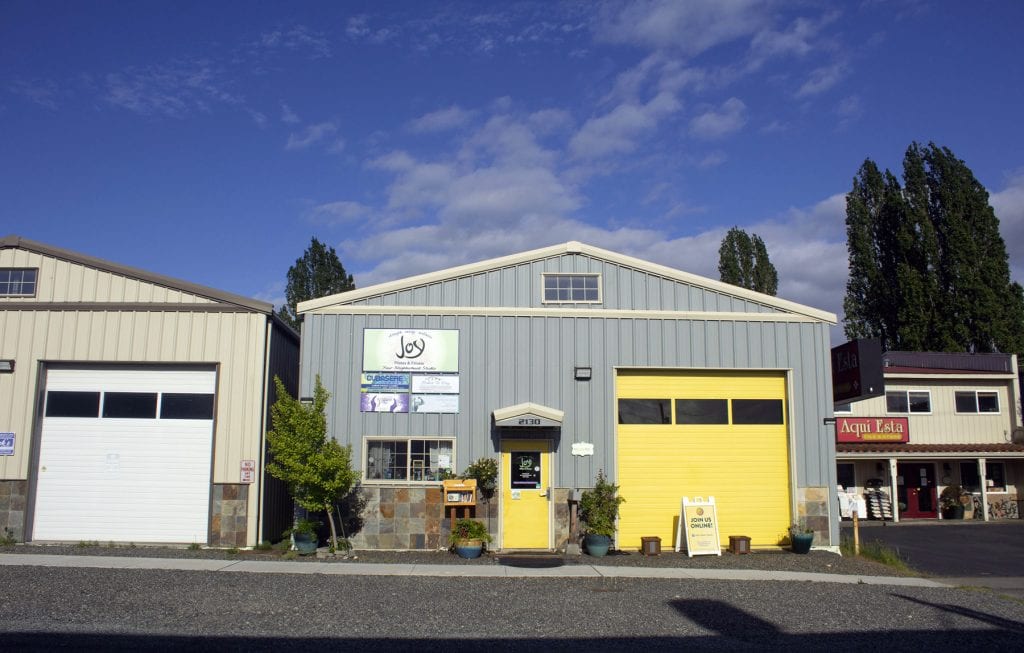 Sponsored