If Sue Sharpe's name doesn't ring a bell, then her long list of local achievements likely does.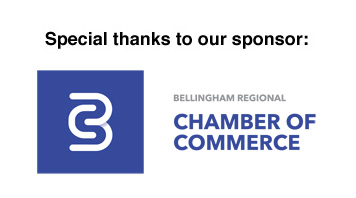 Sharpe was the executive director of the Chuckanut Health Foundation from 2009-2019, which has advanced several community projects, and was a founding member of WAHA, the Whatcom Alliance for Health Advancement. Her volunteer work is just as impressive: She and her husband chaired the campaign to renovate Bellingham High School in the late 1990s, and she's been a member of Western Washington University's Board of Trustees since 2012.
For this body of work—and so much more—Sharpe is being honored with the 2020 Lifetime Achievement Award from the Bellingham Regional Chamber of Commerce.
"It's a little overwhelming to be honest," Sharpe says. "It's such a wonderful honor."
Looking back at 40 years of work, nearly all of it in Bellingham and Whatcom County, Sharpe's career has revolved around giving the community a voice.
"If you don't have a community voice in community problem solving, it's really hard to create a sustainable solution," she says.
An Introduction to Healthcare
After graduating from Western Washington University in the late 1970s with a degree in communication, Sue got a job at St. Joseph Hospital (years before it would become PeaceHealth). Back then, Bellingham had two hospitals, the other being St. Luke's, in the Sehome neighborhood.
The healthcare environment at the time was different, she says, and people were engaged with one hospital or the other. "There was a lot of enthusiasm for a community healthcare environment."
Sharpe then went on to get her MBA at Western, and she and husband Phil Sharpe spent a couple of years in Washington, D.C., where she worked for a hospital system there. It gave her a different perspective on healthcare. She came away being impressed with the way healthcare was being delivered in Bellingham; she saw it as efficient and cutting-edge in many ways.
After returning from Washington, D.C., Sharpe went back to work at St. Joseph's. It was at a time of transition for the hospital, as it had just been bought St. Luke's.
Sharpe says her job initially was at the St. Luke's campus during the transition as the organization tried to create one hospital.
"It was not just one hospital in terms of services, but one hospital in terms of people," she says. "That was a really intriguing dynamic to take two groups of people—employees and physicians, who were very strongly aligned with one hospital or the other—to try to build trust in the ability to do it together.
"That whole idea of bringing people together—learning from that really informed a lot of how I looked at my work going forward."
Creating Community Cohesion
While building her career, Sharpe and her husband also raised two daughters. Sharpe decided to step back from her full-time job and turned to consulting for 12 years. She continued to work with the hospital, as well as working on projects that kept her involved with community causes, from transportation to domestic violence.
Sharpe applied what she took away from the early years in her career to consulting. At its core was the necessity to connect diverse groups of people to address a community issue—groups that might not necessarily see themselves working together.
During this time, she took on a project with the St. Luke's Foundation. Although the hospitals had merged, the foundation was its own entity focused on issues around community health. At the time, the foundation was beginning to look at factors that limited people's access to health care, such as changes to insurance coverage and what insurance healthcare providers could accept.
"There was a sense that the system wasn't able to respond to the community," says Sharpe, and the foundation took on this question of access with her as a consultant.
What developed out of the resulting workgroup became the Whatcom Alliance for Health Advancement (WAHA), what Sharpe calls "a really interesting commitment, as a community, to improve healthcare access."
It was a model that got noticed on the state level, and Sharpe attributes WAHA's success to what she calls the "community of here"—the unique geographic characteristics of mountains and water and the international border to the north that keep Whatcom County a close-knit community, despite differences of opinion.
"I think that people, when they're talking about their own community and how to make it better, will do what they need to do to help their neighbors."
Sharpe was consulting for the foundation when its executive director retired. She applied for the position and was hired in 2009, remaining there until her retirement in 2019. During that time, the organization changed its name to the Chuckanut Health Foundation to better reflect its community-centered mission.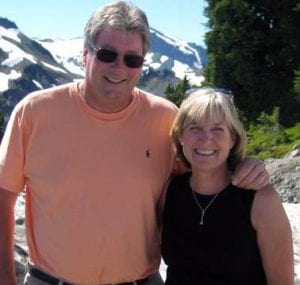 Sharpe says people are most likely familiar with her work at the foundation, but she gives much of the credit to the foundation's board.
"The board was willing to take a look at things differently and not just fund traditional services," she says.
Among the many initiatives the foundation supported were the expansion of Unity Care NW in Bellingham and Ferndale; development of the Whatcom Center for Philanthropy with Whatcom Community Foundation and United Way; support of Northwest Youth Services starting with The Pad and then with major support for 22 North; the launch of the Aging Well Initiative and support for Senior Services in Whatcom County; and work with the Interfaith Coalition on its transitional housing and Family Promise.
As Sharpe neared retirement, she saw it was time for something different. She and her contemporaries had been leading the charge for decades and it was time for a change.
"I came to the conclusion it's time for a new generation," she says, pointing to her successor at the foundation, current Executive Director Heather Flaherty, as an example.
"From day one I was so impressed [with Flaherty]," says Sharpe. "I couldn't have been more excited when she got that position."
Flaherty was also recently honored by the Bellingham Regional Chamber, named its 2020 Young Professional of the Year. There is a heart-warming irony that during the year of the pandemic, two of the Chamber's most prominent individual awards were given to community health professionals—both of whom were awarded for work done outside of the pandemic.
Shift in Focus
Sharpe's influence has extended beyond her work in the healthcare field, including the initiative in the late 1990s to rebuild Bellingham High School, a campaign she and her husband Phil Sharpe led.
Then, in 2012, Sharpe became a member of the Western Washington University Board of Trustees, where she still serves today. Other volunteer work has included serving on the boards of the Northwest Economic Development Council and Whatcom Community Foundation. She is also a former member and president of the Bellingham Bay Rotary.
"As part of my volunteer work, I've always seen health services and education services as the two most significant investments our community, state and nation can make in our future generations," Sharpe says, pointing directly to issues of access.
"Look at the challenges in higher education right now," she continues. "There are a lot of issues around access, there are a lot of issues around affordability, and access in terms of diversity and equity."
Similar to her prior work in healthcare, the demand for access to higher ed is growing and she says she applies the lessons she learned in healthcare to education, especially around bringing different voices to the table.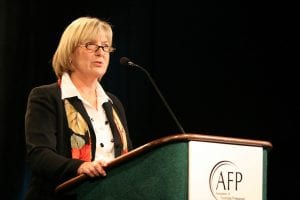 "To me that pulls it all together," she says. "If you don't think [a group] needs to be at the table, then they probably do."
Since Sharpe retirement, much has changed in her world and the world in general. She spent much of 2019 mourning the deaths of her parents, and as she emerged from that transition, the COVID-19 pandemic brought life as she knew it to a grinding halt.
Reflecting on the past year, she recognizes the pandemic allowed her to slow down and reprioritize. One of her daughters had a baby last May, and Sharpe's been quick to support her daughter in her role as a new parent and as well as enjoying the perks of being a grandparent to both her granddaughters.
Sometimes we as individuals work on world issues, sometimes community issues, and "sometimes," Sharpe says, "you just work with your neighborhood and family, and that's where I'm at right now."