Jamie Johnson knew she wanted to be a Viking for quite some time.
The Ferndale High School senior attended her first Western Washington University women's basketball game when she was in fifth grade. Numerous team camps at WWU followed, starting in middle school, while throughout high school she frequently caught games at Carver Gymnasium with her Golden Eagle teammates.
"Western has always been the most ideal school for me with the combination of being close to home and the amazing athletes and leaders that are produced," says Johnson. "I didn't have many other considerations because I really wanted to go to Western."
It wasn't much of a surprise, then, when Johnson became a member of the Vikings' 2021 recruiting class.
Western Washington didn't have to look far to find one of the state's best, as the versatile 5-foot-10 guard comes off a junior season where she averaged 11.3 points per game while connecting on 42 percent of her shots from the field and hauling down 5.4 rebounds a contest.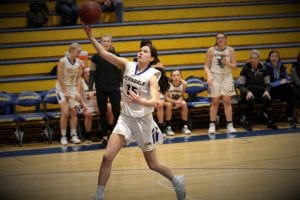 In addition, Johnson was a second-team all-league selection last year in the ultra-competitive Northwest League after receiving honorable mention recognition following her strong sophomore season.
"[Jamie] is always the first one in the gym and the last one to leave after practice," says Ferndale girls basketball coach Terri Yost. "She puts in the extra work any time that she can to make herself a stronger player. Western is getting an overall great player and teammate. She will encourage her teammates and go out of her way to do anything for the team. She is team oriented and does whatever she needs to do to help her team succeed."
Initially thought to be primarily a 3-point shooter, Johnson has evolved her game over the last year. She was encouraged by the Western Washington coaching staff, while they recruited her, to add more dimensions to her offensive skill set.
Johnson did just that.
"[Western Washington] told her they wanted to see her attack and finish inside more, [wanted to see] how she was off the dribble," Yost says. "Adding that to her game has made her become a stronger offensive player. She's improved her foot speed over the last year by working out with Gritworks. This has helped her become a defender we can use anywhere on the court with our team defense."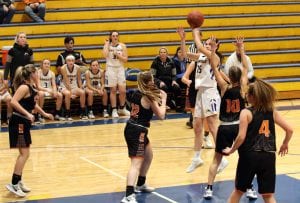 Johnson joins a Vikings' team that went a perfect 6-0 during a shortened 2020-21 season. Western posted a record of 22-9 the previous year, advancing to the NCAA Division II Championship tournament before having its season cancelled due to the COVID pandemic. It marked the 21st time over the last 29 seasons under head coach Carmen Dolfo that the Vikings registered 20 wins.
"Jamie is a local product that we've watched play since she very young," says Dolfo, who has guided the Vikings to a 612-245 record during her 29 years in Bellingham. "She's a great shooter and such a hard worker. We've seen her game improve with each year at Ferndale High School and know that will continue when she steps on campus. We're so excited to have Jamie part of our program."
Johnson is part of a four-player incoming recruiting class for the Vikings, joining fellow guards Hailey Hiatt (Arlington, Wash.) and Eden Perry (Roseville, Calif.) and post Truitt Reilly from Silverton, Ore.
"I'm very excited to play with other likeminded athletes, and to grow as not only a player but as a person," Johnson says. "I'm looking forward to see the person I become five years from now."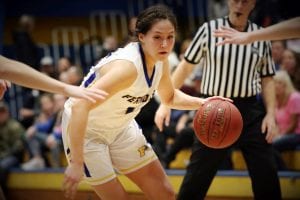 So, what type of player does Johnson think Western Washington is getting?
"I would say that Western is getting an ambitious and positive player out of me," says Johnson. "I'm willing to do whatever I can for my team. On the court my strengths are my three-point shot, and attacks to the hoop. The past year-and-a-half I've been focusing on improving my speed, strength and endurance."
Before she begins her collegiate career with the Vikings, however, Johnson will first look to close out her Golden Eagles career on a high note.
"My past four years at Ferndale, I've felt supported from my coaches for helping me become a well-rounded player, and for supporting all the extra time in the gym," Johnson says. "This coming season I'm eager to see how well we improve in such a short amount of time."
Johnson will open her final season at Ferndale on May 18 when the Golden Eagles host visiting Squalicum. Ferndale is coming off a 16-7 campaign, which saw the team advance to the district tournament.
"Coaching Jamie has been absolute joy," says Yost. "Her work ethic, mindset and love of the game are things you cannot teach a player. So, when you get all three of those in a player—it's something special. She's a player you can always count on to show up both on and off the basketball court."