As a historic district, Fairhaven features many prominent turn-of-the-twentieth-century landmarks. Visitors may not realize these sites once risked disappearing.
"Critical to saving the remaining historic buildings was designating Fairhaven a historic district on the National Register of Historic Places in 1977, thanks to Mayor Ken Hertz who took office in 1975," writes Fairhaven History webmaster Eileen Nelson. "The previous mayor, Reg Williams, was quoted in the Western Front in 1972 as wanting to tear the dilapidated Fairhaven buildings down if someone didn't buy and renovate them. Someone did. Ken Imus, who owned car dealerships in California, returned to his boyhood home and bought up most of the buildings in the 1970s and started renovating them."
In fact, many prominent nineteenth-century landmarks disappeared after the Panic of 1893 caused "Imperial Fairhaven" to decline in wealth.
"Most folks know about the Fairhaven Hotel that was once on the corner of 12th and Harris," Nelson writes. "Except for a few old timers, few know of the two lost historic buildings on the southwest and northwest corners of 11th and Harris."
Discovering Fairhaven's vanished landmarks reveals an independent, ambitious industrial town that vanished with them.
The Fairhaven Hotel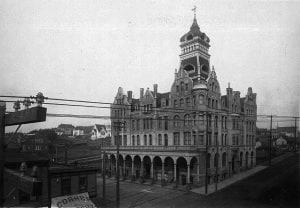 Two pioneering entrepreneurs, Nelson Bennett and C.X. Larrabee, built the Fairhaven Hotel in 1889. The imperial structure aimed to attract the Northern Pacific Railway terminal, which ultimately went to Tacoma.
Fairhaven Hotel's architecture made Flemish gables, rosettes, classical arches, and verandas from brickwork and Chuckanut sandstone. The 100-room interior featured modern amenities such as a hydraulic elevator, gas and electric lights, opulent furniture, and a grand dining room.
Mark Twain famously visited the Fairhaven Hotel in 1895, which closed in 1899 due to the Panic. The Larrabee family lived there until C.X. Larrabee's death in 1914. The Works Progress Administration renovated the building in 1928, removing the tower and ornamentation. The Boys and Girls Club used the building until a 1953 electrical fire. Remnants of original bricks have littered the rocks at Boulevard Park since its demolition in 1956.
The Fairhaven Towers Apartments, completed in 2020, now occupy the hotel site. "The tower on the new Fairhaven building certainly honors the original 1890 building," Nelson writes. Plaques commemorating the Fairhaven Hotel mark pavement there and on Fairhaven Village Green.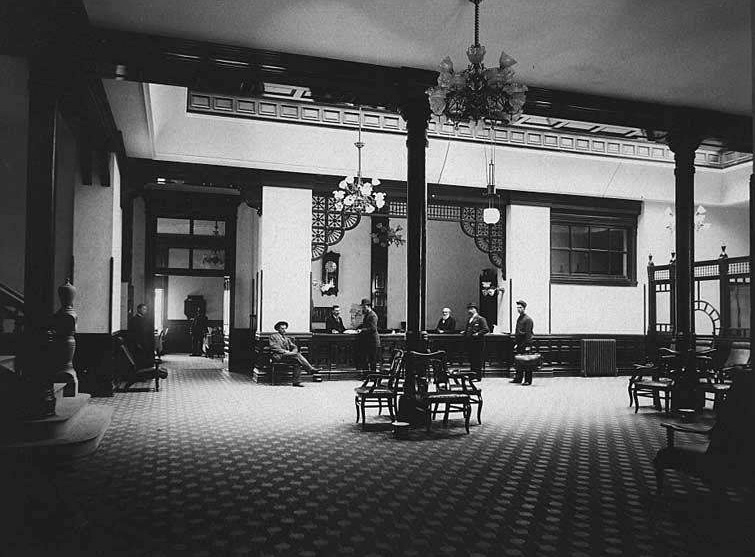 Blonden Block
In 1883, Danish immigrant Rasmus Blonden bought property from Fairhaven founder "Dirty Dan" Harris. He built Blonden Block in 1890 after selling a portion to Philip Morgan—who'd built the adjacent Morgan Block in 1889.
Blonden Block boasted two stories of Italianate architecture and a third-story onion dome. Local architect Jens Olsen designed Blonden and Morgan Blocks. Blonden Block hosted booming storefronts at ground level with offices and residences above, declining after the Panic. It underwent demolition in 1950 after long vacancies.
Blonden Block's corner became a community garden in the 1970s, now featuring a 1928 London double-decker bus.
Citizens' Bank (Sandwick Building)
C.X. Larrabee founded Citizen's Bank alongside P.W. Strader and H.W. Kinney in 1890. The bank's three-story Italianate building stood across from Blonden Block. Citizens' Bank outlasted the Panic, but private bank Henry, Andrews & Company from adjacent Nelson Block acquired it in 1901.
The building hosted the Sticknoth and Manson Saloon among other tenants until Prohibition era. In 1911, Norwegian immigrant Otto Sandwick opened a confectionery that lasted until 1945. The Sandwick family still owned the building when a 1949 fire destroyed it.
Today, the corner hosts other buildings and a popular statue of J.J. Donovan.
Dead Man's Point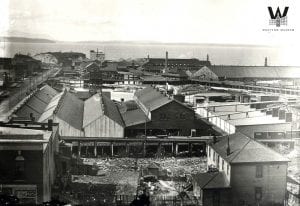 Dead Man's Point was a landmass on Harris Avenue's waterfront. The name supposedly originates from apocryphal stories of raids by Coast Salish groups: either the legendary 1600s "Spanish massacre" or an 1857 killing of two lookouts.
Alonzo Poe built a cabin there in 1853, hence the nickname "Poe's Point." It became "Graveyard Point" after Dirty Dan Harris purchased and sold some land for a county cemetery. Nelson Bennett established "Commercial Point" in 1889, reshaping the waterfront and moving bodies to Bayview Cemetery. The Bellingham Herald reported continuous discovery of bodies when Pacific American Fisheries cleared remaining land in 1904.
Nothing remains of Dead Man's Point except Marine Park and the Bellingham Cruise Terminal in its vicinity.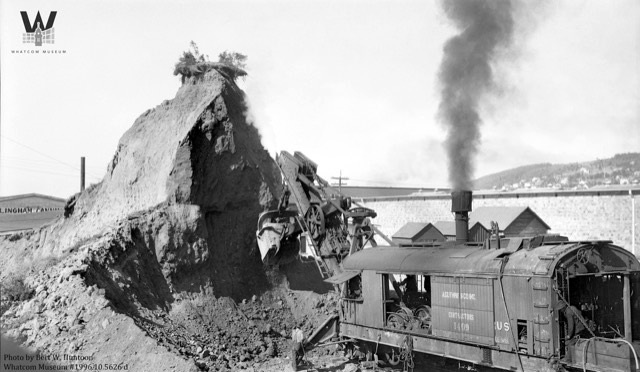 Cowgill House
Businessman Edgar L. Cowgill built one of Fairhaven's first homes in 1890.
"Very few people know about the Cowgill House, as it moved a year after construction in 1890 from Harris and 14th to make way for an opera house," writes Nelson. "The only image of the proposed opera house is on the large 1891 Birdseye map along the stairway of Village Books. It was never built."
Cowgill House moved in 1914 under Sideboard Saloon owner Dennis Butler and 1917 under Pacific American Fisheries manager Robert Forbes.
"The Cowgill moved up the hill on Knox Avenue and later down to a farm in Happy Valley," Nelson writes, "and today serves as the community center for the Cohousing on Donovan," Nelson writes.
Thanks to Bellingham Cohousing, Cowgill House is the only surviving landmarks on this list. And thanks to Fairhaven's historic status, many more landmarks attest to Fairhaven's heyday today.