Fall and winter weather in the Pacific Northwest means wind, wet, and even the possibility of snow. As the weather changes in our area, it's important to prepare accordingly. One of the essential areas of focus should be on the trees and bushes around your property.
I've Got a Guy Tree Service routinely provides expert tree trimming, pruning, and removal, in addition to stump grinding and other services. Owned and operated by third-generation tree climber David Otis and his wife, Kaela, the Bellingham-based company provides 15 years of combined professional experience for keeping your property safe from potential hazards. Here are just a few tips when considering whether your trees need attending to:
#1: Look for Signs of Rot
A rotting tree is a weak tree, and a weak tree means a wind storm can bring that tree down on whatever is in its path. There are several signs of rot to look out for, Dave says.
The first is the significant growth of mushrooms or other fungi on or around the base of the tree. Even if there aren't mushrooms, Otis says it's important to inspect the base and root structure of the tree where it meets the ground. There are often small clefts you can reach your hand into at the base of many trees. If doing so results in you pulling out wood that appears to be rotten, it's likely the core of the tree is also rotten.
Another possible indicator of rot is a split trunk. Split trunks are unique features in some trees, where the trunk is actually vertically split. Otis says this portion of split trunk is often among the weakest point on a tree, although it doesn't always mean you should simply cut the tree down.
Preventative measures like cabling and bracing such trees can help stabilize them, but if there's fungi or other trunk-based disease in the presence of a split trunk, cutting it down may be necessary. In any case, Otis says he approaches tree removal on a case-by-case basis.
"I don't want to take any tree down without probable cause," he says.
#2: Trimming the Trees for Safety
A good rule of thumb for whether your trees need trimming is how much light you're seeing through them.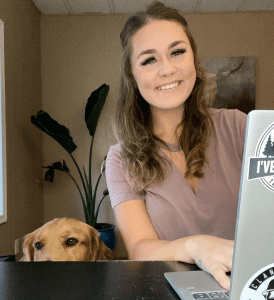 "If you can't see light through them—if you look up and it's really thick and it's like a wall—that means no wind is passing through them," Otis says.
If this is the case, you should consider a service like crown reduction. This is the selective removal of live branches to decrease the height of a tree's crown, which allows wind to pass through the tree more efficiently so the brunt of a wind doesn't strike it directly.
In addition, consider trimming overly large or heavy limbs—dead or alive—as those hanging over structures or vehicles can easily cause property damage if they fall. And trimming is often necessary even for healthy trees, Otis says.
"Even healthy trees have little dead limbs in them," he says. "That doesn't mean the tree is unhealthy, it just means some of the limbs died."
#3: Be Aware of Precipitation Effects
There's no shortage of precipitation in our area, and it's important to note that a lot of rain can loosen the ground around trees. This allows them to tip over more easily in the event something like a wind storm comes along.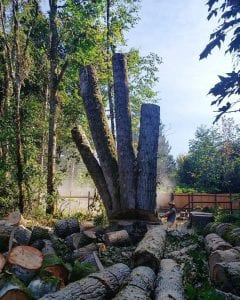 Otis says that dead or dying trees are most likely to fall, so it's best to remove them in anticipation of the possibility of loose, wet soil causing issues. For healthy trees, however, there's not much you can or need to do.
In the rare event of a Pacific Northwest snow event or ice storm, there's also not much you can do. Otis says the only real preventative maintenance for ice is to ensure tree limbs aren't hanging over anything you don't want them falling on.
"Any ice storm we've had has brought down a lot of healthy limbs," he says. "The ice sticks on them and makes them so heavy. They just fall straight down."
Featured photo by Hannah Zoe
Sponsored