Whether someone is recovering from an injury or seeking support for a chronic condition, physical therapy is a vital part of the healing process. The pandemic has resulted in more consumers expecting choices in how they receive their expert PT care. Whether due to immunocompromise, work schedules, childcare challenges or simply preference, CorePhysio has custom options for clients to safely receive the care that meets their needs, preferences and goals.
CorePhysio has long been an innovator in the field, and responded to the pandemic with a roll out of telehealth in March of 2020 to enable safe, consistent access to physical therapy. The ability to combine or choose in-person as well as virtual visits through telehealth is an option for all clients at CorePhysio.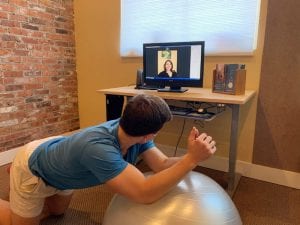 Elizabeth Hampton, CorePhysio CEO and Clinic Director, summarizes the challenge: "We look at PT effectiveness according to the right dosage, and challenge at the right time." COVID prevented access for many clients who felt more comfortable staying at home. Hybrid PT, or choosing in-person and telehealth options based on that clients' needs, is the perfect solution. If physical therapy has always meant manual therapy, it can be hard to understand how virtual physical therapy can be as effective as in-person care. "We are driven to help clients understand what telehealth PT looks like for their individual needs to optimize their care and rehab."
Parents with kids at home have adopted CorePhysio's telehealth program with great enthusiasm. "I worked with a mom last week whose baby was lying right next to her on the floor during her virtual PT session," Hampton recalls with a laugh. "It was a blast for me, incredibly convenient for the client and a great way for me to coach her in parenting ergonomics and with her baby as her strength resistance." Without having to worry about childcare, new moms can fit post-partum rehabilitation into their busy lives.
As an essential business, CorePhysio has continued to see in-person clients, and their CDC-compliant, rigorous onsite safety measures prioritize client and staff safety. Whether someone has cold symptoms, childcare changes, or would simply prefer being seen from the comfort of their own home, CorePhysio clients are always empowered to change an appointment from in-person to telehealth, or receive treatment only via telehealth.
Telehealth allows CorePhysio's physical therapists to continue to serve their clients at a frequency that ensures tractionable improvement for the client, along with schedule flexibility for their lifestyle. As telehealth enthusiast Steve Giordano puts it: "It's as good as in-person and I don't have to shave!"
Giordano says telehealth physical therapy has brought surprising growth and insights into his recovery process. He began seeing CorePhysio therapist Meghen Flaig for his back issue, via telehealth, in late March. "I couldn't quite visualize how this would work," he says. "Once we started, though, I knew it was practically the same as being in the office. I can turn the computer around so she can watch me walk or do exercises. She offers advice and countermoves."
When he began treatment, Giordano was on two pain medications and wearing a lower back patch. "Through stretches and exercises that she had me do every day, things improved and I was able to drop the pain meds," he says. "If I had a particular symptom that wouldn't go away, she had an idea for it. People like her really know things the rest of us don't. I like bicycling, and turns out bicycling is great PT for my back. Now I ride 50 to 60 miles a week. I mowed the lawn this afternoon for the first time in a couple months."
Through his telehealth sessions, Giordano has experienced mental and emotional transformation as well as physical. Attitude shifts play an important role in health and healing.
"Meghen helped me reframe my thinking about my pain, and it really worked," he says. "Through attitude, pain somehow gets moved into the background; it's not the main thing you're focusing on. I went through months with arthritis symptoms, like many people my age, and now I don't experience them."
Telehealth physical therapy has been a key support in Lynn Rosen's healing journey, too. She sought care at CorePhysio for help in recovering from a bike crash. Very involved in sports and physical activities, Rosen appreciates the expert physical therapy guidance she received in her rehab. "Everyone has been so empathetic and really knows the body. It's incredibly important," she says. "I've always expressed my enthusiasm in a physical way: biking, dancing, swimming, and horseback riding. Meghen guided me along the way back to doing what I used to be able to do. I'm back on my bike!"
Telehealth was a key component in Rosen's consistent care and improvement. "One of the most interesting parts of the dynamic was it was very focused. It was all so effective," she says. "The client portal is a critical part, too. She put in all the exercises accompanied by descriptions and videos. All I had to do was sign into my portal and do my PT."
Rosen has noticed continual growth, both with overcoming her injury and her relationship to it. "I had surgery; I still have screws and plates and hardware in my shoulder," she says. Regaining range of motion and strength goes a long way towards supporting the emotional and mental barriers that can sometimes get in the way. "Your mind can get in the way of things you can actually do physically. Meghen has a great skill and gift to help you work through that. It's a process that is welcoming, supporting, and educational for both my body and my mind."
CorePhysio therapists share these skills and gifts, and are excited to be able to expand their offerings on new platforms. CorePhysio physical therapist Angie Hilyar says that telehealth has opened pathways that normally might not be accessible. "I've found it to be especially helpful for individuals who may be in a higher risk category," she says. "An individual may have had to travel from a distance, or perhaps just had a baby or acute incident and their availability is limited for in-person."
Telehealth allows for easy pivots, whether that be because of cold symptoms, inclement weather, convenience levels, or simple client preference. And the quality of care isn't diminished. In fact, research supports the significant impact of virtual physical therapy visits in rehabilitation.
"I love that our clients can still feel supported and connected to have their needs addressed in different pathways," says Hilyar. "Some of the most fun experiences I've had so far is seeing clients at their home. We can problem solve in real time and can implement our interventions and strategies where they will actually be using those techniques." From ergonomic assessment of home workstations, to functional evaluations and precise therapeutic movement recommendations, CorePhysio clients have had the opportunity for their clinician to meet them virtually in their own home for customized care via telehealth.
This health platform offers a chance for everyone to experience the physical, mental, and emotional benefits of in-person as well as virtual physical therapy at CorePhysio.
Check out CorePhysioPT.com or call them at 360-752-2673 to see how telehealth, and in-person physical therapy, can be helpful for you and your family.
Sponsored