Submitted by Piece of Mind Cannabis
The munchies are no joke. And when they hit, we tend to go for comforting foods. Luckily, there are plenty of options for stoners to get their food fix throughout the town. Fellow vegans don't have to settle for a salad when they're out and about and the munchies arrive. Our Bellingham dispensary is conveniently located in the heart of the city, walking distance from many vegan-friendly places.
For the stoners seeking a feel-good vegan meal, we've rounded up our favorite places in Bellingham with delicious vegan options. Try them for yourself and let us know what you think!
We've included a note about COVID-affected hours, but recommend calling ahead to double check.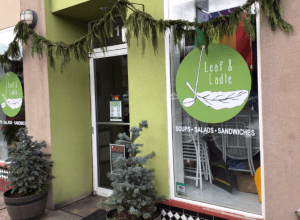 We've been huge fans of Leaf & Ladle for years, so you can imagine our excitement when this cozy restaurant opened a fantastic bar next door. Let's talk about Leaf & Ladle first, though.
The vegan panini is killer. They pack a chickpea and quinoa patty on fresh Avenue Bread focaccia with greens, tomatoes, and vegan sriracha mayo. Better yet, it can be ordered gluten-free. Then there's the grilled cheese with housemade vegan cheese, a creamy and delicious tomato soup, and even a vegan caesar salad. It's heaven for plant-based comforts.
And then there's L&L Libations, right next door. This newly opened bar is a paradise for vegans. Where else can you get a vegan crunch wrap? Or vegan jalapeno mac and cheese? Seriously, when the cravings hit, check out L&L Libations. You can thank us later. 
Call 360-319-9718 to verify hours. No dine-in; takeout only or delivery available through Viking Foods.
This restaurant is loved for its delicious food and diligence in labeling and accommodating dietary restrictions. In fact, Soy House is so vegan-friendly it often serves as the meeting space for Bellingham vegan groups.
They offer a vegan menu, along with clear labeling of all items on the regular menu, including if items are wheat-free or not. Vegans who miss egg rolls will rejoice at the delicious vegan taro and cabbage egg rolls on the menu. They even have a vegan steamed bun!
Dine-in area is open again with limited seating. Please call ahead at 360-393-4857 if you plan to have more than five people in your party.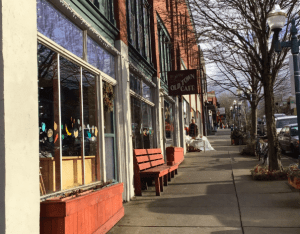 This cute cafe has a lot of vegan options on the menu and even more items that can be altered slightly to make it vegan. If you're coming for breakfast, they've got you more than covered with several options for tofu scrambles.
Ask your server for more options when you're in for lunch, or just order something that's already marked vegan, like the falafel wrap or the mushroom-sunflower burger (ask for no cheese).
Dine-in available; no delivery. Takeout and reduced outdoor seating, takeout preferred.
For some good old brews and food, try out Boundary Bay. They've got several vegan items and can customize a number of vegetarian dishes to make them vegan.
The vegan chili is warming and delightful, and the veggie burger does a good job of satisfying a burger craving. If you want to get a little fancier though, order the B.L.A.T. with eggless mayo and vegan bacon. The tofu banh mi, on the other hand, is vegan without any alterations.
Dine-in, takeout, delivery and beer delivery are available! Boundary Bay closes for one hour from 4:00 p.m. to 5:00 p.m. for deep cleaning of the dining area. Reduced indoor and outdoor seating. You are strongly encouraged to make a reservation. No more than five people per table.
Looking for a wake-n-bake breakfast option that will leave you feeling satisfied? Head over to the Wild Oat on the weekend for some vegan biscuits and gravy. 
The Wild Oat is Bellingham's amazing vegan-everything cafe. Anything you order will be worry-free. The menu is expansive, ranging from burgers to "fysh fillet," French dip, Philly cheese steak and so much more. 
If you have a sweet tooth, their desserts are amazing. We particularly like the cheezecake.
Takeout and delivery only; dine-in not available.
Bellingham Vegan Food Trucks
Sometimes the munchies hit and the last thing you can imagine doing is sitting down at a crowded restaurant for a meal. That's when a food truck comes in handy. You can take your food to go and eat it in the comfort of your own home or the nearby park without having to hold back on that raging hunger.
How many times have you visited a food truck and been able to eat everything on the menu? Vegans are often lucky to find one thing on a menu that accommodates their diet. Yet now we have organic, plant-based foods with gluten-free options, coming straight from a food truck in Bellingham. The future is here!
This truck will blow you away with its wide range of options and again with its fantastic flavor. Vegan chili cheese fries, tempeh reubens, burgers, tacos and more. This truck roams around various breweries, so be sure to check their schedule before making a visit.
No noted restrictions.
Well, Bellingham's done it again. There is more than one vegan food truck in town. Vegan stoners will not be going hungry here anytime soon.
Once you've located the truck, expect an option overload. Jackfruit reubens and sandwiches, loaded mac and cheeses, nachos, and more await you at reasonable prices.
Like New Public, this food truck wanders from brewery to brewery, so be sure to check its schedule.
No noted restrictions.
---
When we think of vegan stoner food, we imagine comforts like mac n cheese, burgers, sandwiches, soups, and more. Sometimes a salad just doesn't cut it. While there are seemingly endless options in town for vegans, these are our favorites for when the munchies call.
Stock up at our Bellingham weed shop before you fill up and let us know what vegan-friendly favorites didn't make the list!
Featured photo by Vegan Liftz on Unsplash