Twenty-one years ago, Piece of Mind opened its first store in Spokane, adding more locations to connect marijuana enthusiasts to needed supplies. Then, as cannabis was legalized for medicinal and recreational purposes, the founder, Justin Wilson, opened a chain of retail cannabis stores, the SatoriMJ brand. Now, as that legalization seems poised to spread nationwide, the company is positioning the retail cannabis brand alongside its nationally recognized line of head shops and rebranding SatoriMJ as Piece of Mind Cannabis. For the last five years, Jim Bangle has served as both chief operations officer and chief technology officer. He recently took the time to answer some questions about his role in the ever-evolving marketplace.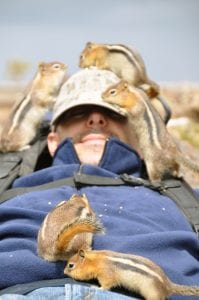 Where are you from, and what brought you to this area?
I come from the Bay Area, in California. I had a Silicon Valley background and did everything from information technology for AOL back in the day, to IT director for Lake Pend Orielle School District in Sandpoint, Idaho. It was health and escapism that brought me back to my roots as an outdoorsman. As much as I miss some of the unique things the Bay Area provides, it has absolutely nothing on the Pacific Northwest as far as I'm concerned. I always find my spirituality out in nature—I love to fly fish, camp with my kids, backpack, and hunt elk with bow and arrow.
Did you have any experience with cannabis before working with Piece of Mind?
Yes, with CBD. It's the only way that I use cannabis, since I don't generally use it to get high. I was a lifelong soccer player, so I've broken plenty of bones and suffer sore knees and ankles, and I found that CBD can do wonders for those things.
What is the focus of your work now?
Customer protection is the number one issue. It's mostly about internal accounts and processes, since we're responsible for information that has to do with medical patients' personal data. Some people may say, 'It's just a cannabis dispensary, how much data do you store that's important to anybody?' My position on that is that every single thing we store is of great import to somebody. We retain customers' personal preferences, and the customer loyalty program needs to be protected, because that kind of information can be used for identity theft just as readily as anything on social media. So, we take all internal data protections very seriously.
Have you found that there are threats specific to the cannabis industry?
What I've learned, being a security officer, is that it's less fruitful for me to try to guess why people might use information in a negative way. We just have to assume that there are those who will always find a reason to do it, so my concern is to design systems to minimize the likelihood of that happening. The cannabis industry is now one of the fastest growing industries, and it is one of the most vulnerable. Security tends to lag behind growth in most business models, and we at Piece of Mind Cannabis won't allow that to happen. We are always going to be proactive, not reactive.
The local cannabis market is only five years old. Is all of the technology in place by now?
Technologically speaking, it's the mid 1980's in terms of integration. It's a throwback to the days when everybody had good ideas, but nobody was able to follow through completely on them. Original resistance within the industry's primary lines of business to adopt technology solutions has hindered many of the best ideas from being readily adopted, and many have already failed. But, as businesses try to grow within the space, technology integration at all levels is a requirement for success.
But just today I noticed that two software products announced an integration that makes the overall experience for the customer far more simple and provides a much greater overall service than the sum of the two parts. You integrate the part that says 'Come here and buy' with the piece that acts as the storefront, and suddenly you can buy something and use your rewards points at the same time. One day we will have software that integrates the purchasing of product with real-time grower inventories, and customer rewards systems that are integrated with the Point of Sale software, the Online Ordering platform, and my backend accounting package for seed-to-sale business operations, excellent customer service guarantees, and timely reliable internal controls and reporting.
So it sounds like shopping will continue to get easier?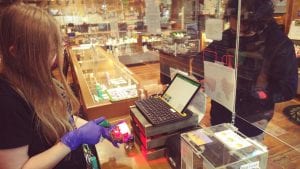 It really depends on how quickly the nation changes its legal view of cannabis. Right now you can find a product in Washington, but across the border, in Oregon, you can't. You might find something on vacation in California that's the best CBD product you've ever used, but those products cannot travel across state lines. How does that do a medical patient a good service? Going forward, I believe one of the biggest changes will be getting rid of the political boundaries, meaning you'll be able to buy what you want where you want. Then, integrated systems will begin to look like what we have all come to expect from online shopping and online menuing for in-store shopping, combining all site inventories, central warehousing of product, and making available to customers products from every vendor a chain of stores works with.
With all of the changes in Piece of Mind, and all of the changes in the law, what does the future look like for you?
Piece of Mind is one of the oldest culture-conscious brands in the cannabis industry nationwide, and one of the oldest multi-store chains of dispensaries. As we build a national cannabis brand that includes online and curbside service, medical consulting and vendor events, it's critical to make sure that we maintain security—we will not be that company that has the scandal where everybody's credit card information gets out. Being in charge of operations means it's my job to make sure that, as people are considering what they want to do as a customer, I make sure those things are protected.
Sponsored