In 2017, A1DesignBuild—then known as A1 Builders and Adaptations Design Studio—made an unusual and fundamental change. The Whatcom County custom home company transitioned from decades under a traditional business model to a new frontier of existence as a worker-owned co-operative.
After three years as a co-op, A1DesignBuild is healthy as ever as they continue to learn and grow. Being a co-op, it turns out, has proved beneficial not only to the company's employees, but to its clients and the community, as well.
Originally, the co-op began with five member-owners. Departures and additions currently have seven of A1DesignBuild's 21 total employees as members, and more are waiting in the wings to join. Any employee of the company can apply for membership upon meeting the minimum requirements, helping them share in both the financial and personal benefits of having a direct stake in the company's profits and direction.
Patrick Martin, A1DesignBuild's general manager, has been with A1 for 16 years—long enough to see a broad spectrum of both functionality and dysfunctionality within the company. The initiative he sees the individuals taking now wasn't happening before co-op transition, he says. The co-op model, he adds, encourages employees to develop a greater sense of responsibility and accountability; perhaps, more than a traditional model would.
"The more people are engaged in the ownership on a personal level, the more they'll be interested in the health of the company," says Martin. "Because they have a relationship to it that's different from traditional employment."
Adriana Irwin, the company's accounts assistant, is an employee with interest in eventual membership. She says that although she never wanted to be a local business owner, the co-op model makes that idea much more welcoming.
"Being part of a co-operative is like a community," she says. "Everybody just has more to do with day-to-day operations and health of the company. It's not just one person overseeing everything; it's working together. And that's very enticing. I feel more connected with this group of people than any other job I've ever had."
Eric Byington, one of A1DesignBuild's lead carpenters and another interested in membership, echoes those sentiments.
"I've never been excited about a company I've worked for before," he says. "It's always been 'go to work and do my thing.' This is the first time I've felt—even though I'm not yet a member—invested and interested in operations that are well outside of my specialties."
The company is structured into three tiers of leadership. The first is comprised of conventional team leaders who manage the employees in each department for the company. The second tier is the management team made up of four individuals who manage the four overall departments: administrative, design, construction, and estimating and contract management.
The third is a board of owner-membership, which makes general policy decisions and focus on the overall direction of the company.
The process for membership at A1DesignBuild begins with the length of employment. A worker must be with the company for a minimum of three years, which Martin considers the length of time to fully adapt and be an expert in their position. Prospective members are invited by the board to join and undergo a training period before becoming an official member, upon which time they're asked to make a capital investment of $10,000 as an ownership stake.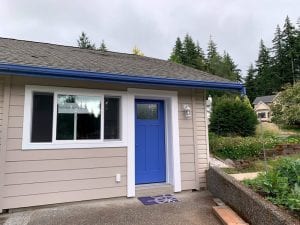 Once an owner-member, they share in the company's proceeds. Conventional net profits, Martin says, are distributed among the owner-members based upon federal co-op guidelines. In a good year, members earn profits (besides their regular pay) based upon the amount of hours worked for the company in that year, Martin says.
Members also take part in the company's board meetings, which generally occur once a month and consist of the member-owners and several board officers (currently seven people total).
"At some point, our hope is that that's more than seven people," Martin says. "We hope the bulk of our employees eventually seek membership."
Even non-members can still participate in decision-making committees, and receive earnings outside of their regular wages. Any employee can also come to the board with a question or concern.
From what Martin sees, the co-op model has greatly helped the financial health of A1DesignBuild.
"In terms of revenue and productivity, over the course of the last three years we've seen more growth than in the entire history of the company before that," he says. "We've been able to increase employee benefits and compensation packages well beyond anything that was available in the past."
A1DesignBuild has also been able to give back more to the community through charitable involvement and donations. The company donates at least 10 percent of their annual proceeds to a host of local organizations, including Habitat for Humanity, Bellingham Food Bank, Local PTA and schools, The Pickford and Sustainable Connections, to name a few. This annual help is a combination of monetary donations, supply donations, and free-of-charge labor.
This continued growth is helping the company pursue their larger future goals in the home building industry. Martin says they've made a commitment to pursuing the design and construction of high-performance homes that are affordable to more people in our community. A1DesignBuild prides itself, he adds, on using construction products that are both sustainable and healthy for those who made them, those who install them, and those who will live with them.
In a time of uncertainty for many businesses, A1DesignBuild is continuing to look to its future in an optimistic manner, all thanks to the changes they made just three years ago.
"Everything's working really well," says Francine Kirton, A1DesignBuild's administrative and public relations assistant. "A good team with great heads put together is moving the company in a very positive and solid direction."
Sponsored