Alight with vibrant foliage, flags, and flowers, Bayview Cemetery serves as more than Bellingham's public cemetery. It is a place of rest and reflection in the shadow of Whatcom Falls Park, permitting quiet walks and appreciation of art.
The former town of Whatcom established Bayview Cemetery with 10 acres in 1887. It began as "Whatcom City Cemetery," renamed "Bay View" (two words soon merged) in 1902. Whatcom and Sehome added 12 acres in 1889. That same year, the towns reinterred 64 bodies from "Deadman's Point," a Fairhaven graveyard, circa 1862, nicknamed for the legendary Spanish Massacre and artifacts found there. Since 1924, Bayview Cemetery has encompassed 234 acres, with 50 currently in use.
Between older lettered sections and newer numbered sections, Bayview Cemetery chronicles the history of the Bellingham that would come to be.
Monumental History
A walk in Bayview Cemetery reveals names of Bellingham's pioneer families. Side-by-side across a path, tall monuments engraved "Roeder" and "Eldridge" commemorate families who started two of Bellingham's earliest lumber mills and served judicial institutions. Other names include Padden, Morse, Hovander, and Deming—of Lake Padden, Morse Hardware, Hovander Homestead Park, and Deming, Washington fame.
Some graves commemorate individuals whose fame extends far past Bellingham. Poet laureate Ella Higginson designed her own tombstone, a granite bench. Civil War Corporal Matthew Bickford and Charge of the Light Brigade survivor Captain Grahame rest here. Notable politicians buried at Bayview Cemetery include San Francisco Mayor Isaac Smith Kalloch, and Washington's fifth governor, Albert Edward Mead.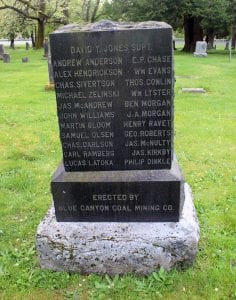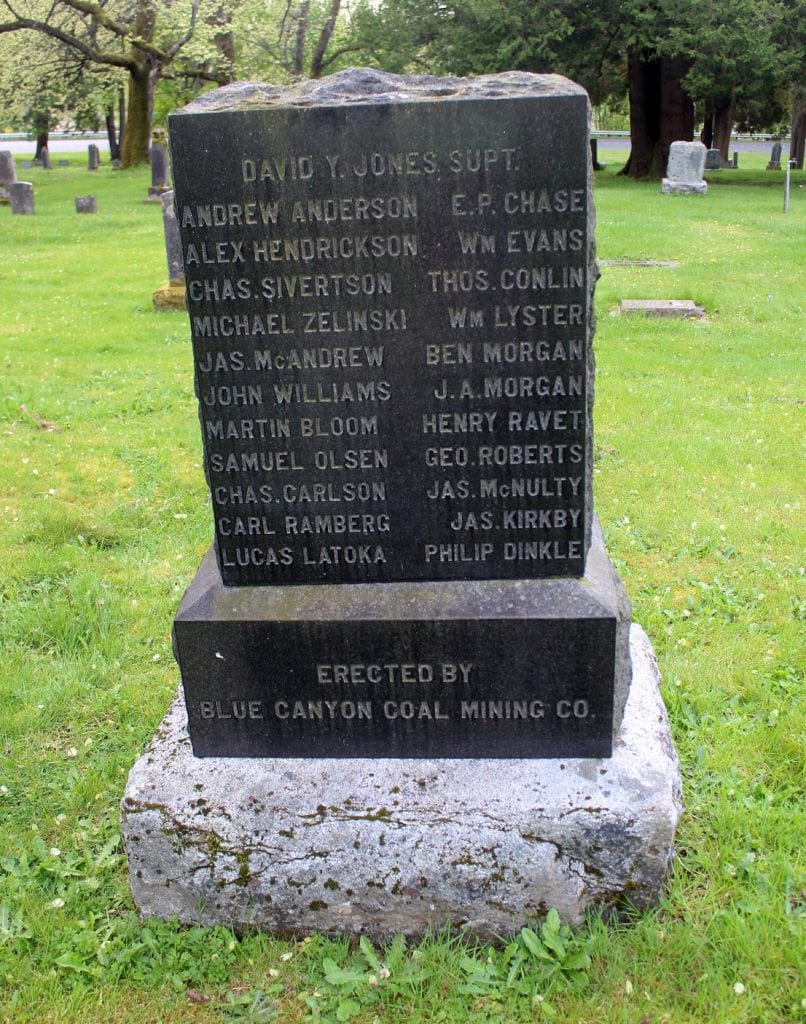 Locally famous figures include J.J. Donovan and Julius Bloedel, business partners notable for lumber, coal, railways, and Bloedel-Donovan Park. Whatcom County photographer Galen Biery and professional golfer Frank Sadler are also of note. One locally infamous figure here is smuggler John "Cowboy Jake" Terry, who robbed trains alongside "The Grey Fox" Bill Miner.
Bayview Cemetery also pays respects to victims of Bellingham's historic tragedies. The 1999 Olympic Pipeline Explosion victims Wade King and Stephen Tsiorvas rest here. The Blue Canyon Mine Monument commemorates the 23 miners who died in the 1895 explosion, one of the deadliest in Washington's history. Visitors continue to pay their respects at the cemetery's best-known tombstones.
Ghost Stories: "Angel Eyes" and "Death Bed"
Two monuments are locally notable for inspiring some of Bellingham's few popular ghost legends. An angel statue engraved "Bland" and a Parthenon-inspired sculpture engraved "Gaudette" stand in Section O. Locals have nicknamed the statue "Angel Eyes," rumoring that its eyes weep blood or glow in the dark. The "Death Bed" apocryphally causes anyone's friend-of-a-friend who lies upon it to die within one year.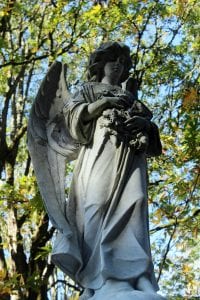 Of course, there isn't a specter of truth to these stories. They simply transpose urban legend archetypes—haunted statues, cemetery dares—onto Bellingham. However, the true stories feature tragedy, conflict, and synchronicity.
The angel statue commemorates Bellingham pioneer William H. Bland and his family. Bland was successful in real estate and insurance until the Great Depression. In November 1936, the Bellingham Herald reported his suicide in the Whatcom County Courthouse basement—resulting from financial struggles and illness in the family. Bland had Northwest Granite and Marble Works build the monument for his first wife, Hattie, who died in 1910 of tuberculosis.
The Gaudette monument commemorates wealthy lumberman Edmund L. Gaudette and his two wives. Gaudette was the largest individual timber holder in Pacific County alongside his brother-in-law George R. Cartier, with 1,000 acres in Whatcom County. He died in 1916, his first wife in 1910. Gaudette's second wife Lauren is buried in Seattle due to a legal battle, leaving part of the tomb empty.
Based on real histories or not, the ghost stories demonstrate how captivating art takes on an afterlife of its own in onlookers' imaginations.
Public Amenities
Entire sections of Bayview Cemetery have fascinating histories of their own. Flag-bearing Veterans' Plaza commemorates over 200 Civil War veterans, among other veterans of successive wars. The nearby Mount Cavalry Cemetery monument commemorates people reinterred from a nineteenth-century Bellingham cemetery. Not all headstones survived encroaching undergrowth, hence the monument.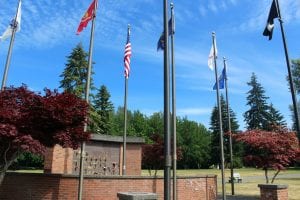 Bayview Cemetery is home to over 60 distinct tree species, including an almost century-old paper birch tree once considered the country's oldest specimen. The cemetery office stands by flower garden plots, namely Fountain Cremation Garden, Mothers Memorial Cremation Garden, and Babyland children's garden.
A northeast gate leads to private Beth Israel Cemetery. The southward Bayview Abbey mausoleum has existed for over a century, serving as the final resting place of the Hovanders, Morses, and Demings. Seattle's Northern Mausoleum Company built it, the Bellingham Community Mausoleum Association acquired it in 1915, and the City gained ownership in 1929.
Bayview Cemetery's history lives on as Bellingham residents continue to memorialize loved ones there to this day. The office opens only by appointment. When visiting, respect the living and dead alike as you walk among memorials to Bellingham's forebears.
Featured photo by Anna Diehl