Building community one book at a time is the mission of Whatcom County's largest independent bookstore, Village Books and Paper Dreams. Anyone who ventures into the shop, whether in Fairhaven or in Lynden, is immediately struck by a curious and exciting feeling of wonder.
Employees Kelly Evert, Paul Hanson, and Sarah Hutton became the owners and steward of this Whatcom institution in 2017. "There's always the sense of discovery at Village Books," says Hanson. "Not only is it visually impressive when you walk in and see the three floors of books, the wonderful smells of the books, the dinners created up in Evolve, and the fudge made in Paper Dreams and the sounds of laughter and conversation is very much like walking into a well-loved home."
Forty years later and the store is still discovering new ways to expand services and create an exciting place to visit. Of course, times have changed. During COVID-19, both stores have had to make some changes. "We have a team of employees that worked diligently on our online orders procedures to accommodate all the increased traffic," Evert says.
"It's been absolutely amazing to take and ship orders for people around the country." adds Zadra Nolan, online order lead.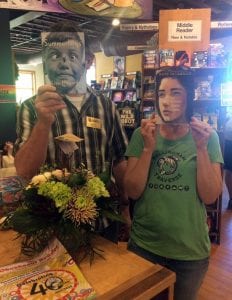 They also started delivering to homes within the Bellingham area. "I ride my bike delivering books and gifts and learning so much more about the neighborhoods in my community," says Evert. "It's so much fun!"
The Village Books and Paper Dreams team have been innovating and improving many new services during this time, including a podcast for the popular Chuckanut Radio Hour.
Event Coordinator Claire McElroy-Chesson has archived a stellar roster of online author talks on the store's YouTube channel and continues to book more virtual events. "These innovations have served as an example to independent bookstores around the country," says Hanson.
Stores in both locations are now open seven days a week and, as government guidelines mandate, masks are required in the stores. Also, both stores are limiting the number of people that can be in shopping at one time. "This keeps everyone safe and we are able to give everyone stellar service," says Evert.
But as the holiday approaches, Hutton encourages early shopping. "We always enjoy families and friends being able to reconnect in the store while doing their holiday shopping, but this year we do encourage buy early, buy local."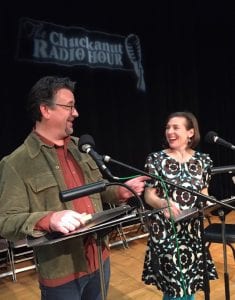 The staff is eager to recommend books. And if there's a stumper, and one staff member doesn't have a suggestion, another staff member will.
"That's what booksellers love to do," says Evert, "find a book or gift that is just what a person is looking for, or even perhaps open up a new avenue for a customer.
Hanson adds, "You'll get a real person with an honest answer."
As a self-described avid reader (and longtime former Fairhaven business owner) Taimi Dunn Gorman says, "I'm happy that Village Books offers online ordering when I want a particular book and can't get down to Fairhaven right away. I'd rather shop local at every possible opportunity. It's the only way we can keep our community's small businesses alive."
"I've always felt the best present you could give a child is a book of their own," says Whatcom County Library System's Neil McKay. "Be it a book you enjoyed yourself as a child or a current best-selling kids book, or—my favorite—a delightful pop-up book. Village Books has what I'm looking for whenever I want to surprise and delight a child. Including myself."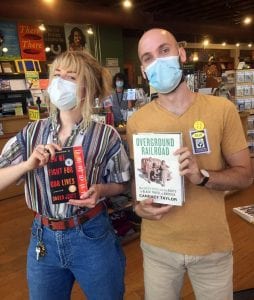 Dr. Diane Arvin shares her first response whenever someone asks her what's she's going to do after retiring next spring. "My first response is READ," she says.
The three owners are proud that the entire staff can be "personal shoppers" providing personalized service. Through their website, they offer customized care packages that can be shipped, picked up at the stores (inside or curbside), or delivered to your doorstep. Customers just fill out the questionnaire on the website!
"In my mind, I see myself regularly walking down to my beautiful local bookstore and inhaling the scent of all the words," she continues. "I will read the staff picks and embrace their recommendations, sit in one of those well-placed chairs and sample before I buy and take my treasures home."
For more details, visit https://www.villagebooks.com/about-village-books.
Sponsored