Nature has its own language. The more you learn, the more you get out of each visit into the natural world. Just like learning to read, once you know a word your mind can't resist reading it. Understanding nature's language came naturally to sewing artist Jane Davenport, who I spoke to recently about passion-turned-business, Gaudy By Nature.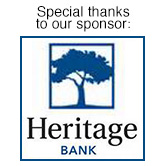 Davenport has been creating clothes, hats, duffel bags, and other unique pieces for more than a dozen years. What makes these items special is where they find their inspiration.
"I fell in love with nature and environmentalism when I was in college," Davenport says, "and with national parks—particularly Glacier National Park, where I worked as boat captain for two summers before becoming a park ranger; a big check on the dreams list." Her love for the environment led her to embrace a lifestyle of sustainability in her work and her everyday life.
"I care about the environment and get so much joy from being in it. When I make clothes, I want to be conscious of the impact it has," she says. "That's why I'm focusing on items already available or used and not being made just for me to shop. I want to consider my impact on the planet."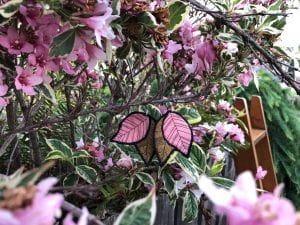 Each item handmade by Davenport and sold through Gaudy By Nature is inspired by nature and made with the impact on nature in mind. Davenport goes a step further to give back to communities and organizations, like our national parks, by donating portions of the proceeds from her products.
One of Davenport's first products was inspired by finding a vintage lion bedsheet. She cut out the lion faces and stitched them onto thrifted sweatshirts. She still receives pictures now and then of people proudly sporting their hand-made, one-of-a-kind items.
"Gaudy By Nature was me wanting goods to be second-hand, majority thrifted, vintage, fabric and clothing that all had a nature theme," Davenport says. "All my prints typically have wild animals or flowers on them. They're always pretty loud and unconventional, so: gaudy really is part of it."
Davenport frequents Bellinghan's Value Village, Ragfinery, and other neighborhood second-hand shops. She loves the hunt for fabric. Some days, she leaves with 20 pieces of thrifted fabric (she simply cannot resist '70s florals) and other days might find anything.
Davenport's dedication to having a low impact on the planet is as fine as her sewing machine's needle, which is also second-hand. She upcycles zippers, hardware, and thread. Should the circumstance call for something new, she researches to make sure the company she buys the new item from is also environmentally conscious.
"I want people to see that it's possible to make really wonderful pieces of clothing and you don't necessarily need to buy big name brand, mass-produced outfits," she says. "I want to empower others to sew and mend. I want people to be inspired to go thrifting for clothes."
According to Ragfinery's fast fashion fact page, 10.5 million tons of clothing is dumped every year in landfills in the United States. One of Davenport's hopes is to help reduce the carbon, waste, and water footprint.
For example, one of her favorite projects was a commission to turn a raincoat into a new bicycle frame bag. Extending the life of a piece of clothing can mean transforming it to take on new life as something else useful.
"I'm trying to make my goods 95 to 100 percent all thrifted or second-hand things. I think there's a lot more character to it," says Davenport. "It's unique and can be one-of-a-kind, but also you're reusing something that already exists."
In addition to her clothes, Gaudy By Nature creates nature-inspired stickers. When Davenport worked at the Olympic National Park Visitor Center, she spent rainy days drawing mushrooms, fungi, and flowers. One sticker showcases the banana slug, which Davenport greatly admired while working at the park.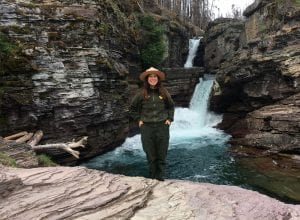 Recently, Davenport has been working on supporting local businesses by making fabric masks with her environmentally friendly spin. She accepts commissions for pieces through her Instagram page, @guady_by_nature_goods, and has a collection of creations available at her Gaudy By Nature Goods Etsy shop. She hopes in the future to have Gaudy by Nature products on display and available for purchase around Bellingham.
Davenport is an outdoor enthusiast who spends her time hiking, biking, skating, and sewing. Her knowledge of nature is bountiful and her commitment to creating environmentally friendly goods goes above and beyond.
"When I started hiking in Washington, I felt like all the flowers I saw were old friends from Montana. It's my favorite thing to see," Davenport says, "My work is inspired by the natural world. I wasn't going to cater my clothes to be 'cute' and what was in style, I just wanted to make art that I like. And if people like it too, it's there."